New Dealership Off to a Flying Start with McCormick Tractors
07/12/08
One of McCormick's newest farm machinery dealers, covering Shropshire and north central Wales, is off to a flying start, supplying more tractors in its first five months of trading than the partners expected to sell in a year.
Three of the partners in HJR Agri outside their premises near Oswestry (left to right) Andy Roberts, Terry Hughes and Melfyn Jones – Alan Hughes was busy with a customer in the workshop at the time of our visit.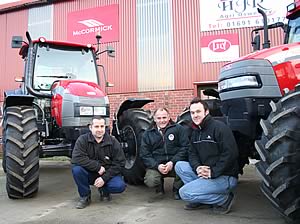 For Terry Hughes and his three partners in HJR Agri Oswestry, the early sales success is vindication of their decision to give up full-time jobs to start the new business.

"We've had a very positive response from farmers in the area and we're very grateful for their support," he says.

Taking on the McCormick franchise within weeks of setting up was not part of the business plan, he admits, and it has made things even more frantic than usual.

"We'd always planned to take on a major tractor franchise once we'd settled," he says. "But when the offer to handle McCormick came along it was too good an opportunity to miss."

HJR Agri Oswestry was formed in July this year when the four partners – Terry and his brother Alan, Melfyn Jones and Andy Roberts – decided to quit working at the Burgess branch in Oswestry and strike out on their own.

Shortly after, Burgess closed its branch and although the HJR Agri business had only just been set up, the partners' long experience with the tractors made it the obvious candidate to represent McCormick in the area.

"They know the products inside out, they know the people here at McCormick and they know our customers in the area," says Stewart Barnett, UK sales manager. "With so many years' combined experience between them, I think the interests of McCormick and our customers are in good hands."

As Terry Hughes points out, the participants in the new venture have complementary skills that give each of them a key role and a vested interest in making the business a success.

"What do we have to offer? Knowledge of the product, knowledge of the industry and personal service," he answers.

Terry himself looks after sales of new tractors and implements. Alan Hughes and Melfyn Jones look after the all-important service side of the operation, while Andy Roberts' domain is the parts store and retail shop.

The operation is housed in a rural location on the Aston Enterprise Park near Oswestry and covers a territory that extends from Wrexham westwards to beyond Corwen, then south to Machynlleth and Newtown, Powys, extending eastwards beyond the A5/A483 as far as Ellesmere.

"We took on an empty barn and have kitted it out ourselves with offices, a parts store and workshop," says Terry. "Look closely and you'll see we're better with tractors than joinery!"

Nonetheless, the building provides a spacious workshop area equipped with all the essential tools and equipment, including McCormick's laptop computer-based service and fault diagnostics system, which these days is as important to the modern workshop technician as a good set of spanners.

An area alongside the workshop has been set-up with racking for a growing inventory of parts, not just for McCormick machines but also for the big park of their predecessor tractors still working in the area. At the same time, the retail section at the front of building is steadily being stocked with items from lynch pins to batteries.

The sales department has also been busy, taking enquiries, organising demonstrations of McCormick's latest tractors, issuing quotes and picking up some welcome business.

"We were aiming to sell around 10 tractors in the first year but we've already supplied a dozen since July," says Terry. "There's been quite a mix of models, which reflects the varied farming activities in our area."

With sheep, beef and dairy farming predominant in their territory, plus a fair amount of arable cropping further east, the range of McCormick tractors available – from 28hp compacts to 230hp heavy-weights – provides something suitable for every situation.

"Our main market is 90hp to 150hp, perhaps 165hp, tractors and McCormick has a good choice of models in that power range," says Terry Hughes. "They're not complicated and they've been proven over the years but they've steadily been improved to give better performance and driver comfort."

The 'workhorse' McCormick CX, MC and six-cylinder MTX tractors have been the best-sellers for HJR Agri so far but Terry is looking forward to demonstrating the new XTX165 he has on order.

"That's a good looking mid-size six-cylinder tractor with 167hp for draft work and 171hp for pto and transport, with a versatile eight-speed powershift on the four-range transmission to make the most of that performance," he explains. "For anyone who wants more than just a bog-standard power unit but that's still easy to drive, I think they'll find this tractor has a lot of appeal."

· Following the appointment of administrators to the Burgess Group, McCormick is looking to appoint several new dealers to cover the former branch territories in parts of Wales and the West Midlands.

Match Ploughing Win with McCormick and Stamford Tractors


Mannheim Factory Releases 1,500,000th John Deere Tractor


John Deere Launches New 5R Series Tractors