| | | |
| --- | --- | --- |
| 2018-05-11 | | |
Skipton Auction Mart Weekly Round-Up
A May Day bank holiday bonanza at Skipton Auction Mart featured multiple shows for breeding sheep, calves and primestock. (Monday, May 7)
On a traditionally busy day, almost 3,000 head of breeding sheep were penned for sale, comprising 747 outfits of hoggs with 1,093 lambs at foot and 1,059 geld gimmer hoggs.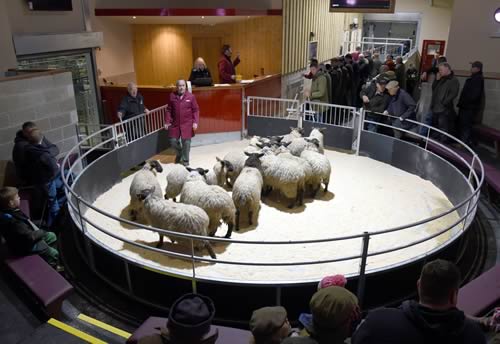 Hoggs with lambs were a firm trade all sale long, with Skipton brothers John and George Stapleton, of High Skibeden Farm, taking first prize in the Continental show class with their pen of five home-bred Texel-cross hoggs with single Beltex lambs at foot.
These confirmed the choice of show judge Andrew Hutchinson, of Stokesley, when selling for joint top call of £260 per outfit, with the Stapletons also responsible for the third prize pen, which made the same money. Both joined local buyers Geoff and Margaret Booth in Lothersdale.
The Mule hoggs with lambs show class fell to local breeders David and Jacqui Coates, of Pot Haw Farm, Coniston Cold, who have just been joined in partnership by their son Harry. The family's five-strong Texel-cross-Beltex pen with single lambs sold for £225 per outfit to a Cumbrian buyer, U Edmonson, of Millom.
Mules were judged by Margaret Watkinson, of Hutton Sessay, who awarded first prize in the geld hoggs show class to a pen of ten from father and son, Raymond and Robert Johnson, of Summerfield Farm, Felliscliffe, sold for £135 per head to another buyer from Cumbria, BT Bowness, of Kendal.
The Johnsons also did well with their Mule hoggs and single lambs, taking second prize in show and topping the section prices at £230 per outfit with a five-strong pen which also fell to Mr Edmonson.
Generally, Texel outfits regularly made £200-plus, with the best Mules with lambs either side £200 and some more commercial types of hoggs with lambs £160-£180. Geld gimmer hoggs this year were very mixed on quality, though trade was reasonable for the best end.
Of the other breeding sheep on parade, Beltex outfits from Cecil Hutchinson, of Kirkby Wiske, were eye-catchers, selling to a top of £360 for a ewe with twin lambs, claimed by Mike Allen, of Staithes, while the Critchley family, from Hutton, sold a Texel shearling and twins for £280.
Tattersall triumph in Spring lambs show
The May prime lambs show saw past champion Neil Tattersall, of Ellerton, York, arrive with his first Spring lambs of the season and he duly picked up another title, plus the reserve championship for good measure, with home-bred Texel-cross entries.
The victors, a pair of 38kg lambs, sold for the top gross and by-weight call of £168 per head, or £4.42 per kilo, to Broster's Farm Shop & Café at Haigh House Hill, Lindley Moor, Huddersfield, which also paid £142 for the third prize single lamb, a 40kg Texel from Nidderdale's Joe and Trevor Stoney,
Mr Tattersall's reserve champion, a single 34kg Texel, sold for £133 to regular buyer Andrew Atkinson, of Felliscliffe, while the same vendor also chipped in with the second prize 39kg pairs, claimed at £150 each by butcher George Cropper Jnr for his Sandersons Butchers retail shop in Baxenden. Show judge was Nick Dalby, from Hartwith,
With additional buyers in the market, an increased entry of 123 Spring lambs was keenly contested, with some fresh sorts finding very good favour at 350-380p/kg. The overall selling average was £136.82 per head, or 312.5p/kg.
On a day when prime sheep maintained both entry levels and trade across all classes, also penned for sale were 1,275 old season lambs, which produced a fair trade for meated and heavy entries, with good sorts either side of £3 per kilo, adding up to £140 to £160 in the lump and topping at £168 each for Suffolks from A Gill & Son, of Knaresborough. The overall selling average was 247p/kg.
Also among the mix were 363 cast sheep. Cull ewes maintained recent strong trade, with the best Mules selling into three figures, and good hill types ewes £80-£90, producing an overall section average of £70.24 per head. Cast rams averaged £93.79.
Another Critchley prime cattle champion
In the May prime cattle show, the Critchleys, from Mercer Farm. Hutton, near Preston, produced yet another champion, as they continued to dominate the monthly highlight, this time impressing Pendle judge Geoffrey Mellin.
He tapped out the family's first prize 515kg Limousin-cross heifer as the overall victor and it returned across the border with retail butcher George Cropper Jnr, who took over the former Sandersons Butchers in Manchester Road – it continues to trade under the same name - at £1,506, or 292.5p/kg, top price per kilo.
From another top-notch pen, the Critchleys also sold a 535kg Charolais-cross heifer for the second highest per kilo price of 275.5p, or £1,474, to regular buyer D Gregory & Sons Butchers in Bacup.
Reserve champion was the first prize bullock, a 630kg Limousin-cross from Silsden Moor's Simon Bennett, which became one of three acquisitions by leading buyer James Robertshaw, of Keelham Farm Shop in Skipton and Thornton, at £1,496, top price in class, or 237.5p/kg. Another was the day's top price animal, a British Blue-cross from Threshfield's Charles and Richard Kitching at £1,527.
An anticipated small bank holiday entry of cull cows met a good trade when averaging £676/48 per head, or 105.49p/kg.
Sowrays clinch another rearing calf title
Skipton's latest rearing calf show again produced solid trade for the 45 head entered and it was the Sowray dairy farming brothers from Bowes Green Farm, Bishop Thornton, who picked up the lion's share of the prizes with a clean sweep in the British Blue-cross bull calf show class, along with the first prize Blue-cross heifer.
The red rosette-winning bull calf, by the Genus sire, Ebony, was also adjudged champion by Mark Burton, of Barnard Castle, and went on to head the prices at £470 when claimed by regular Lincolnshire buyer Nigel Mason, of Crowle, who also went to £450 to secure the reserve champion, a Limousin-cross heifer from David and Richard Pickersgill, of Hawksworth.
The top price heifer calf was a £390 Blue-cross from the Moon family in Wigglesworth, which fell to brothers Stephen and Malcolm Abbott, of Dacre, who also took home the Sowrays' first prize heifer for £360.
A nice run of three to four-week-old Limousin-cross heifer calves from Kirkby Lonsdale's Craig Stephenson sold to a top of £370, averaging £325. The overall Continental-cross average was £354 per head, while black and whites averaged £98.33.

Stackyard News
home | agri-services | pedigree pen | news | dairy | beef | machinery | bps | property | organisations | site map