| | | |
| --- | --- | --- |
| 2016-04-27 | | |
Skipton Auction Mart Weekly Round-Up
A small number of clean cattle were snapped up at Skipton Auction Mart on Monday April 25.
Prime cattle find good trade at Skipton Auction Mart
With just nine available under 30 months and four over 30 months, handy weight retail cattle were scarce and the few available met a good trade.
Malcolm Metcalfe of Baldersby headed up the sale with a 515kg Limousin heifer selling at 239.5p/kg to Keelham Farm Shop and a 415kg Limousin heifer at 237.5p/kg to Charlie Clough of Queensbury.
CD & RF Kitching, of Threshfield, sold two Limousin Cross steers under 30 months for £1,159 and £1,137, reaching 201.5p/kg and 199.5p/kg, while Mr Metcalfe sold a Limousin Cross steer for £1,143.
Prime cattle over 30 months went for an overall average of 122.02p/kg, or £761.08 per head, with R&E Butterfield, of Bentham, reaching top price with Black and Whites selling for £847 and £796, or 129.5p/kg and 124.5p/kg.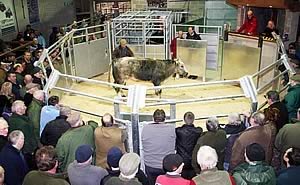 A larger entry of cast cattle met a similar trade. Plain and steaking cattle remain well bid despite the heavy numbers nationwide and dairies carrying finish will find 100p/kg and upwards, feeding customers seeking beef crosses and young dairies.
Cull cow prices saw an overall average of 94.60p/kg or £609.42. Limousin crosses reached 149.5p/kg, while Hereford crosses reached 112.5p/k and Black and Whites were up to 111.5p/kg.
H&S Maudsley, of Rathmell, nailed top price for a Limousin with 981 or 149.5p/kg, while John Hopkinson, of Cowling, got £838 or 112.5p/kg for a Hereford cross, H Downs & Son, of Bingley, fetched top price for a Black and White with £825 and Jeff Pickles, of Ribblehead, got £828 for a British Blue.
R&M Walker sold an Ayrshire mature bull for £708, or £79.5p/kg, while EJ Fort, of Silsden, sold a Black and White mature bull for £650, or 76.5p/kg.
Strong interest for Spring Lambs
A total of 141 spring lambs were in the pens at Skipton Auction Mart on Monday (APRIL 25) selling to 13 different outlets to record a very pleasing average of 249p/kg.
There was more wholesaler interest this week, whilst several retail clients are now looking for larger numbers of new season lambs.
Beltex averaged £111.17 per head or 283.76p/kg, with CR&M Wilson selling for top price of £114 per head or 300p/kg.
JA&JM Wade & Son, of Cononley, got top price for Suffolks with £128 and £125 per head and 304.9p/kg and 297.7p/kg, Suffolks averaging at £102.91 per head or 242.78p/kg.
Texels averaged £103.57 per head or 254.58p/kg, D&A Livestock selling for £123 per head, with G Beresford & Son getting top price per kg at 297.4p/kg.
The Monthly Prize Show is next week with classes for pairs of Continental cross and Down Cross Lambs, with judging at 1pm.
Prime hogg trade up on the week
Prime and lightweight hogg trade was better than anticipated at Skipton Auction Mart on Monday (APRIL 25) with meated sorts probably been a shade better to sell on the week, whilst under finished types and end of season hoggs were similar to sell.
The overall average for prime hoggs was £77.76 per head or 175.5p/kg. Beltex averaged £84.80 per head or 207.9p/kg, with top price claimed by K Saffrey, of Hellifield, at £94 or 223.8p/kg. RG Church & Son took top price per head for Suffolks, selling for £88 or 179.5p/kg. Suffolks averaged at £80.15 per head or 170.9p/kg.
The Texel average was £82.48 per head or 180.6p/kg, with H Baines, of Trawden, topping out at £94 and GW Houseman getting top price per kg with 217.9p. Charollais averaged at £87.12 per head or 178.35p/kg; J Lord got top price with £88.50 or 188.3p/kg.
Mule averaged £76.64 per head or 170.3/kg, Masham averaged £76.55 per head or 165.2.64p/kg, and Swaledales went for an average of £61.69 per head or 154.35p/kg.
Dalesbreds averaged £74.2 per head or 151.12p/kg while Cheviots average £78.35 per head or 171.19p/kg.
Competition for cast ewes and rams
A larger but plainer entry met with more competition from the ringside to record a similar trade on the week for most classes, although heavier Mules and Horned sheep were a shade dearer.
Cull ewes averaged £61.78, with top price going to E&KM Marshall, of Heyshaw, selling two Texels for £125.50 and £114.50. Mr Marshall also picked up top price for a Swaledale, selling for £60.50. Charolais reached top price of £91.50, Texels topped at £125.5, and Suffolks reached £103.5.
Cast rams sold for an average of £74.19, with top price picked up by AN Throup, of Silsden, for a Texel, sold for £104.
Breeding sheep prices up on the week
A total of 555 breeding sheep were put forward, the same as last week, but generally lambs on the ewes were stronger so prices looked a bit better too.
A few more travelled buyers helped to fill up the ringside, and many were looking for young ewes or hoggs with lambs. The best for hoggs was Ian Manning, of Wrexham, with the first of his weekly consignments topping at £195, with others ranging from £150 to £190.
Richard Caton, of Stainforth, and John Mawson, of Elslack, jointly topped the sale at £205 for Texel Ewes with Twins.
Next Monday, the May bank holiday, there will be the weekly sale of sheep with lambs at foot, 1,858 breeding sheep and the Great Annual Show & Sale of hoggs and ewes with lambs and geld hoggs. The fully catalogued sale starts at 10.30am.
Packed ringside for monthly sale of calves
CCM Auctions conducted their monthly sale of stirks, weaned calves and young store cattle on Saturday (APRIL 23).
There was a good entry put forward with a packed ringside of buyers with no less than 30 separate accounts represented. Good straight cattle were good to sell with the poorer sorts of cattle seeing less money and being a touch harder to place.
A total of 169 were put forward with Limousin bulls averaging £410, with top price reached by A Roebuck, of Stalybridge at £470. SW&JE Ryder, of Harrogate, sold two Montbelliard bulls for £560 apiece.
GL Newburn sold a British Blue steer for £600 and three Hereford steers for £500 each. British Blue steers averaged £453.89, Limousin steers averaged £444, with one sold by P Fortune, of Tosside, for £750. Black and White steers averaged £304, shorthorns £330, and Aberdeen Angus £385.
GL Newburn sold a Simmental heifer for £600 and a British Blue heifer for £540, while P Fortune picked up £750 again for a Limousin heifer. Black and White heifers averaged £340, Limousins £416, British Blues £439.33, Simmentals £452.50 and Herefords £323.33, with Aberdeen Angus heifers averaging £280.
Produce sale
Mini Hestons of hay were selling for up to £24.50 per bale at Skipton Auction Mart on Monday, while rounds were going for up to £20 per bale.

Stackyard News
home | agri-services | pedigree pen | news | dairy | beef | machinery | quota | property | organisations | site map