| | | |
| --- | --- | --- |
| 2014-12-27 | | |
Skipton Auction Mart Weekly Round-Up
The opening primestock shows of 2015 saw bustling trade at Skipton Auction Mart with prime cattle and lamb shows giving buyers top quality to choose from.
Bernard Simpson of Heathfield emerged as the prime cattle title winner, while the prime lamb victor was James Towler of the farming partnership of WA, VJ & JA Towler of Steelands Farm, Grindleton.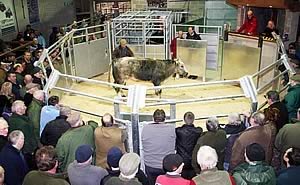 Mr Simpson, a regular vendor at Skipton, who presented the champion and reserve at the 2013 primestock opener, won the 2015 championship with a home-bred Limousin-cross heifer, weighing 560kg, which was bought by Dick Binns for his Saltaire shop for the top price of £1,509, or 269.5p/kg.
Reserve Champion was the 550kg Blonde-cross heifer presented by Jim Baines of Trawden, which made the leading pence/kg price of 274.5pkg when joining Keelham Farm Shop, of Thornton, Bradford.
Third place was claimed by E&M Townley, of Clapham, with a British Blue-cross which sold for £1,369, while Brian Lund, of Walshaw, Hebden Bridge, also netted a good price with £1,412 for a Limousin-cross. The show was judged by Martin Jennings, of Cowley.
Prime cattle heifers under 30 months, weighing between 501kg and 590kg, averaged 249.91p/kg, while prime cattle over 30 months averaged 148.29p/kg or £939.15. K&J Marshall of Skipton sold a British Blue-cross for £1,386 and another for £1,192, while RG Church Ltd of Asquith sold two Black and Whites for £1,026 and £905, and JD Crabtree of Burnt Yates also picked up £968 for a Black and White.
In the cull cow dairy show, H Downs & Son, Bingley, took first and third place and went on to sell two Black and Whites for £944 and £890. G Abbot & Son of Dacre took second place and sold two for £944 and £906.
JC & N Throup of Draughton took first and second prize in the cull cow beef show, selling a Limousin for £1,032 and a Simmental for £997, with J Hopkinson, Cowling, coming third and scooping top price of £1233 for a British Blue. The overall average prices for cull cows were £737.11 or 108.20p/kg.
The lamb trade was slightly better than anticipated, with numbers short of requirements. The Towlers, who have sold at Skipton on numerous occasions, took first prize in the class for pens of five Continental sired lambs, along with the championship, which was judged by James Blenkhorn, livestock buyer for Riley Brothers of Burnley, and sponsored by Wynnstay group.
The champions weighed 41kg and sold for £118 each, or 287.8p/kg to Vivers Scotlamb, Annan. The same buyers snapped up the reserve champions from first time vendor Frank Joel of Westhouse near Ingleton whose 43kg lambs made £104 each.
Prices were generally 5p/kg to 8p/kg up on the week, although anything smart was quite a bit dearer. Ewes were again a very sharp trade and vendors are encouraged to take advantage over the next few weeks.
Third in the continental class went to Brian Lund, of Walshaw, who sold a pen of five for £110 to Keelham Farm Shop.
CD & RF Kitching, of Threshfield, won first prizes in the Suffolk and Mule/Masham classes, selling five Suffolks for £80 each to D Whitehead Butchers, of Edgworth, near Bolton, and 10 Mule/Mashams to Mick Etherington of Bingley. Second place in the Mule/Masham class went to JA Drake, of Carleton, Skipton, who sold 10 to John Bowling, of Ashton-in-Makerfield, for £82.50.
ASE Crisp & Son, of Calton, took first prize in the Horned class, and went on to sell a pen of 10 to Andrew Atkinson for £77.50 each. Second place went to K Huck, of Bordley, who sold 10 to MN Alam, of Lancashire Direct Halal Meat.
Prime hoggs averaged £79.29 per head or 189.4p/kg, and there were also 553 cull ewes put forward, selling at an average of £92.59, with top price going to G & MA Lawn of Stirton with £139.50 for a Lowland. A total of 27 cast rams were put forward, with an average of £101.04 and top price of £140.50 for P Leeming of Cononley.
In the weekly produce sale, barley straw square bales sold for £17 per bale, small bale hay sold to £2.80 per bale and hay hestons sold for £20.50 per bale.

Stackyard News
home | agri-services | pedigree pen | news | dairy | beef | machinery | quota | property | organisations | site map