| | | |
| --- | --- | --- |
| 2017-05-10 | | |
Skipton Auction Mart Weekly Round-Up
At 161 head, Spring Lambs were forward in similar numbers at Skipton Auction Mart's weekly Monday sale. (8th May 2017)
With more first cross types out of Mule ewes now appearing. There was an overall selling average on the day of £92.37 per head, or 221p/kg.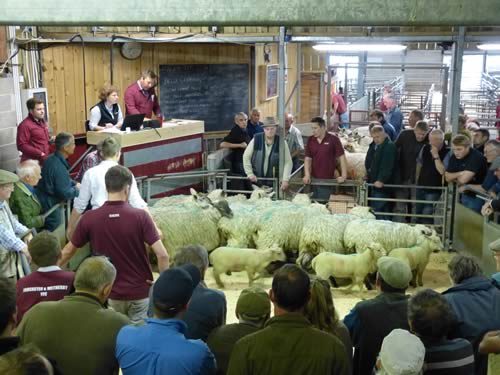 Hartshead Meats in Mossley, Ashton-under-Lyne, made multiple acquisitions, among them the top price 264.1p/kg Texel pen from Robert Wade of Cononley, along with others from D&A Livestock, of Haverah Park, including the top price £109 per head Texel pen, and Tim Robinson, from Longridge.
Gross prices peaked at £110 for a single 45kg Suffolk from Anthony Bolland, of Bolton Abbey, which joined Kendalls Farm Butchers in Pateley Bridge and Harrogate.
The three-quarter bred lambs were generally 230-240p/kg, Texel-cross Mules 210-230p and Suffolk Mules 205-225p.
Old season lambs, 879 in total and buoyed up by short supply in the morning markets, met with a very good trade to average £82.90 per head, or 187.6p/kg, overall, assisted by a new face at the ringside and all buyers keen for sheep, especially meated sorts.
Almost all the decent handy weight Continentals sold the top side of £2 per kilo, with smarter types 220p/kg or over, up to 228.9p/kg for Beltex hoggs from Kevin Marshall, of Darley, which again fell to Hartshead Meats. The same vendor also presented the top price £114 per head hoggs, which joined Thomas Shepherdson in Slaithwaite, Huddersfield.
Good hill-bred hoggs were the trade of day, with Steve Dorey once more travelling up from Newark with his weekly run of good Mules, which topped at £96.50 per head, also selling two 44kg pens at £88, or £2 per kilo.
John Lord, of Littleborough, Oldham, presented a good run of Cheviots, which topped at £94 and £93 per head, while Swaledales sold to £82 from Dick Burley, of Wath, and Dalesbred to £80 from Paul Bowdin, of Oughtershaw, high in the Dales.
A tidy turnout of 263 cast sheep produced an overall average of £67.58 per head for cull ewes, with heavy sheep selling to highs of around £120 on several occasions, led at £121.50 per head by a pen of Suffolks from D&A Livestock.
Plenty of Continentals and Suffolks were around the £100 mark, with good Mules again into the £80s, and others around the mid-£70s, while the better end of the Swaledales and Dalesbreds traded around £60 up to £66.50. A handful of cast rams averaged £83.58 per head.
In the breeding sheep arena, another large show of 820 hoggs and lambs sold to a top of £215 for a Mule hogg and single lamb from Raymond and Robert Johnson, of Felliscliffe, while Darnbrook's James Hall made £190 per outfit with a pen of Mule hoggs, again with single lambs.
While commercial types were not just as strong on the week, the better end saw outfits with twins trading around the equivalent of £60 per life, and commercial types £50 per life.
Prime cattle strong at Skipton
A much larger show of 81 prime cattle at Skipton's weekly Monday turnout included 22 under 30-month clean bullocks and heifers, which sold away readily, with exactly half of them falling to Keelham Farm Shop for its award-winning Skipton and Thornton shops.
Keelham's again extensive shopping list included the by-weight high of 242.5p/kg, or £1,224, for a heifer from DA Wilcock & Sons, of North Ashton, Wigan, further heifers from Threshfield's Charles and Richard Kitching and Malcolm Metcalfe, of Baldersby Park, Thirsk, at, respectively, 237.5p/kg (£1,294) and 236.5p/kg (£1,277), along with the top price £1,383 (203.5p//kg) bullock from Paul Baines, of Trawden.
The Wilcocks sold a second heifer at 235.5p (£1,342), this time to Eldwick's Mick Etherington, buying on behalf of Farmer Copleys Farm Shop in Purston, Pontefract, while Mr Metcalfe returned with the top price heifer, which made £1,395, or 234.5p/kg, when joining Kendalls Farm Butchers for its two shops in Harrogate and Pateley Bridge.
Carleton's James Drake sold a bullock at £1,367(220.5p/kg) to J&E Medcalf Wholesale Butchers in Halifax. All the above mentioned were Limousin-cross entries. Other butcher buyers were Skipton-based Stanforths, who took home three cattle, with another falling to T Appleton & Son Butchers in Boroughbridge.
In the cull cow arena, the 58-strong entry met with a very sharp trade, flying to an overall average of £747 per head, or 114.19p/kg, with Keith and Andrew Guy, of Elslack, heading the beef-bred and the day's prices with a Limousin at £1,062, or 145.5p/kg. Other decent types sold either side of 140p/kg.
Five black and whites made four-figure prices, with a per head high of £1,111 from John Marshall, of Dacre, and a by-weight top of 129.5p/kg from Malcolm Gratton, of Warsill.

Stackyard News
home | agri-services | pedigree pen | news | dairy | beef | machinery | quota | property | organisations | site map