| | | |
| --- | --- | --- |
| 2015-07-22 | | |
Skipton Auction Mart Weekly Round-Up
Skipton Mart had forward 63 Prime cattle comprising 6 Clean Cattle (under 30 m), 3 Clean Cattle (over 30 m) & 54 Cast Cattle incl 1 Mature Bull. 3,113 Prime Sheep comprising 2795 Spring Lambs, 318 Cast Ewes & Rams. 66 Rearing Calves. 3 Loads of produce on Monday 20th July 2015.
Prime Cattle (under 30 mths)
A small entry of Commercial Prime cattle met a good trade with Stanforths Butchers of Skipton securing heifers from John and Alison Spensley of Thorlby at 192.5p/kg and 190.5p/kg.
Heifers
485kg+ to 192.5p/kg av 173.85p/kg
Top Prices
£ per head: JR Smith £1105, B Spensley Ltd £1057,£1006
p/kg: B Spensley Ltd 192.5, 190.5, JR Smith 190.5
Prime Cattle (over 30 mos)
Overall Average 122.26p/kg £853.81
Top Prices
£ per head: Whin Hill Farming £1091, J Wellock £813,657
p/kg:Whin Hill Farming 145.5, J Wellock 114.5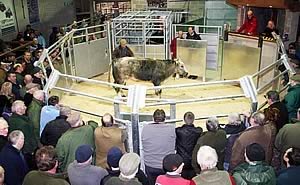 Cull Cow Prices
Trade back on the week with strong sterling affecting export trade, start of school holidays and surplus lean dairy culls all impacting on price. Cattle carrying finish continue to be scarce and good to sell.
Overall Average 103.26p/kg £670.19
Black & White to 134.5p/kg av 102.44p/kg
Jersey to 51.5p/kg
Limx to 129.5p/kg
BBx to 138.5p/kg av 113.5p/kg
Simx to 113.5p/kg
AA to 110.5p/kg
Devon to 121.5p/kg
Longhorn to 118.5p/kg av 112.59p/kg
Top Prices (£ per head or p/kg)
B&W:
£ per head: J Caygill&Ptns 919, Whin Hill Farming 918, M Baul&Sons Ltd 915, S&PE Bowker&Sons 905, CM&EM Gratton 889
p/kg: M Baul&Sons Ltd 134.5, CN&SA Harrison 123.5, Whin Hill Farming 118.5,118.5,116.5, E&KM Marshall 117.5
Brit Blue:
£ per head: K&J Marshall 1046, MD Drake 912
p/kg: K&J Marshall 138.5, MD Drake 118.5
Lim:
£ per head: K&J Marshall 965,803
p/kg: K&J Marshall 129.5,128.5,
Native Breed
£ per head: JT Spencer (LH) 825,752, K&J Marshall (Dev) 790, J&JA Preston&Son (AA) 785
p/kg: K&J Marshall (Dev) 121.5, JT Spencer (LH) 118.5,111.5,107.5, J&JA Preston &Son (AA) 110.5
MATURE BULL
Overall Average 140.5p/kg £1081.85
Lim
£ per head: G&PS Fleetwood 1082
p/kg: G&PS Fleetwood 140.5
3,113 Prime Sheep
Lamb numbers slightly back on the week but trade was maintained from last Monday. Competition is good at the ringside with 14 buyers stood today bidding for stock and this helped produce a fast selling trade on the day. Some smart lambs selling very well, and again it was the nicely fleshed 38kg to 42kg that were the most sought after. Smarter heavies also gaining a good premium.
Spring Lambs – Overall Average £64.12 per head or 153.1p/kg
32.1kg to 35.9kg to 172.7p/kg av 172.7p/kg or £57.00 per head
36.0kg to 45.5kg to 217.9p/kg av 154.23p/kg or £64.22 per head
45.6kg to 52.0kg to 174.5p/kg av 145.89p/kg or £67.75 per head
52.1kg and over to 169.6p/kg av 149.94p/kg or £80.21 per head
Beltex average £70.28 per head or 172.46p/kg
£ per head: £85 J Garth; £84 A Jenkinson; £83 Hannah Brown; £79 RW Marston; £79 J Garth & Son; £79 JJ Beckwith
p/kg: 217.9p J Garth; 207.9p RW Marston & Son; 207.9p J Garth & Son; 202.6p JJ Beckwith & Sons;
Texel average £64.53 per head or 153.59p/kg
£ per head: £95 DR Kayley; £89 AM&HV Brown; £84 GH&G Emmott; £82 DR Kayley; £79 AW&EN Wade;
p/kg: 207p AM&HV Brown; 200p RH&MR Ireland; 197.5p R Ogg; 195.3p GH&G Emmott; 194.9p J Howard
Charollais average £62.35 per head or 152.78p/kg
£ per head: £72 JR Metcalfe; £66 HW&F Wilkinson; £64 PJ&RH Wallbank; £63.50 LJ Clay; £61 JR&DL Ogden
p/kg: 162.p, 154.9p LJ Clay; 148.8p CL&J Booth; 145.5p PJ&RH Wallbank; 145.2p JR&DL Ogden
Suffolk average £64.31 per head or 146.40p/kg
£ per head: £74 A&ED Booth; £72.50 F Reeday & Son; £69.50 JR Metcalfe; £69 A&ED Booth; £68 R&AM Earnshaw
p/kg: 172.7p RG Johnson & Son; 168.8p J Garth & Son; 161.3p RG Johnson & Son; 161.1p W&M Bland
Mule average £56.56 per head or 136.53p/kg
£ per head: £62 S&D Robinson; £60 CD&RF Kitching; £59.50 E&SCL Harker; £58 J&K Harker; £54.50 AW&EN Wade
p/kg: 144.2p S&D Robinson; 139.7p AW&EN Wade; 138.1p J&K Harker; 136.4p CD&RF Kitching
Lleyn average £63 per head or 150p/kg
£ per head: £63 CD&RF Kitching
p/kg: 150p CD&RF Kitching
Cull Ewes average £54.05
Suffolk to £75.50, Texel to £96.50, Mule to £52.50, Lleyn to £57.50, Swaledale to £40.50, Gritstone to £49.50, Beltex to £68.50, Lonk to £47.50.
Top prices:
Lowland: £96.50 RH&MR Ireland; £82.50 RH&MR Ireland; £79.50 A Jenkinson
Mule/Masham: £52.50 JE Naylor; £51.50 KM&L Throup; £50.50 JM Smith & Son; £50.50 CH&OF Hammond
Horned: £47.50 R Wilson; £40.50 Ellis Bros; £39.50 N&M Sutcliffe; £38.50 KM&L Throup
Hill: £57.50 CH&OF Hammond; £56.50, £53.50x2 G&A Fort; £51.50 CH&OF Hammond
Cast Rams average £66.46
Texel to £109.50 RC Greenwood; Charolais to £81.50 JE Naylor; Lleyn to £97.50 G&A Fort; Beltex to £94.50 JM&S Tennant
Rearing Calves to £590
B&W av £122.28 Cont av £435 Native av £305
A trade you couldn't predict with 35 Continental Calves averaging £435 and topping at £590 for a fantastic British Blue Bull from David Calvert of West Marton which rightly deserved today's top price. However this doesn't take anything away from Fred Houseman of Church Farm Enterprises averaging £517 for 9 British Blues or Sowray Brothers making the Limousin average £538 with three fantastic bulls topping at £580. Richard Sutcliffe of Queensbury had a good day also with some young British Blues topping at £460 for a bull and £455 for a heifer. Calvert's took top call for the heifers topping at £490 with John Blackwell, Gargrave chasing him all the way with a sweet heifer at £480.
Black and White Calves still striding forward with arguably a number of plain calves around trade still got past £122.28 with Stephen Marshall of West End hitting the top at £260 for a pure Friesian bull. Anthony Bolland reached £205 with a Holstein Friesian, averaging £145.63 for his run of 8 black and whites.
Keep taking note because today's black and white calves averaged 26 days of age and British Blue calves averaged 41 days of age.
Bull Calves
Limousin x (Av £538.33) to £580 A Sowray & Son, Bishop Thornton
Brit Blue x (Av £458.75) to £590 D Calvert & Son, West Marton
Simmental X to £435 CN & SA Harrison, Elslack
Saler X to £250 RL Wright & Son, Airton
Aberdeen Angus to £305 Church Farm Enterprises, Burton Leonard
Black & White (Av £122.28) to £260 JC&DJ Marshall & Sons, West End
Heifer Calves
Limousin x (Av £405) to £420 F Spence & Son, Sutton
Brit Blue x (Av £413.08) to £490 D Calvert & Son, West Marton
Saler to £345 RL Wright & Son, Airton
Simmental (Av £323.33) to £360 CN&SA Harrison
Barley Staw Quads to £19.50

Stackyard News
home | agri-services | pedigree pen | news | dairy | beef | machinery | quota | property | organisations | site map