| | | |
| --- | --- | --- |
| 2014-07-02 | | |
Skipton Auction Mart Weekly Round-Up
With prime sheep numbers now showing a sharp rise nationally, the 2,856-strong turnout at Skipton Auction Mart's weekly Monday sale included 2,225 lambs, an increase of 900 on the previous week. ( July 01)
Prime sheep trade eases
With prime sheep numbers now showing a sharp rise nationally, the 2,856-strong turnout at Skipton Auction Mart's weekly Monday sale included 2,225 lambs, an increase of 900 on the previous week. As a direct result, trade was inevitably down on the week when producing an overall average of £81.42 per head, or 208.7p/kg.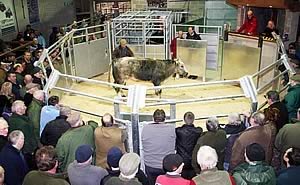 The main draw of lambs weighing 36-45kg averaged 210p/kg, while heavy lambs were short of requirements in terms of numbers, which helped these achieve an average of just over £100 per head.
Leading the way at £114 each was a Suffolk pen from John Turner, of Draughton, knocked down to Andrew Atkinson, of Felliscliffe, closely followed at £111 per head for a Beltex pen from David Hall, of Coniston Cold, snapped up by Kendalls Farm Butchers for its shop in Pateley Bridge. The same class produced a by-weight high of 248.5p/kg for a consignment from John Mellin, of Black Lane Ends, sold to Vivers Scotlamb.
Lightweights lambs were of a more varied selection, which, coupled with a drop-off in demand for ethic orders following the onset of Ramadan, made these harder to sell.
A large show of almost 600 cast ewes and rams saw trade similar on the week, producing an overall average of £66.29 per head for cull ewes, with a top of £107.50 each for a Suffolk pen from TH Heslop & Sons, of Spofforth, Harrogate.
Cast rams averaged £74.17 per head, a Bluefaced Leicester from Silsden's Jack Berry leading the way at £100.50.
Attention now turns to Skipton's high profile store sheep season, with the opening sale of almost 5,500 store lambs scheduled for next Wednesday (July 9). It traditionally falls on the second day of the Great Yorkshire Show. Catalogues are available online or from the mart office.
Cull cows offer variety
While prices for the 47 cull cows forward at Monday's prime cattle sale were slightly down on the week at a few pence below £700 per head, or 109.4p/kg, trade was still judged to be satisfactory, as cast cattle numbers nationwide remain tight.
There was a good selection on offer, with British Blue, Limousin, Blonde, Saler, Aberdeen Angus and dairy cows, both black and white and Shorthorn, among the turnout, producing a per head high of £972 for a black and white from Broughton's Jeremy Taylor, who also presented the top price Blue at £928.
The by-weight peak of 138.5p/kg fell to a Limousin cow from Martin and Val Brown, of Newton-le-Willows, Bedale, with the couple also stepping up with the top price Blonde-cross at £769.
Also noteworthy were an Aberdeen Angus-cross from CH&OF Hammond, of Padside, Summerbridge, at £911, and a £906, or 137.5p/kg, Saler from Beeston Hall Farms in Ripponden.
The nine clean cattle on parade achieved a gross high of £1,153 (184.5p/kg) for a Hereford-cross steer from Ed and Sharron Parker, of Bradley, with Thorlby's John and Alison Spensley again to the fore with a top price by-weight British Blue-cross heifer at 185.5p/kg (£1,150).
Rearing calves to £490
The 57 rearing calves forward for Skipton Auction Mart's weekly Monday sale sold to an overall averages of £293 for Continentals, £247 for native breeds and black and whites at £41.84.
Top call of £490 fell to a British Blue-cross bull calf from JR&JF Worthington, of Ramsbottom, with Limousin bull youngsters producing the day's best average of £337 per head and a high of £430 for an entry from the Hitchen family in Ludendenfoot. The Hitchens also had the pick of the heifer calves, another Limousin-cross at £370.
Store cattle popular
Close on 350 cattle, among them 101 young feeding bulls, 165 bullocks and heifers, and 74 breeding cattle, were on parade for Skipton Auction Mart's fortnightly Wednesday sale. (June 25)
Store bull trade was in line with expectations, with correct age and farm-assured cattle still looking well sold against current prime returns. Store cattle also met with a good trade when continuing to resist the falling prime cattle market, with smart, well-grown bullocks and heifers also receiving a nice following.
Young bulls sold at an overall Continental-cross average of £842 per head, with a native average of £733. Best on price at £1,200 was another top-notch British Blue-cross entry from Clapham's Jonathan Townley, while a Limousin-cross from John Lambert, of Selside, also sold well at £1,180.
The Towler family from Grindleton presented the top price pen of four Limousin-cross young bulls, which each sold for £975.
The Continental-cross average for store bullocks was £890 per head, along with a native average of £772 and black and white mean of £695.
Achieving four figures were a Limousin-cross entry from Kevin Wilson, of Blubberhouses, at £1,080 and a £1,040 British Blue-cross from Roger Naylor, of Middleton, Ilkley, who was also responsible for the top price pen of Bazadaise bullocks at £970 per head. Store heifers achieved a Continental-cross average of £858 per head and a £797 native average.
Setting the pace at £1,165 was a Limousin-cross from Stephen Harker, of Stanbury who also sold a Parthenais at £1,075. Ellis Bros, of Addingham Moorside, presented the top price pen of three Limousin-cross heifers, each knocked down at £890.
All classes of breeding cattle sold to four figure highs, with several prices exceeding £2,000 and a top of £2,400 for a Limousin heifer with Limousin heifer calf at foot from Ashfield Farms in Lothersale. British Blue-cross heifers with Limousin heifer calves at foot averaged £2,090.

Stackyard News
home | agri-services | pedigree pen | news | dairy | beef | machinery | quota | property | organisations | site map