| | | |
| --- | --- | --- |
| 2017-07-12 | | |
Skipton Auction Mart Weekly Round-Up
Spring lambs were once more out in large numbers at Skipton Auction Mart's weekly Monday sale, with the turnout of 2,320 head again achieving a decent trade when levelling at £85.61 each, or 212.5p/kg. (10th July 2017)
Heavy lambs were keenly contested all day, the 52kg and over weight bracket averaging 215.8p/kg, with others tipping the scales at 45-52kg trading to an overall average of 221.8p/kg, or £104.94 per head.
There were, however, a lot of 38kg or less lambs among the entry and these generally sold away around 205-210p/kg. Smart goods were not as numerous as usually seen, the best end coming in around the 250p/kg mark.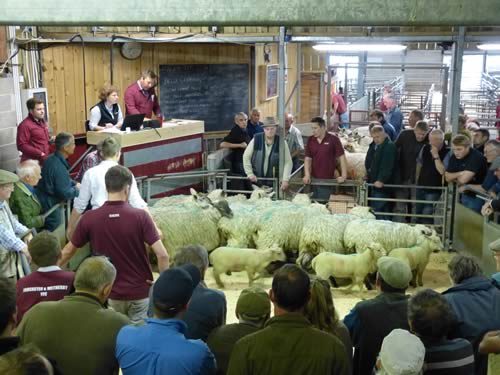 The leading per head price of £119 fell to a Suffolk pen from John Turner, of Draughton, with the top per kilo call of 254.8p/kg falling to the Grindleton-based Towler family. Respective buyers were Skipton-based Swaledale Foods and Vivers Scotlamb in Annan.
A solid entry of 473 cast sheep, with more lean sucked ewes about, were a very similar trade on the week. Cull ewes averaged £57.11 per head, topping at £121.50 per head for lowland Texels from the Watson family in Hellifield, with cast rams averaging £77.59 each.
Keelham's repeat swoop for Skipton prime cattle
Regular vendors and buyers were in attendance at Skipton's weekly Monday prime cattle sale, with Keelham Farm Shop yet again the principal purchaser when acquiring seven of the 12 under 30-month clean cattle sold to fill the shelves of the butchery counters at their two shops in Skipton and Thornton.
Among them was the top price gross and per kilo entry, a 590kg Limousin-cross heifer from Malcolm Metcalfe, of Baldersby Park, which made £1,460, or.247.5p/kg.
Steers peaked at £1,308 and 241.5p/kg for a Bazadaise-cross from James Drake, of Denholme, and a Blonde-cross consigned by Threshfield's Charles and Richard Kitching. Both figured among Keelham's purchases, with Skipton-based Stanforths Butchers also claiming four, plus one for Farmer Copleys Farm Shop in Pontefract.
Cast cattle trade was very similar trade to previous weeks, although a shortage of meat caused a price reduction on paper, with the 25 cull cows on offer selling to an overall average of £728.32 per head, or 117.21p/kg. All heavy meated dairies sold at 126-130p/kg, though under 40-month dairies were slightly easier.
Heading the dairy prices at £1,054 and 153.5p/kg were black and white entries from, respectively, JR Dinsdale & Sons, of Barnoldswick, and Keith and David Downs in Milnerfields, Bingley, with beef-bred prices peaking at £956, or 155.5p.kg, for a Blonde-cross from Draughton's Joe and Nancy Throup. A mature Aberdeen Angus bull from Martin Tyson, of Skyreholme, made £1,134.
Black and white calves on fire
Exceptional trade for black and white youngsters was seen at Skipton's weekly rearing calf sale, with Geoff and Margaret Booth, of Lothersdale, topping proceedings at £225 with a first-rate bull calf, as the section produced an overall selling average of £115.80 per head for all types.
Continental heifer calves had the pick of their section's trade, with Fred Houseman, of Church Farm Enterprises in Burton Leonard, seeing one of his British Blue entries reach the day's top call of £425 when claimed by regular supporters Malcolm and Stephen Abbott, of Dacre, with all heifer calves averaging £349.50 per head.
Continental bull calves, while of lesser quality, proved as strong as the previous week, with Richard Spence, of Sutton-in-Craven, making £415 with his Blue entry. The overall section average was £349.18 per head.
Native entries averaged £199.66 each, peaking at £235 for an Aberdeen Angus calf from S&PE Bowker & Son, of Earby.
Skipton cattle turnout and trade solid
Skipton's latest fortnightly Wednesday cattle sale attracted another solid turnout of 429 head, a very tidy entry for a mid-summer fixture.
Young feeding bulls, 117 in total, were once again good to sell, with several of the best end making over £1,200, up to £1,300 for a cracking Blue-cross entry from Ben Townsend, of Laneshawbridge. There was strong trade too for the next grade of bull with a full contingent of buyers present. The top price pen of three Limousin-cross bulls from Dick Burley, of Wath, each made £1,100, with Continental-cross entries averaging £1,008 per head overall.
Despite a shortage of strong types, the 221 store cattle on offer were a solid trade, with a price range of £1,250-£1,340 for 18-month types with shape, though it was the yearling bullocks and heifers that really found favour with seasonal buyers out in force looking for mouths to graze additional grass.
Bullocks sold to highs of £1,330 and £1,320 for a brace of Limousin-cross from CH&OF Hammond, of Pateley Bridge, with Tony Binns, of Clint, Harrogate, presenting the top price pen of three Aberdeen Angus, which each made £1,310. The Continental-cross average was £1,066 per head, with a native average of £953.
Store heifers peaked at £1,340 for a British Blue-cross from Malham Moor's Alan Lodge, with the overall Continental-cross average of £983 per head bettered by a native average of £999, including a £1,200 Shorthorn from the Coates family in Stainforth, while Ken and Lynne Throup, of Silsden Moor, sold a run of Aberdeen Angus heifers to a top of £1,120, with four others at £1,000.
The 36 beef-bred feeding cows penned for sale were the best trade seen this year, with seven making it to the top side of £1,200, topping at £1,300 for a Limousin from Frank and Colin Stubbs, of Rathmell, and producing an overall selling average of £916 per head.
Also among the mix were 55 breeding cattle, which found a good gathering of buyers at the ringside and these types continue to find new homes at constantly good prices, with purchasers buoyed by good returns for their store cattle and grazing cows in the store ring.
Ashfield Farms in Lothersdale achieved £2,000 twice with a brace of Limousin-cross heifers with Limousin-cross bull and heifer calves at foot, closely followed at £1,950 for a British Blue-cross cow and her Limousin-cross bull calf from Silsden's Nick Parker.

Stackyard News
home | agri-services | pedigree pen | news | dairy | beef | machinery | quota | property | organisations | site map