| | | |
| --- | --- | --- |
| 2016-08-24 | | |
Skipton Auction Mart Weekly Round-Up
A bumper turnout of 4,336 prime sheep, a 13% increase in numbers on the previous week, saw the 3,720 prime lambs among them meet with a reduced trade on the week when selling to an overall average of £75 per head, or 176.06p/kg, at Skipton Auction Mart's weekly Monday sale. (22 August)
Skipton prime sheep numbers soar
Well-fleshed lambs weren't too far down in price, though buyers had a preference for well-drawn lambs and anything lacking finish, especially in the 36-39kg range, were less money, a few buyers picking these off as stores. Commercial lambs weighing in at 42-45kg proved the best sellers and also produced the best average per kilo.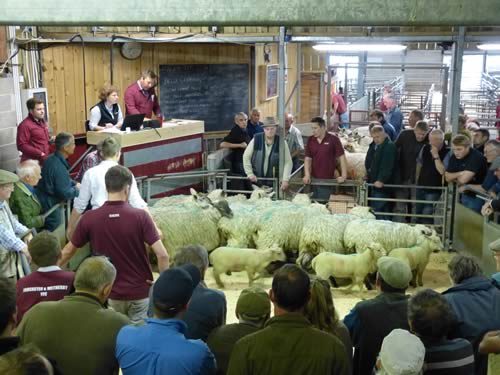 Brothers Trevor and Clive Robinson, of Tosside, led the sale at £106 per head with 54kg Texels purchased by Hartwith's Nick Dalby on behalf of Kendalls Farm Butchers in Harrogate and Pateley Bridge, with the same buyer also securing 55kg Texels from Duncan Halliday, of Sowerby Bridge, at £105.50 each.
Mr Halliday also achieved £97, or 225.6p/kg, with a pair of 43kg Beltex Texel crosses that had won Halifax show the previous weekend. These fell to James Robertshaw, of Keelham Farm Shop, as did 48kg Texels from Silsden's Sam Booker, showing for his uncle Trevor, at £104 per head, or 216.7p/kg, along with a pen of 49kg Beltex/Texel-crosses from Richard Crabtree, of Clifton, at £100 each.
Mr Crabtree was also responsible for the day's top price per kilo pen, 43kg Beltex knocked down at 230.2p/kg, or £99 each, again to Mr Dalby, buying this time on behalf of Keelham.
Other vendors selling lambs above 220p/kg were Frankland Farms, from Rathmell, Malcolm Metcalf, of Baldersby, and Elslack's Jim and Christine Scriven.
Over 600 cast sheep were also on parade. Cull ewes averaged £58.18 per head, a slight increase on the week, with a high of £108.50 each for a Texel offering from father and son Richard and Mark Ireland, from Whalley. Cast rams averaged £50.46.
Keelham's James Robertshaw was also present for the weekly prime cattle sale earlier in the day, where he secured eight of the 18 under 30-month entries.
Black and white calves in ascendancy at Skipton
Black and white youngsters made up the vast majority of the 73 rearing calves offered for sale at Skipton Auction Mart, on Monday, and they met with a healthy trade, bolstered by the attendance of additional buyers from the east of the country.
The overall section average was £77.67 per head, with a top call of £290 for a Friesian bull calf from Michael Heron, of Bramhope, Leeds.
Continental-cross entries again proved popular, with a day's high of £400 achieved on three separate occasions for a Limousin bull calf from the Clarke family in Hampsthwaite, a British Blue bull calf from John Wright, of Airton, and a Blue heifer calf from Paul and Janet Bolland, also from Airton.
James Gooch, of Cononley, sold three Blue heifers into the late £300s, with Limousin heifers topping at £390 for an entry from Sutton-in-Craven's Richard Spence. The overall Continental-cross average was £345 per head.
Native calves averaged £231 per head, led at £360 by an Angus bull calf from Ralph Guy, of Earby, with the Bollands again chipping in with a £330 sale, along with two others from Mr Heron at £310 and £300.
Skipton breeding sheep popular
A special sale 2 shear-plus breeding ewes and rams at Skipton Auction Mart attracted a turnout of 542 head and a large crowd all keen for sheep. (Fri, Aug 19)
Rams were first up and found a good enquiry, selling to a high of £400 on four occasions and levelling at £350.
Ewes were very keenly contested, with David Coates, of Coniston Cold, presenting a good run of Mule 2 shears that sold at £155 twice, £150 and £145, while Thomas Binns, of Downham, sold the same at £150 and £145.
John Wright, of Airton, sold three pens of Suffolk Mule shearlings all at £140 each. Older ewes also traded well, with broken mouth correct below ewes particularly good to sell.
Cattle trade sharp at Skipton
A total of 426 head of cattle were on offer at Skipton Auction Mart's fortnightly Wednesday sale, when sharp trade was seen across the board. (Wed, Aug 17)
Young bulls began proceedings, with eight of the 59 entries topping £1,200 and selling to a high of £1,400. The overall average was £985 per head for Continental-cross entries and £903 for natives.
In the store section, which attracted 342 bullocks and heifers, James and Deborah Ogden, from Austwick, led the day's trade with a British Blue heifer selling for £1,440, while Clitheroe's Peter Fox topped the bullock section at £1,340 with another Blue. The same vendor also sold four more entries at £1,310 twice, £1,305 and £1,290.
Bullocks achieved a Continental-cross average of £1,083.73, with a native average of £990.55, while respective heifer averages were £930 and £921.
The top price pen of five Limousin-cross bullocks from Richard Ashworth, of West Marton, each made £1,180, while four British Blue-cross from Broughton's Jeremy Taylor topped the heifer pen prices at £1,155 each.
A smaller show of beef-type feeding cows sold to a high of £880 for a British Blue, averaging £825 per head overall, which represented a good return for those forward. Also among the mix were 19 beef breeding cattle, which peaked at £1,650 for a Limousin-cross cow with Limousin-cross bull calf at foot.

Stackyard News
home | agri-services | pedigree pen | news | dairy | beef | machinery | quota | property | organisations | site map