| | | |
| --- | --- | --- |
| 2015-03-04 | | |
Skipton Auction Mart Weekly Round-Up
A pair of home-bred Limousin-cross heifers from Calderdale's Brian Lund secured championship and reserve championship honours at Skipton Auction Mart's March prime cattle show and sale. (Mon, March 2)
Mr Lund, who farms 350 acres of hill land at Walshaw Farm, Hebden Bridge, clinched the latest in a long line of successes at Skipton with a pair of home-bred Limousin-cross heifers by his well regarded stock bull Bo, who was bred in neighbouring Kirklees by Almondbury's Janet Sheard and has also been responsible for quite a number of the vendor's past Skipton champions.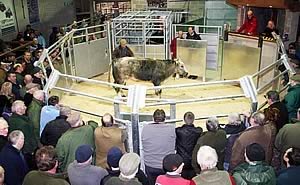 His latest 565kg victor was snapped up for £1,551, or 274.5p/kg, both the leading gross and by-weight prices, by show judge Simon Duerden, of Blacko, buying on behalf of Nicholson's Butchers in Nelson. The reserve champion fell for £1,496, or 269.5p/kg, to Saltaire butcher Dick Binns.
The third prize heifer, a Blonde-cross from Trawden's Jimmy Baines, made £1,567, or 263.5p/kg, on joining D Greerley in West Houghton, Bolton. Bingley's Keith Downs was also to the fore when selling a Limousin-cross heifer for £1,512, or 258.5p/kg, to multiple buyers Keelham Farm Shop in Thornton, Bradford.
Prime cattle under 30 months averaged 223.59p/kg for entries up to 590kg and 216.60p/kg for those above this weight.
A standalone show for cull cows produced a red rosette-winning success in the beef section for a Limousin-cross from Embsay's John and Claire Mason, sold for £1,135, or 156.5p/kg, while the first prize dairy-bred entry, a black and white cow from Alf Townsend, of Southfield, Burnley, made £918.
The second prize beef animal, a British Blue-cross from Alan Woodhouse, of Clapham, headed the class prices at £1,187, or 161.5p/kg, as did the second prize dairy-bred entry from N&J Thwaite, of Hellifield, at £966, or 125.5p/kg.
The 36 cull cows entered averaged £761.70 per head, or 115.46p/kg overall, which was a similar trade to the previous week, though the recent uplift in price brought out a higher percentage of lean lightweight dairies, which sold extremely well.
Calves again sell well at Skipton
There was a turnout of 55 rearing calves at Skipton's weekly Monday sale, with month-old youngsters notably strong on price and trading to a high of £450 for a British Blue-cross bull calf from Fred and Mark Houseman, of Church Farm Enterprises in Burton Leonard, whose run of top-notch calves, both Continental and native, proved in major demand throughout.
Michael Heron, of Bramhope, also caught the eye with a three-week-old black and white bull calf that made £158. All calves continue to sell well, with the averages - £309.80 for Continentals, £202 for native breeds and £73.57 for black and whites - not quite reflecting the strength of the price to the class of calf.
A second successive monthly prime lamb championship was clinched by well-known North Yorkshire Beltex sheep breeders, husband and wife Martin and Val Brown, at Skipton Auction Mart's March fixture.
The Browns, from Beechwood House Farm, Newton-le-Willows, Bedale, again consigned the first prize pen of five Continental-cross lambs, which, like their February title winners, were home-bred, near pure-bred Beltex. Weighing in at 41kg, they sold for the day's high of £135 per head, or 329.3p/kg, to regular wholesale buyers Vivers Scotlamb, of Annan.
The Browns were also responsible for the third prize Continental pen, five same way bred 37kg Beltex sold for £119 each, again to Vivers.
Show judge Chris Staines, primestock buyer for St Merryn Foods in Merthyr Tydfil, awarded the reserve championship to the second prize 38kg Beltex-cross pen from Trawden's Hayley Baines. They made £114 each when joining Saltaire butcher Dick Binns.
Mr Staines was also in action at the ringside when paying £84 per head for the first prize pen of 44kg horned lambs, Swaledales from MIR Heseltine, of Summerbridge, while the show class for Suffolk-cross lambs saw first and second prizes fall to 50kg and 51kg pens both from PA&NS Tattersall, of Ellerton, York. The red rosette winners sold for £93.50 each to Riley Bros Butchers in Crawshawbooth, Rossendale, the runners-up for £95.50 to Felliscliffe's Andrew Atkinson.
However, it was the third prize 61kg pen from Newark's Steve Dorey that achieved top price in class at £102 per head when falling to Stanforths Butchers in Skipton. Mr Dorey was also responsible for the first and second prize Mule pens, the 57kg victors joining Andrew Atkinson for £92.50 each, with the 56kg runners-up becoming a further Stanforths Butchers buy at £93 apiece.
With a turnout of almost 3,400 prime and lightweight hogs, trade for smart lambs was described as "fierce," with plenty of the best end making £3 per kilo. Nice commercial lambs around 38kg to 42kg were a good bit dearer on the week, with this class of lamb, especially if farm assured, receiving a good following. The 36kg to 45kg weight category averaged 203.4p/kg.
While hill lambs were forward in larger numbers, they did not dent the average in any way. Good Mules weighing 43kg to 47kg made around 190p/kg and just over in some cases. The overall prime hogg selling average was £84.09 per head, or 197.2p/kg.
The fixture also saw the return to market of four Mule hoggs originally sold at Skipton last December at Addingham & District Sheep Breeders' Association's eight annual charity wether lambs show and sale in aid of Sue Ryder Manorlands Hospice in Oxenhope.
The champion, first purchased by show sponsor Chris Pearson, of Pearson Farm Supplies in West Marton, along with three others bought by Craven Cattle Marts' chairman Anthony Hewetson, of Bank Newton, had been fed since by Skipton regular Steve Dorey, of Newark. The title winner resold for £110 to Mo Alam, of Lancashire Direct Halal Meat in Blackburn, while the remaining trio made £92 each, further boosting the £3,337 raised at last year's showcase.
In the cast sheep classes, the modest turnout of 178 cull ewes produced an extremely sharp trade, with horned ewes and leaner types looking dear when compared to heavy ewes. The overall selling average was £82.32 per head, with a high of £139.50 twice for two Texel pens from Hellifield teenager William Watson. The ten cast rams forward averaged £98.70 each, with William Watson leading the way again with a Dorset at £119.50.
The mart also held the year's opening weekly sale of sheep with lambs at foot and, with numbers short of requirements, trade was brisk, with all outfits selling well into three figures, headed at £195 for Suffolk ewes and twin lambs, with Texel ewes and twins making to £180 per outfit and correct Mule ewes and twins trading to £165.
"As ever, we ask that vendors advise the mart office of entries for the following Monday's sale, so that an online catalogue can be prepared to advise buyers of anticipated numbers," noted CCM's livestock sales manager Ted Ogden.
Skipton's final Wednesday seasonal store lamb sale was staged the previous week, when the 316-strong entry sold to an overall average just shy of £60 per head, with a top of £78 each for a Beltex pen from A&G Midgley, of Ludendenfoot, closely followed at £76 each by a Texel pen from Skipton's Keith and Jeanette Marshall.
Brown dispersal sale a big hit
CCM Auctions conducted a farm dispersal sale at the Brown family's Beechwood House Farm in Newton-le-Willows, Bedale, comprising 61 head of store cattle and 134 general lots, including farm vehicles machinery and implements. (Sat, Feb 28)
It attracted a large turnout of eager buyers from a wide area. Of the livestock on offer, Limousin heifers sold to £1,520, with a Charolais heading the bullock prices at £1,215. A Limousin stock bull made £1,220 and a British Blue bull £1,200, while the pick of the cows was a Blue-cross sold for £1,260.
Of the larger items. a Case IH CS78 Tractor sold for £10,200 and a livestock lorry for £6,700.
While selling their current farm, husband and wife Martin and Val Brown, and their daughter Hannah are acquiring further land and will remain very much involved in the regional agricultural sector.
They said they would like to thank all involved with the farm sale – CCM as organisers and auctioneers, staff who assisted on the day and everyone who supported the event and purchased items.

Stackyard News
home | agri-services | pedigree pen | news | dairy | beef | machinery | quota | property | organisations | site map