| | | |
| --- | --- | --- |
| 2016-05-10 | | |
Skipton Auction Mart Weekly Round-Up
Another strong turnout of well over 3,000 head of sheep were penned for sale at Skipton Auction Mart's weekly Monday sale on May 9th.
Sheep numbers strong at Skipton
Spring lamb numbers continue to soar and this week's 289 head sold to an overall average of £92.76 each, or 225.5p/kg, compared to £90.51 and 230.9p/kg the previous Monday.
Per head prices peaked at £120 for a Texel pen from Dave Grassam, of Wetherby, with the same section also producing by-weight tops of 276.3p/kg and 267.6p/kg for entries from Neil Tattersall, of Ellerton, York, the previous week's prime lamb champion and reserve.
Local vendor Mark Evans, of Steeton, topped the Suffolk prices with pens at £113 per head and 253.3p/kg, while Charolais lambs sold to highs of £105 each and 256.1p/kg for a pen from WJ Barker, of Arkholme, Lancaster.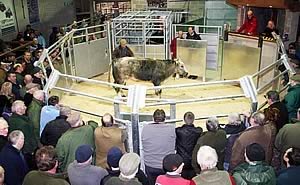 The 1,709 prime and mature hoggs among the mix averaged £77.57 per head overall, or 180.9p/kg, on a par with the previous week. Texels again led the way, with a strong run of hoggs from Nick Capstick, of Bolton-by-Bowland, all selling away well to highs of £116 per head and 220p/kg.
The by-weight top of 233.3p/kg fell to a Beltex pen from Felliscliffe's Henry Atkinson, who also led the mature hogg prices – 110 were forward – at £85, or 207.3p/kg.
The 316 cast ewes and rams saw the former average £61.81 per head, with a high of £119.50 each for a Texel pen from Gavin Boocock, of Fridaythorpe, York. Cast rams averaged £62.42 per head.
Also penned for sale were almost 400 breeding sheep outfits, comprising 396 ewes with 511 lambs at foot and 20 geld gimmer hoggs. Older sheep for grazing and feeding were a decent trade, but younger sheep proved a shade harder to cash in on the week.
Beltex shearlings with single lambs sold to £170 per outfit, Texel-cross entries with twin lambs to £177, Suffolk-cross with singles to £150 and Mule hoggs and singles to £170.
Skipton cattle numbers light, but dearer
A light turnout of nine under 30-month prime cattle at Skipton Auction Mart's weekly Monday sale saw all classes easing upwards in price, including commercial steers and heifers.
Baldersby Park's Malcolm Metcalfe was again to the fore, heading both the heifer and steer prices, the former with a 575kg British Blue-cross sold to Keelham Farm Shop for £1,377, or 239.5p/kg, the latter with a commercial Limousin-cross sold at £1,179, or 222.5p/kg, to Stanforth's Butchers in Skipton.
Mr Metcalfe also sold another Limousin-cross heifer at £1,135, or 236.5p/kg, to Shipley retail butcher Dick Binns.
Cull cows numbered 37 in total, with lighter entries now being seen nationally because of the turnout to grass. This resulted in an improved trade for all classes, including non-UK tags, which, according to the mart, may represent an opportunity to move imports on, if numbers remain tight.
The overall cull cow selling average was £664 per head, or 105.29p/kg, with a per high of £1,011 for a Murray Grey beefer from John and Judith Garnett in Draughton and by-weight joint top of 118.5p/kg for an Aberdeen Angus from John Marshall, of Dacre, and a black and white from David Berry & Son in Thornton. The Abbott brothers, also from Dacre, were responsible for the top price black and white entry at £949.

Stackyard News
home | agri-services | pedigree pen | news | dairy | beef | machinery | quota | property | organisations | site map