| | | |
| --- | --- | --- |
| 2016-06-22 | | |
Skipton Auction Mart Weekly Round-Up
Prime Sheep Trade rose at Skipton Auction Mart on Monday June 20th with numbers 20 per cent to 30 per cent tighter across the country.
Prime Sheep prices rise
Prices levelled at 195p across the board with buyers having to be keener to fulfil their requirements. This yo-yo effect could continue for a week or two until more level numbers come on stream.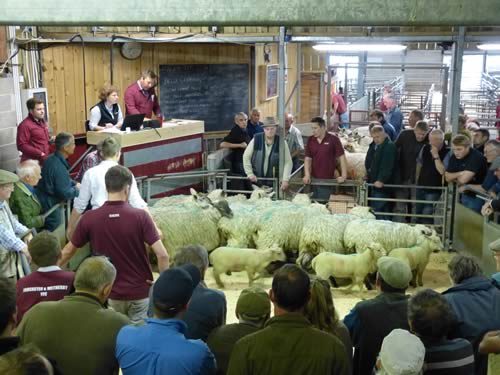 Top shot came from Messrs A&AR Phillipson of Briercliffe selling Texel lambs at £106 each purchased by Andrew Atkinson on behalf of Hartshead Meats of Mossley. Nick Capstick of Bolton by Bowland had 238.5p/kg for 39kg Beltex crosses that realised £93 per head purchased by Vivers Scotlamb of Dornocktown.
Although the overall average was 11p/kg up and up £5 per head, it is only fair to note that generally the show was of slightly better quality than last week with a smaller proportion of 35kg to 38kg lambs which proved harder to cash last week, and the tighter numbers will have had an effect as well.
Spring lambs averaged £80.48 per head or 195.6p/kg, with Beltex averaging £87.25 per head or £218.1p/kg.
Suffolks averaged £80.18 per head or 188.4p/kg; Texels averaged £80.41 per head or 197.1p/kg, while Charollais averaged £80.50 per head or 199.5p/kg. The Rouge average was £87.96 per head or 187.4p/kg.
The overall average price for hoggs was £37.90 per head or 111.9p/kg, while cull ewes averaged £60.51 and cast rams averaged £62.50.
Breeding Sheep trade remains strong
There was a tidy show again at Skipton on Monday for the late season but trade was reasonable with customers still looking for outfits.
Top price was a pen of Texel Hoggs with Beltex lambs at £150 outfit from KM&L Throup, of Woofa Bank. Other notable prices included Texel Hoggs with Twins selling for £140, Texel Ewes Correct with Twins selling for £140, Suffolk Ewes b/m with Twins at £140, Mule Ewes correct with Twins reaching £140, Herdwick Ewes with Twins at £102 and White Faced Woodland Ewes with Twins at £110. Sales continue weekly at 12noon – please advise the mart office of entries.
Strong trade in cast cows
Cast cows remain a strong trade with currency continuing to support export trade and numbers tightening. The fast approaching holiday period could see demand slacken particularly if large numbers start to move off grass and it is advisable to keep marketing culls as they come forward.
The overall average cull cow prices were 105.37p/kg or £670.29. Black and Whites sold for top price of 133.5p/kg, Limousin crosses reached 123.5p/kg, British Blue crosses 135.5p/kg, Aberdeen Angus crosses topped 125.5p/kg and Charolais crosses reached 115.5p/kg.
J Caygill & Ptns of Rylstone sold a Black and White for £971 while RL Wright & Sons of Airton got top price per kg with 133.5. B Spensley Ltd of Thorlby got top price for British Blues with £935, while Brian Lund, of Calderdale, sold a Limousin for £935 and I Barrett & Son of Braisty Wood got top price per kg with 123.5p.
I Barrett & Son also sold a British Blue mature bull for £1278 or 149.5p/kg to Owain Llyr.
Prime steers under 30 months sold to 225.5p/kg while prime heifers weighing 400-480kg sold to 233.5p/kg and over 485kgs sold to 240.5p/kg.
CD&RF Kitching of Threshfield sold a Limousin cross steer for £1229 to Keelham Farm Shop, and a British Blue cross for £1,105 to Stanforths.
JM Townsend of Laneshawbridge sold a Limousin cross heifer for £1,263 or 240.5p/kg to Edwards Farm Butchers.
Prime Cattle over 30 mos averaged 123.64p/kg or £826.33 with top price going to J Caygill & Ptns who sold a Black and White for £907 or £139.5p/kg to John Thompson at Samlesbury.
Monthly livestock sale
CCM Auctions conducted their monthly sale of Stirks, weaned calves and young store cattle on Saturday June 18.
A total of 115 cattle were put forward along with 32 goats.
RW Hebdon of Upsall sold a Shorthorn bull for £795 to B Jackson, while T Riley of Midgeley, Hebden Bridge, sold one for £660 to Mark Thompson.
The Newsomes sold a British Blue bull for £640 while J Roebuck sold an Aberdeen Angus for £385 and a British Blue for £315. K&M O'Connor sold three Holstein Friesian bulls for £280 apiece.
P Fortune of Tosside sold two British Blue steers for £755 each and another for £670, along with a Limousin steer for £670.
DW Sunderland of Halton East sold six Charolais heifers for £725 each, while TB Moorhouse & Son of Dacre sold five Limousin heifers for £680 apiece.
In the goat sale top price was reached for a nanny and two kids, at £110, while a nanny and kid went for £95, and a boar nanny to £76.

Stackyard News
home | agri-services | pedigree pen | news | dairy | beef | machinery | quota | property | organisations | site map