| | | |
| --- | --- | --- |
| 2014-11-19 | | |
Skipton Auction Mart Weekly Round-Up
Prime sheep numbers show no sign of letting up and Monday's even larger weekly turnout of 5,102 also saw no real let up in trading levels, with the 4,705 lambs among them averaging exactly the same as the previous week at 175.9p/k. (18 Nov)
Commercial Continental export lambs were 180p to 190p/kg, with those a touch smarter selling at around 200p/kg. The very best end achieved 220p/kg-plus, with a day's high of 292.1p/kg , or £111 per head, for a first-rate 38kg Beltex pen from Stocks Enterprises in Gisburn.
James Towler, of Grindleton, Great Harwood's John Eddleston and Kevin Marshall, of Otley, also sold lambs above 250p/kg, with the last mentioned achieving £107 each with another Beltex offering.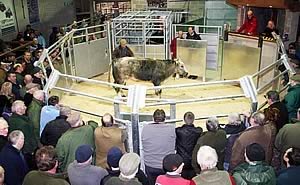 Skipton's George and John Stapleton had a £101 per head pen, while also hitting £100 each were other quality pens from Richard and Mark Ireland, of Whalley, John Eddleston again, Trawden's Hayley Baines, and Ellis Bros, of Addingham Moorside
Heavy lambs again sold well, with the 46kg to 52kg bracket up 1p/kg on the week, and decent Suffolk and Continentals 48kg to 52kg lambs making £32 to £36 over the weight. Mule lambs were a decent trade without being quite as strong as last week, but generally trade was £26 to £28 over the weight for these.
Almost 400 cast sheep were also on parade. A decent show of ewes was plainer in quality, but every bit as good to sell, averaging £52.64 per head, with a top of £111.50 for a Texel pen from P Fawcett, of Gargrave. Cast rams averaged £71.32 each, peaking at £99.50 for a Texel from Frank and Robert Fielden, of Todmorden.
Cull cows to the fore at Skipton
All but six of the 49 prime cattle entered for Skipton Auction Mart's weekly Monday sale were cull cows, which traded to an overall average just short of £600 per head and 90p/kg.
Although the price reflected a reduction on the week, it was said to hide a turnout which comprised a very high percentage of worn lean dairy cows, which, if young, continued to get away in advance of expectations.
Cattle carrying finish sold well, with farm assurance particularly important if vendors are looking to offer cattle to the widest possible audience.
Joint highs of £982 per head were achieved by Blonde-cross and Limousin-cross entries from, respectively, RD Thorpe, of Sheffield, and C Lumb & Son, of Halifax.
Jennings top price at calf sale
Skipton Auction Mart's weekly Monday rearing calf sale saw a smaller turnout of 31 youngsters sell to an overall Continental-cross average of £293 per head, with a black and white mean of £69 - and trade still described as strong.
Top price of £425 fell to a British Blue-cross bull calf from Martin Jennings, of Cowling, with a Limousin-cross from Messrs Hayton & Stocks in Bolton Abbey not far behind on £400. The same vendors also presented the top price £240 black and white bull calf.
RL Wright & Son, of Airton, had the pick of the heifer trade with a British Blue-cross at £345 and a Saler at £185. Threshfield's Angus Dean also hit £240 with a Limousin-cross heifer calf.
Busier weeks ahead are anticipated in the run-up to the Christmas rearing calf show on Monday, December 1.
Four loads of produce were sold at Skipton Auction Mart, on Monday, with small bale hay making to £3.10 per bale and quads up to £25 per bale.
Store sheep trade soars
A massive turnout of 6,517 head of sheep at Skipton Auction Mart's latest fortnightly Wednesday sale comprised 5,072 store lambs and 1,445 breeding sheep.
Plenty of late Autumn grass and a timely lift in prime sheep prices, together with a large company of southern-based buyers, helped to raise store sheep trade by some £3 to £5 per head.
Store lambs still came forward in good numbers and trade was described as strong. Suffolk and Texel lambs averaged over £60 per head, while any smart Beltex types raced away up to near the £70 per head mark. Chris Heseltine, of Bolton Abbey, stood out with a £100 per head Beltex pen.
As is customary at Skipton, Mule wethers were keenly contested, with the 1,670 head on offer averaging £58.36, an increase £3 each on the last fortnight.
Some notably large lots of Mules sold on the top side of £60, with Darnbrook-based James Hall's second lot of the day -104 head knocked down at £64.50 each - proving one of the high points. Tom Kitching, of Hebden, also sold 24 head at £66.50, and Mark Nelson, of Clapham, 50 head at £65.50.
A large selection of horned lambs saw the best end achieve around £50 each, with averages of £46 for Dalesbred and £42 for Swaledale.
In the breeding sheep section, a good entry included 824 Mule lambs for the fifth sale of the Autumn and these averaged £81.89 per head, a healthy increase of £10.10 per head on the fortnight.
Swaledale gimmer lambs also received a good enquiry, while quality ewes and rams sold reasonably well too.
An entry of 6,000 head is again expected for the next Wednesday fortnightly sheep sale on November 26.

Stackyard News
home | agri-services | pedigree pen | news | dairy | beef | machinery | quota | property | organisations | site map