| | | |
| --- | --- | --- |
| 2015-06-03 | | |
Skipton Auction Mart Weekly Round-Up
Keelham Farm Shop, of Thornton, Bradford, virtually completed a clean sweep of the prize winners at the June show of prime cattle at Skipton Auction Mart, including the champion and reserve champion, as well as buying the day's top prime lambs. (Mon, June 1)
Keelham's James Robertshaw started off by purchasing the prime cattle champion, a 525kg 16-month-old British Blue-cross heifer for 280.5p/kg, or £1,473. It was shown by regular red rosette winner Jim Baines, of Trawden.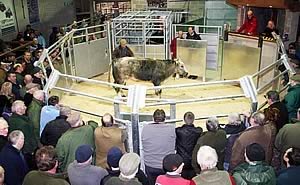 This was followed by the capture of the reserve champion, a 575kg pure Limousin heifer from Bill Cowperthwaite of Malham Moor, for 253.5p/kg, or £1,458.
The Keelham buying spree – Mr Robertshaw bought five prime cattle in total - was only interrupted by the sale of the third prize heifer, another Jim Baines British Blue-cross weighing 485kg, which was snapped up by Saltaire butcher and regular Skipton buyer Richard Binns for 240.5p/kg, or £1,166.
Bill Cowperthwaite also took first and second prizes in the bullocks with Limousin-cross entries selling at £1,354 and £1,328. Third placed Malcolm Metcalfe, of Thirsk, saw his British Blue-cross fetch £1,157, or 235.5p/kg, the top by-weight price in class.
Keelham, which remains on target to open its brand-new farm shop in Gargrave Road, Skipton, adjoining the auction mart site later this month, were back in for the prime sheep, taking the June champion pen for £107 per head.
The late February-born 44kg lambs, by a Beltex ram out of Charollais ewes, were consigned by Robert Towers, of Camp House Farm, Farleton, Lancaster, and were chosen as champions by judge Martin McIntyre of McIntyre Meats in Hawes.
Mr Towers, a regular prime lamb champion and prize winner at Skipton – he again swept the board at this year's high profile Easter show for the third year in succession - also took third place at the latest renewal, with Felliscliffe's Andrew Atkinson buying his 42kg entries at £90 per head.
Mr Towers said: "We did well over Easter and I was keen to come back for Jun. It was good to put forward a good pen and I thought they'd do well."
For good measure, Keelham paid £85.50 per head for the second prize 44kg pen of Suffolk-cross prime lambs from Steeton's Mark Evans, who was also responsible for the first prize and reserve champion pen of 45kg lambs, which again fell to Mr Atkinson at £89 per head.
The second prize 43kg Down-cross pen from John and Alison Spensley, of Thorlby, become a further Binns Butchers acquisition at £82 each.
Back with the prime cattle, the 81-strong turnout incorporated 66 cast entries, with standalone shows for both beef and dairy-bred cull cows.
Overall champion with the red-rosette winning British Blue-cross was Easingwold's Ken Gamble, who made £1,202, or 170.5p/kg, the leading by-weight-price, though it was the runner-up, another British Blue-cross cow from Alan Thwaite, of Thwaite Bros in Airton, that achieved the top per head price at £1,241.The same vendors also sent out the top price £1,012 Limousin-cross.
The first prize black and white cull cow from A&M Beecroft, of Fewston, sold away at £972, bettered by the runner-up from the Abbott brothers in Dacre, which made £972. The same vendors also achieved £839 with a dairy-bred Swedish red and white while G Boothroyd & Son, of Huddersfield sold a Jersey at £769.
Cull cows once again proved in strong demand and were actually dearer on the week when selling to an overall average just short of £780 per head, or 124.2p/kg. A mature Holstein Friesian bull from Bingley's Keith Downs made £879.
Vendors are asked to note that the mart is looking for prime cattle in numbers for the July show and sale, on Monday, July 6, when buyers are expected to be out in force.
The turnout of 1,943 prime sheep incorporated almost 1,100 new season lambs and a trade that was sharper than anticipated when averaging £79.11 per head or 187.11p/kg overall.
Hogg numbers are about done for the season, though anything with a bit of meat sold well enough, with the 230 prime and lightweight hoggs achieving an overall average of £63.95 per head, or 147.3p/kg.
A very large show of 586 cast ewes and 29 cast rams saw cull ewes average £73.13 each, with a top of £156.50 per head for a pen from Hellifield teenager William Watson, while cast rams averaged £107.64 per head, with William again leading the way with a £161.50 Texel.
Also on parade for the weekly sale were almost 100 breeding sheep, along them 31 ewes with 47 lambs at foot. Trade was generally a touch sharper for this late season sale and, with numbers tightening fast, there was some competition at the ringside. Prices peaked at £175 per outfit for correct Texel ewes and twin lambs.
Rearing calf trade 'unstoppable'
There was again a fantastic trade for the 41 rearing calves forward for the weekly Monday sale, with anything well-fleshed and looking good said to be" unstoppable."
Two strong runs of Continental-cross calves, mainly British Blues, from John Marshall at Monk Ings, and Fred Houseman, of Burton Leonard, were well supported and these two vendors achieved tremendous prices, with Mr Houseman topping the bull calves at £545 and Mr Marshall the heifers at £480. The Continental-cross average was £419.70 per head.
Black and white trade was also said to be exceptional for the best calves, with fleshy Holsteins time after time selling well at £110-£145 and topping at £170 for the third calf into the ring from Chris Harrison, of Elslack, with the same price also achieved for another top-notch youngster from Geoff and Margaret Booth, of Lothersdale. They didn't have to be old either, with many of the top prices being 24 days to 1mth and 15 days. The black and white average was £111 per head.
Native youngsters were hard to stop also, with six-week-old old calves touching mid-£350's and averaging £263.70 right through.

Stackyard News
home | agri-services | pedigree pen | news | dairy | beef | machinery | quota | property | organisations | site map