| | | |
| --- | --- | --- |
| 2014-08-12 | | |
Skipton Auction Mart Weekly Round-Up
An increased entry of 3,666 prime sheep at Skipton Auction Mart's weekly Monday sale (Aug 11) saw the 3,176 lambs among them trade similarly on the week when selling to an overall average of £70.37 per head, or 168.06p/kg.
Skipton prime sheep trade similar
There was again good demand for the smarter end of the turnout, as well as well fleshed lambs, though anything lacking finish was slightly harder to sell, as processors look to buy just the well covered lambs.
Frank and Robert Fielden, of Todmorden, presented the top price per head and by-weight pen of Texel lambs at £96 and 240p/kg respectively.
A total of 490 cast sheep were forward. Cull ewes were a sharp trade, with heavy ewes in strong demand, with the best Mules £80+, up to £94.50 for a nice pen from Janet Ewin-Newhouse, of Stackhouse. Continental ewes topped £100 on several occasions, selling to a high of £108.50 each for a Texel pen from Richard Towell, with an overall cull ewe average of £46.69 per head. Cast rams averaged £68.13 each.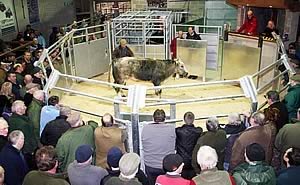 Cull cows to the fore
The 40 prime cattle forward for Skipton Auction Mart's weekly Monday sale again saw cast cattle in the majority, with a turnout of 34 head.
While demand for cull cows was a shade easier, the overall selling average of £677.49 per head, or 106.15p/kg, was still deemed satisfactory. Dairy-bred entries met with the pick of the trade, with a top per head price of £981 for a black and white from Martin Jennings, of Cowling.
In the clean cattle section, black and whites were again to the fore, with a high of £875 for a heifer from Malcom Gratton, of Warsill, with a by-weight top of 141.5p/kg for a Hereford-cross steer from R Leeming, of Carleton.
Beltex the pick of Skipton store lambs
Skipton Auction Mart's fortnightly store sheep sale (Wed, August 6) attracted another solid turnout of 4,775 head, comprising 4,517 store lambs and 258 breeding sheep, which sold to a crowded ringside at an overall average of £57.53 per head, on a par with trade at the previous sale.
Beltex store lambs produced the day's top per head price of £72 for a pen from Bentham's Robert Garth, also achieving the leading breed average of £64.94. Mr Garth was also responsible for the top-priced £76 per head Mule gimmer lambs.
Other store lamb breed averages and top prices were: Suffolk - av £58.04 (top £69.50 MG Tomlinson), Texel – £57.45 (£67.20 E&AM Simpson), Mule – £51.40 (£55.50 Swinbank & Briggs), Charollais – £57.16 (£58 Mac Iveson Partners), Cheviot – £51.67 (£54.50 L Woodcock).
Breeding sheep customers were keen to source ewes for early tupping and, regardless of age, as long as the ewes were strong then there were plenty of takers. Texel shearlings led the trade when selling to a high of £155 each. The pick of the rams was a 500gns Charollais from Skipton regular Robert Towers, of Farleton, Lancaster.
The mart reports that more buyers are now getting ready to take longer keep lambs, while seasonal customers will also be looking for Suffolk-x-Mule gimmer lambs in early September.
An entry of between 6,000 and 8,000 head is anticipated for the next fortnightly sale on Wednesday, August 20, which will be a busy week at Skipton.
Also on the agenda are two other breeding sheep fixtures – the annual przie show and sale of Mule, Texel and Continental-cross shearling gimmers on Tuesday, August 19, along with the annual show and sale of two-shear and over breeding ewes on Friday, August 22. The day also features a sale of Suffolk, Texel and Continental breeding rams.

Stackyard News
home | agri-services | pedigree pen | news | dairy | beef | machinery | quota | property | organisations | site map