| | | |
| --- | --- | --- |
| 2015-04-01 | | |
Skipton Auction Mart Weekly Round-Up
The latest fortnightly Wednesday cattle sale at Skipton Auction Mart produced a bumper turnout of 835 head, among them some first-rate short-keep and grazing cattle seeing the trade of the day. (April 29)
With one eye on the prime trade, some customers were understandably cautious before the sale, but generally trade was stronger than most anticipated, with grazing bullocks and heifers produced the trade of the day, though there were four-figure prices per head aplenty in all categories.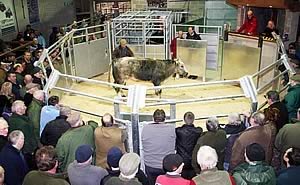 The 203 young feeding bulls averaged £932 per head for Continental-cross, with a native average of £750. A total of 608 bullocks and heifers were on parade, the former averaging £1,016 each for Continental-cross and £818 for native breeds. Respective heifer averages were £885 and £764.
In the commercial breeding cattle section, Rathmell's Richard Maudsley topped the day's trade by some margin when selling a 22-month-old British Blue bull for £4,500, which returned to its place of origin when joining Frankland Farms in Rathmell.
Fantastic trade in rearing calves on Bank Holiday Monday
The Bank Holiday at Skipton Auction Mart brought sunshine and strong prices with it for the rearing calf sale.
An average number of calves at 52 met a fantastic trade with every vendor selling above expectations, topping out at £530 with a Continental average price of £399.96.
Black and Whites were a pleasure to sell with well-grown calves receiving strong support and averaging £111.64 with three superb calves from Whittaker's of Bolton Abbey reaching £195 each. Native breeds averaged £250.25.
Blues were led again by the Houseman family from Burton Leonard with the top price of £530, sold to the Houseman family trading as Church Farm Enterprises, but were chased hard by the Booth family of Dowshaw Farm, Geoff, Margaret and daughter Megan, with six well reared British Blues selling to a fine trade, with a top price of £470 for a heifer.

Stackyard News
home | agri-services | pedigree pen | news | dairy | beef | machinery | quota | property | organisations | site map