| | | |
| --- | --- | --- |
| 2017-11-22 | | |
Skipton Auction Mart Weekly Round-Up
Countrystyle Meats of Lancaster set their Christmas stall out and secured 12 purchases out of the 26 under 30-months available at this week's prime cattle sale at Skipton Auction Mart. (20th Nov 2017)
Butchers snap up prime cattle for Christmas
Countrystyle Meats of Lancaster set their Christmas stall out and secured 12 purchases out of the 26 under 30-months available at this week's prime cattle sale at Skipton Auction Mart.
They included the highest grossing animal, a Blonde cross steer from James Drake, of Denholme, which tipped the scales at 555kg and made the leading steer price of £1,418, or 255.5p/kg.
Leading price by weight was a British Blue cross heifer, weighing 515kg, sold by Messrs AA &E Critchley & Son, of Hutton, which made 269.5p/kg grossing out at £1,388 when bought by Countrystyle Meats.
Following hard on the heels of this high was a black Limousin cross heifer weighing 545kg from James Drake, which sold to returning buyer George Cropper, who took over Sandersons Butchers in Baxenden earlier this year, for 266.5p/kg or £1,452.
There were also 40 cull cows put forward, with an average of 101.91p/kg or £674.36. There was a shortage of warm fed meat in the cast cow lines but a number of entries coming off TMR in the dairies bucked the trend with heavy cows with condition going for 110p.
A few more beef cows scanned empty on the market with dairy crosses filling the Continentals and as a result most feeders backing off in the mid 120s because of the types available. A heavy Beef Shorthorn cow from Joe Drinkall, of Anglezarke, sold at £1,007 or 118.5p/kg, and a 580kg Belted Galloway from Tom Boothman, of Linton, made 120p/kg.
AP Townsend, of Burnley, sold a British Blue mature bull for the top price of £1,159 or 135p/kg.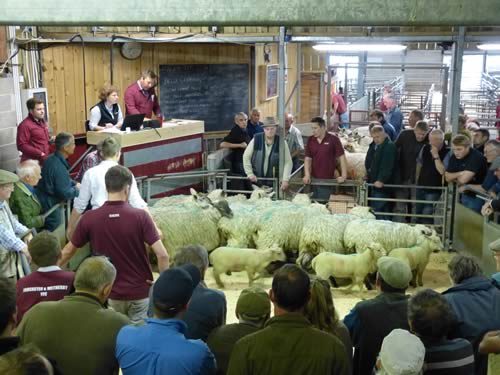 Fine trade for good numbers of prime lambs
Skipton saw a much larger show of sheep this week, with 3,802 prime lambs, and a nice trade too on the day, recording an overall average of 173p/kg.
The best lambs saw some strong prices, but they had to be handy weights - 39kg to 43kg - to hit the heights of 240p to 260p. Trade topped at 278p or £111.50 for a pen of three Beltex crosses from James and Jennifer Garth, of Keasden, selling to Paul Watson. Messrs Garth sold a further pen of six at £102 each.
Mark and Elaine Hartley, from Roughlee, had a pen of four Beltex crosses weighing 41kg sell at £109 each, whilst there were four pens at £108 each from Duncan Halliday, of Sowerby Bridge, John Nutter, of Hurst Green, and two pens from Richard Simpson, of Pateley Bridge, who had a further pen at £100. Other three-figure pens were Kevin Marshall, of Darley, and Frankland Farms, of Rathmell, both with £106, James Towler, of Grindleton, with £104.50, Fox Farms, of Clitheroe, with £104, Ellis Bros, of Addingham Moorside, with £104, £102 and £100, and Issy Hartley, of the Pendle flock, based in Roughlee, Henry Atkinson, of Felliscliffe, and John Thwaite, of Horton in Craven, all with £100.
Mule Lambs were just a shade easier on the week, but horned lambs kept up the recent better rates.
There were 302 cast sheep put forward, with cull ewes averaging £37.17 per head with highs of £91.50 for M Crabtree and AL Thompson. In the cast ewes meat was in very short supply with the bulk of the entry made up of lean lightweight sheep. Cast rams averaged £41.93.
Cracking store lambs sale
There was an impressive sale of store lambs for the time of year at Skipton Auction Mart on Wednesday November 15.
A large line-up of 4,219 store lambs alongside nearly 500 breeding sheep attracted a good company of buyers and a fast trade ensued.
The best Continental store lambs reached the £70s with strong Suffolks and Texels in the mid-£60s, as were the best pens of Mules and Mashams including a pen of 112 mules at £65 each from James Harrison, of Weston. F Reeday & Son, of Hetton, sold a pen of Suffolks for £66 and DE&CP Sayer, of Threshfield, sold a pen of Texels for £73 a head, while TB Moorhouse, of Dacre, sold Beltex for £74 each. Mid to long keep lambs have also been better to sell in the last few sales as seasonal buyers get clear ground to graze. Horned lambs also found a very strong following.
The fortnightly sale of rams, ewes and gimmer lambs took place in the sheep ring at lunchtime. Rams started the sale and sold to a complete clearance. Gimmer lambs were again good to sell, with 383 Mules averaging £67.08 as several clients looked to fill their order books, with Texel ewes to £105, from RH Hall, of Delph, and Swaledale Gimmers to £50, from Hayton & Stocks, of Bolton Abbey. With grazing in good supply around the country, the next sale on Wednesday November 29 is a good opportunity to take advantage of the trade and tidy up end of season stores, with an entry of 5,000 expected.

Stackyard News
home | agri-services | pedigree pen | news | dairy | beef | machinery | quota | property | organisations | site map