| | | |
| --- | --- | --- |
| 2017-01-04 | | |
Skipton Auction Mart Weekly Round-Up
Keelham Farm Shop swooped in to buy the champion heifer at Skipton Auction Mart on Monday (Jan 2) in the first prime show of the year.
Show judge Philip Gregory, of Bacup, awarded the championship to Ben Townsend, of JM Townsend, Laneshawbridge, whose British Blue cross heifer, weighing 515kg, sold for 278.5p/kg, or £1,434.
Reserve champion was a British Blue heifer, weighing 525kg, consigned by Jim and Christine Scriven, of Elslack, which made 252.5p/kg or £1,326, when selling to the judge, a butcher who runs DA Gregory & Sons in Bacup.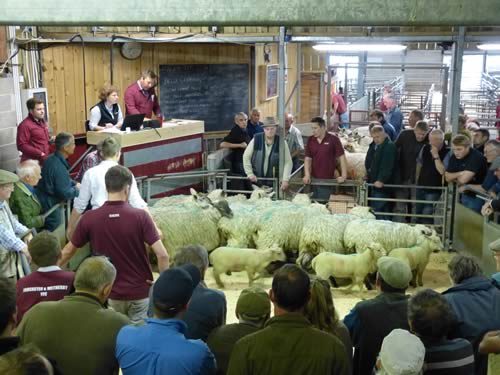 The show saw a good entry of clean cattle with buyers keen to restock after the holiday break. A total of 85 prime cattle were put forward, including 26 clean cattle under 30 months and one clean cattle over 30 months.
Mr Townsend also claimed third in the heifers show, and sold a Limousin cross for £1,381, with the Scrivens coming second with their reserve champion.
James Drake, of Carla Beck Farm, Carleton, took first place in the steers with a Limousin cross bullock, while second and third places went to CD & RF Kitching, of Threshfield. Top price for steers went to Mr Drake, who sold for £1,349 or 247.5p/kg. CJ & DD Drake sold an Aberdeen Angus cross steer for £1,346, while CD & RF Kitching sold a Blonde cross for £1,321.
Cull cow prices reached an overall average of 103.36p/kg or £685.44. A high percentage of cows carrying finish held over from the holidays and there was a strong demand from factories eager for stock for re-opening on Tuesday.
Continental cows were good to sell including a non-UK Limousin from AJ Mason, of Embsay, making 138.5p/kg, surpassed by Messrs C Lumb & Son, of Barkisland, with a Limousin, which made 147.5p/kg.
Meated Black & Whites were creeping upwards on gross values with the best selling for £956 from JC Marshall whilst plain cows were particularly good to sell with occasional cows 85p-plus. Black & Whites averaged 98.50p/kg, while Limousin crosses averaged 131.54p/kg.
Cracking calves at Skipton
A splendid range of calves opened the New Year at Skipton Auction Mart on Monday January 2, with a strong trade to meet them.
A total of 115 calves saw a packed ringside on the New Year bank holiday with the very best calves flying to strong prices.
Fred Houseman and Geoff and Margaret Booth were at the sharp end at £460 and £450 respectively with 12 Blue bulls past £400. The better Blue heifers all sold away well with farmer buyers snaffling some quality entries with Martyn Jennings of Cowling having the pick of the trade at £390.
A super run of Fleckvieh cross calves from Chris Watson, of Horton Pasture, received fierce bidding topping at £350 and averaging at £290. Herefords met a healthy trade with John Blackwell of Gargrave topping at £260 with the 14 on offer averaging £234.
Older Black and Whites forced the trade in the dairy breds with a strong contingent over £100 and peaked at £145 for a fleshy calf from Johnny and Simon Moon, of Wigglesworth.
Black and Whites averaged £70.02, Continentals averaged £338.70 while Natives averaged £224.60.
Produce Sale
Five loads of produce were put forward at the Monday market with haylage selling to £27 per bale and hay selling to £3 per bale.

Stackyard News
home | agri-services | pedigree pen | news | dairy | beef | machinery | quota | property | organisations | site map