| | | |
| --- | --- | --- |
| 2015-04-01 | | |
Skipton Auction Mart Weekly Round-Up
Robert Towers, of Camp House Farm, Farleton, Lancaster, maintained his dominance of the annual Easter prime lamb show and sale at Skipton Auction Mart when again notching a championship and reserve championship double - and scooping every single prize in the Continental show classes. (Mon, March 30)
It was his third successive title win at the seasonal showcase, which again attracted a packed ringside, among them independent retail butcher and wholesale buyers seeking to source top-quality local lamb for Easter tables.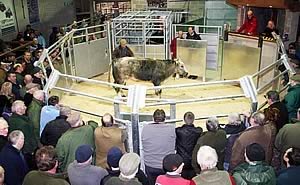 Mr Towers netted championship honours with his first prize single lamb, a home-bred 44kg Beltex-cross-Charolais by a ram he purchased two years ago at the Beltex Sheep Society's annual September show and sale at Skipton.
This and his second prize 45kg single lamb both fell to RC&B Binns Family Butchers in Saltaire for the same joint show-topping price of £138 per head, or 313.6p/kg, with the Bingley Road shop also snapping up Mr Towers' reserve champions, the first prize 44kg pair by the same tup, which was bred in Cleveland by Guisborough's Neil Noble, at £133 per head.
Binns Butchers, owned by husband and wife, Dick and Barbara Binns, from Oxenhope, also paid £130, or 283.7p/kg, again top price in class, for the first prize Down-cross single ram lamb, a 52kg Suffolk by a Strathisla tup from regular vendor and showman Mark Evans, of Tower Gate Farm, Steeton.
All Binns Butchers' buys were made by the owners' grandson, Guy Hargreaves, of Keighley, who has been running the shop while Mr Binns recovers from an operation. All their acquisitions will be going on sale from this weekend purposely for the Easter trade, when customers will have the pick of some top-notch lamb roasts and other prime cuts.
Mr Towers brought 20 lambs in total. His second prize 43kg Continental pair sold for £128 each to Roots Farm Shop in East Rainton, Northallerton, established in 2008 on the family farm by the Hutchinson family. They were purchased by Roots Farm Shop butcher James Farrington, who left with 15 lambs in total, again all for the Easter trade.
Mr Towers' third prize 51kg Continental pair fell for £134 per head to show judge Mick Etherington, of Wilsden, who was again buying at the fixture on behalf of Woodend's Family Butchers in Otley Road, Adel, Leeds, run by butcher Dan Woodend.
Mark Evans again dominated the Down-cross show classes, also winning the red rosette in the pairs class with 43kg Suffolks, and taking second prize in the singles with another 42kg lamb. These sold for £122 per head and £116 respectively to the same regular Skipton buyer, Andrew Atkinson, of Felliscliffe, Harrogate, purchasing both lots on behalf of West Scottish Lamb in Carlisle.
There was a decent trade generally if the quality was right for the 37 Spring lambs forward, with the best Beltex, Suffolk and Continental entries making 270-310p/kg, nice sorts around 250p/kg, with a few pens of very commercial types around 210-230p/kg. The overall selling average was 252.95p/kg.
Champion in a standalone show class for prime hoggs was Michael Hall, of Scosthrop Farm, Scosthrop, with his pen of five 43kg Beltex-cross lambs, which sold for £104 per head to Vivers Scotlamb in Annan.
Second and third prizes with Beltex-cross entries both fell to regular vendors Martin and Val Brown, of Newton-le-Willows, Bedale, selling to a high of £125, or 307.5p/kg, for a single lamb. This, too, joined Vivers.The reduced entry of 2,285 prime and lightweight hoggs sold to an overall average of £83.24 per head, or 189.45p/kg. Handy weight sheep were a reasonable trade, some decent runs of Continentals still commanding 210-220p/kg, the best sorts 240-300p/kg, with commercial types 190-200p/kg.
However, anything out of the mainstream weighing 47kg upwards met with a very variable trade, with heavy hoggs generally finding a more cautious enquiry from buyers, though decent 43-45kg Mule lambs still managed 185-190p/kg.
Cast sheep – 301 ewes and 15 cast rams - bucked the trend and were a stronger trade on the week, with ewes averaging £81.86 per head and selling to a top of £135.50 for a Texel pen from John Rushton in Elslack. Cast rams averaged £104.63 each, peaking at £145.50 for another Texel from E&AM Simpson & Son, of Pateley Bridge.

Stackyard News
home | agri-services | pedigree pen | news | dairy | beef | machinery | quota | property | organisations | site map