| | | |
| --- | --- | --- |
| 2016-01-13 | | |
Skipton Auction Mart Weekly Round-Up
Skipton Auction Mart saw a cracking prime sheep trade all round on Monday January 11, with best sorts in very good demand.
Prime Sheep trade strong at Skipton
Skipton Auction Mart saw a cracking prime sheep trade all round on Monday January 11, with best sorts in very good demand.
Prices topped £100 on several occasions for the smart end, whilst handy weighted nice sorts were 180p to 190p, and a more commercial type around 170p.
Heavy types were up a gear on the week, with smart sorts up in the £90s. Mule, Horned and Hill bred lambs were in plentiful number making up nearly a third of the entry; Mule lambs averaged 160p (+3p on the week) whilst good Horned lambs were also a shade dearer on the week, and lightweights maintained their recent trade.
Old season lambs averaged £71.19 overall per head, or 169.92p/kg.
Beltex were selling for an average of £82 per head or 204.67p/kg, with AM & HV Brown of Beechwood House Farm, Newton-le-Willows, Bedale, getting top price per head and weight, at £112 or 280p/kg.
Suffolks averaged £75.39 per head or 165.91p/kg; RL Wright & Sons of Airton picked up top price per head at £85.50 while DW & CJ Towler of Grindleton got top weight with 183.3p/kg.
William Watson of Hellifield sold Texels for £99 per head while G Beresford & Son of Hellifield got top price per weight, with 232.1p/kg. Texels averaged £74.40 per head or 172.79p/kg
Mules averaged £68.7 per head or 160.53p/kg, Charollais averaged £75.7 per head or 173.97p/kg, and Swaledales were averaging £48.8 per head or 136.74p/kg.
Cull ewes averaged £56.08, with Texels selling to £139.50 for a ewe from William Watson. It was the top priced lowland, and he also scored the top hill price with a cheviot ewe going for £78.50. Edward Berry of Thornton-in-Craven got top price for Mules/Mashams at £60.50 and TA Robinson of Longridge got top price for horned ewes with £50.50. Cast rams averaged £71.33 on the day.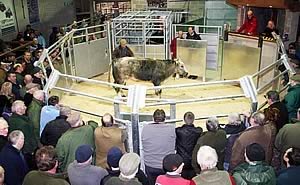 Prime cattle sale at Skipton
A total of 89 prime cattle were put forward at Skipton Auction Mart on Monday January 11, along with 71 cast cattle.
JR Metcalfe got top price per head for a Limousin cross steer, selling for £1,449, while JM Townsend of Laneshawbridge took top price per weight with another Limousin cross steer selling for 244.5p/kg to Keelham Farm Shop.
Mr Metcalfe also picked up top price per weight for a heifer, selling a Limousin cross for 262.5p/kg, while H Downs & Son of Bingley sold a British Blue cross for £1,408, the top price per head, again to Keelham.
Prime cattle over 30 months averaged 102.82p/kg, or £784.13. Top price per head went to J Caygill & Ptns of Rylstone for a black and white at £784 to John Thompson of Preston. EJ Fort of Silsden got top price by weight with another black and white selling for 129.5p/kg.
Cull cows averaged 90.81p/kg or £603.10 per head, with black and whites averaging 83.52p/kg and Church Farm Enterprises getting top price at £816 or 129.5p/kg.
Limousin crosses averaged 115.35p/kg with J Drinkall Ltd of Chorley notching up top price at £957 or 123.5p/kg.
N Parker sold a Swedish Red for £698 while TB Moorhouse & Son of Dacre, Harrogate, sold a British Blue for £942 or 134.5p/kg. KA & HL Fawcett of Barden sold a Blonde cross for £1,261 or 147.5p/kg while J Drinkall Ltd sold two Aberdeen Angus for £975.25 and £905.98. M&R Smith of Winterburn sold a mature black and white bull for £835.63 or 87.50p/kg.
Produce sale
Mini Heston Barley Straw sold for £16.50 per bale while mini Heston Hay was £24 per bale. Heston Wheat Straw sold for £17.50 per bale, Quadrant Wheat Straw £20 per bale, and small bales of hay were selling for £2 each.
Strong line-up of buyers for store cattle in Skipton
A hectic day at Skipton Auction Mart on Wednesday January 6 saw 1,528 cattle put forward.
An increased entry of feeding bulls at the opening sale of store cattle attracted a strong line up of 21 separate buyers keen to purchase cattle but at a reduced price to reflect current uncertainty on dead weight pricing.
There was plenty of competition for well bred 2015 spring calves in forward condition with smaller bulls harder to move and strong short keep bulls £1,100 to £1,200.
In the store cattle section trade was generally in line with everyone's expectations, although the show of cattle would generally be a shade younger than last year with not as great a proportion of the cattle being forward strong sorts. Younger cattle met a nice trade on the year as well. Overall there were an extra 115 head of cattle sold compared to last year's sale.
Young continental bulls averaged £901 while young native bulls averaged £590. Top price pen of three or more bulls was claimed by DW Barker, of Leathley, who sold four Charollais crosses at £1,060, while JA&J Harper, of Sedbergh, sold three Charollais crosses at £1,040.
Continental Store Bullocks averaged £981, while natives averaged £806. W Mason & Son, of Appletreewick, got the top price pens, selling five Charollais crosses at £1,220 and five Simmental crosses at £1,210.
Store Heifers averaged £917 for continentals and £744 for natives, with DW Barker coming out on top again selling six Charollais crosses for £1,130, while JR Smith of Carleton sold a pen of three for the same price.

Stackyard News
home | agri-services | pedigree pen | news | dairy | beef | machinery | quota | property | organisations | site map