| | | |
| --- | --- | --- |
| 2018-04-11 | | |
Skipton Auction Mart Weekly Round-Up
A much larger Monday turnout of 4,049 prime and cast sheep at Skipton Auction Mart also saw prices well up on the week, with multiple three-figure pen prices throughout. (Apr 9)
Cracking prime sheep turnout and trade
First into the new sales ring were 62 Spring lambs and, with numbers way short of requirements, these set the pace for the day when selling to an overall average of £135.36 per head, or 320.14p/kg.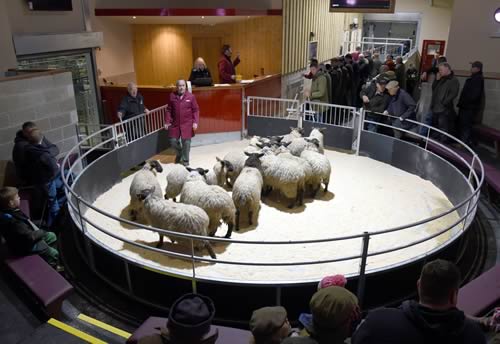 Robert Towers, of Farleton, Lancaster, who has made a real early season impact at the mart with his Charollais Spring lambs, was on song yet again with the joint top price £162 per head duo, bought by D&J Isherwood Butchers in Silsden,
Another Charollais stalwart, Charles Marwood, of Whenby, York, also hit £162 per head, or top price by-weight 356.4p/kg, with a pen bought by Felliscliffe's Andrew Atkinson on behalf of a wholesaler customer.
The day's 360p/kg high, or £144 per head, fell to a Texel pen from D&A Livestock, of Haverah Park, Harrogate, again selling to Andrew Atkinson for West Scottish Lamb in Carlisle.
A more mixed entry of 3,510 old season lambs also produced great trade, selling to an overall average of £122.90 per head, or 281.3p/kg. While there was a general shortage of the very smartest hoggs, those sold were able to command solid prices of 340p to 400p/kg.
Andrew Phillips, of Burton Leonard, excelled again when topping the per kilo prices with a 402.8p, or £145 per head Beltex pen bought by Vivers Scotlamb in Annam. Other pens from the same vendor also sold to a high of £170.
The leading per head price of £172 each fell to an offering from award-winning South Yorkshire Texel breeder Peter Longdin, of Wellingley, Doncaster. These went to Worsley Wholesale Butchers in Dewsbury.
Some extremely good heavy hoggs saw the best sell away at £110-£115 over the weight in places, with nice sorts making £100-£110 and well-fleshed commercials £85-£100.
Some good runs of hill-bred sheep were generally around the £80 to £85-plus region, or 250p/kg. Mules sold to a high of £141 each, these from NEMSA chairman Kevin Wilson, of Blubberhouses, and £138 from Bernard Simpson, of Pateley Bridge. Colin Middleton, of Mitton, Whalley, also did extremely well with 62kg Cheviot hoggs that sold to a top of £166 each.
Lightweight horned lambs were good to sell if well fleshed, the best end making 230-255pkg, plainer sorts 210-230p.
Getting on for 500 cast sheep were also penned for sale and, with a shortage of heavy ewes, a high percentage of lean lightweight sheep on the back of recent poor weather met with an exceptional trade. The overall cull ewe average of £84.50 was seen as a good return. D&A Livestock in Haverah Park, Harrogate, again caught the eye with Texel pens sold to £158.50 per head. Cast rams averaged £129.50 each, again a marked improvement.
Also sold on a hectic Monday were 629 store and breeding sheep, with quality outfits again in high demand, notably younger ewes with strong lambs at foot. The 226 outfits of sheep with lambs topped at £230 for Texel shearlings and twins from Alan Midgley, of Luddendenfoot.
Older ewes were decent to sell if they had older lambs at foot, while a useful entry of store hoggs also found favour and sold away very well.
Retail cattle in strong demand
Also penned for sale on Monday were 70 prime cattle, among them 21 under 30-month high quality retail cattle. The previous week's monthly show judge, butcher Anthony Kitson, returned to claim the top price performer, a 575kg British Blue-cross heifer from John Fawcett, of Barden, which made £1,492, or 259.5p/kg.
The meat will be prepared for sale at Kitson & Sons Butchers' three shops in Northallerton, Stockton-on-Tees, and Hutton Rudby, and its Five Houses Farm Shop and Kitchen in Crathorne.
Leading per kilo prices for both heifers and steers came from the pen of F&B Smith, of Westhouse, whose top price heifer, a 530kg British Blue-cross, made 266.5p/kg, or £1,412, with their highest priced Limousin-cross steer selling for 263.5p/kg, or £1,383. Both fell to weekly buyer Keelham Farm Shop, which took home ten cattle in total for its Skipton and Thornton stores.
Other principal retail butcher buyers were Countrystyle Meats Farm Shop in Lancaster with five and three for Skipton-based Stanforths Butchers.
A good entry of 47 cull cows carrying finish helped produce a buoyant trade across the board, with meated dairies making 120-130p/kg, the next grade down nudging 120p/kg and plainer types 100p/kg-plus. The overall selling average was £846.21 per head, or 121.91p/kg.
Brian and Judith Moorhouse, of the Aireburn pedigree dairy herd in Bell Busk, topped the dairy and day's prices with a £1,201 black and white, with Anthony Bolland, of Bolton Abbey, achieving a by-weight high of 130.5p/kg, gross £1,083, with another black and white. A solid packet of Aberdeen-Angus cull cows from Skipton's Geoff and Margaret Lawn saw four hit four figures to tops of £1,172 and 139.5p/kg.
Rearing calves top at £425
The same morning's weekly rearing calf fixture saw another robust entry of 72 head sold in the new calf ring, again attracting a strong consignment of buyers and producing a top price of £425 for a British Blue-cross bull calf from RL Wright & Son, of Airton, bought by Robert Foster, of Wetherby. The same vendors also had two others at £400.
The better end of the Continentals sold away nicely and incorporated some tidy pens of Limousin-cross bull and heifer calves, the former topping at £380 and £360 for bulls from JC&DH Marshall, of West End.
Heifer calves were also popular, with the Moon family, from Wigglesworth, again to the fore when heading the section with Blue-crosses at £400 and £395, John and Rob Marshall, of Dacre, chipping in with another at £350. Straight Limousins heifers generally sold around the £200 mark, up to £250 for an entry from Robert Metcalfe, of Brearton The overall Continental-cross average was £289 per head.
The West End Marshalls also topped the native prices with a £290 Aberdeen-Angus bull calf, the section seeing an overall selling average of £203.50 per head, while black and white youngsters averaged £90.91, peaking at £165 for one from Town Head Farm in Grassington.
Stainbank double at Craven Dairy Auction
The Stainbank pedigree Holstein Friesian dairy herd run by Robin Jennings at Hull House Farm, South Stainley, Ripon, secured its second Craven Dairy Auction championship of 2018 at Skipton Auction Mart's opening April show and sale, also adding the reserve championship for good measure.
The three-year-old title winner, Stainbank Breeze 67, by the Genus dairy bull Zelgadis, out of Breeze 64, had calved for the second time 15 days earlier. Giving 44 litres, she fell to regular buyer Mark Goodall, of Tong, Bradford, for £1,800. Mr Jennings' reserve champion, a newly calven 28-litre commercial heifer acquired as a calf, sold for £1,350, again to Mr Goodall.
However, it was an in-calf heifer from Duncan Holme, of Storiths, that met the trade of day. Due in May to an Aberdeen-Angus bull, she made £1,400 when claimed locally by John Howard, of Heslaker. A small show of dairy cattle, judged by Brian Blezard, of Ribchester,

Stackyard News
home | agri-services | pedigree pen | news | dairy | beef | machinery | bps | property | organisations | site map