| | | |
| --- | --- | --- |
| 2016-09-28 | | |
Skipton Auction Mart Weekly Round-Up
CD & RF Kitching, of Threshfield, reached top price with a Blonde cross at the prime cattle sale at Skipton on Monday. (Sept 26)
Prime cattle sell to £1,374 at Skipton Auction Mart
The Kitchings sold the steer for £1,374, or 247.5p/kg, and also sold a Limousin cross for £1,337, or 234.5p/kg.
A total of 70 prime cattle were put forward, including 22 clean cattle under 30 months and 5 clean cattle over 30 months.
JM Townsend, of Laneshawbridge, sold a British Blue cross heifer for £1,291, or 245.5p/kg, while the Kitchings topped the heifers by weight, selling a Limousin cross for 250p/kg.
Prime cattle over 30 months saw an overall average of 122.36p/kg or £777.65.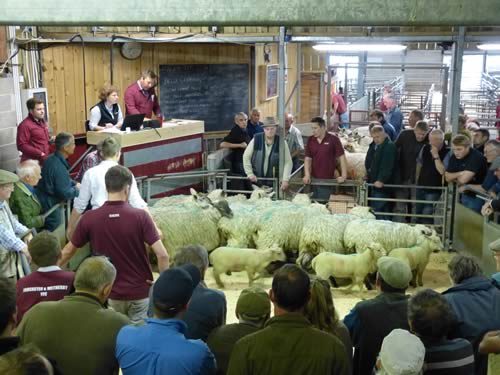 In the cull cow sale, there was a very high percentage of worn dairies in the mix which were a reasonable trade with the lowest at 64.5p/kg.
Prime sheep sell well to keen buyers
Another large show of sheep met with the usual full company of buyers at the prime sheep show at Skipton on Monday. (Sept 26)
The sale recorded an overall average of 172.2p/kg, representing a very good result on the day when compared with AHDB website reports.
A total of 5,822 prime sheep were put forward and as predicted, anything with either plenty of meat and or weight onboard was good to sell.
The very best end sold to 268p from Sarah Warriner and Mark Harryman who again made the trip over from Pickering to sell lambs at Skipton. Weighing 41kg, the pen of four lambs sold for £110 each to Thomas Shepherdson, of Marsden.
Ellis Bros, of Addingham Moorside, weren't far behind at 259.5p for a cracking pen of Beltex crosses, which weighed 42kg and made £109 to Vivers Scotlamb, while Ellis Bros had another pen at £111 each (50kg) again to Vivers Scotlamb.
However it was John & Alison North from Giggleswick who topped the shop at £112 for a single Texel lamb purchased by Andrew Atkinson, of Felliscliffe, Harrogate.
Other pens at £100 were JL North (£108), GD Warriner & Son (£104), A Bradley (£101), George Sunderland (£101, £100.50 & £100), whilst £100 was achieved by WC Logan and W Stapleton & Son.
A cracking show of 1,028 Feeding Ewes and Rams averaged a great £51.50 each with nearly a third of the entry being Horned or Hill bred Ewes.

Stackyard News
home | agri-services | pedigree pen | news | dairy | beef | machinery | quota | property | organisations | site map