| | | |
| --- | --- | --- |
| 2015-03-04 | | |
Skipton Auction Mart Weekly Round-Up
Sheep arrived from far and wide at Skipton Auction Mart this week, with more than 4,000 coming from Yorkshire, Lancashire, Derbyshire, Lincolnshire and even all the way from Buckinghamshire. (Mon, March 16)
It was the largest show of hoggs this season as some of the large feeders really get into gear.
There were some great runs of heavy hoggs in the entry and the best presented 50kg hoggs were around £100 or more, selling in excess of last week's rates. handy weight export hoggs were a touch dearer than last week as well.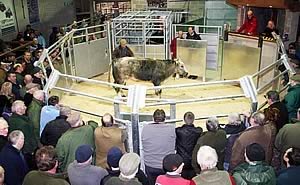 The hill bred lambs were along similar lines, good horned lambs selling away well, although Mule lambs were generally a shade less on the week.
Cast Ewes and Rams were plentiful in number and found a very good reception from buyers and were easily sold.
Prime hoggs reached an overall average of £86.10 per head, or £195.53p/kg.
Beltex averaged £102.21 per head or 239.85p/kg, with top price reached by Kevin Marshall, of Dacre, of £127 per head and 325.6p/kg.
Suffolk averaged £92.09 per head or 194.38p/kg; R&KA Burley, of Wath, took top price per head with £107 while JM & VJ Howard Ltd, of Holme, got top price per kg at 211.4p.
Texels sold for an average of £90.70 per head or 194.38p/kg; top price per kg went to MP Jennings of Cowling at 264.6p while top price per head was taken by J Hodgson, of High Peak, at £115.50.
Charollais averaged £96.50 per head or 202.8p/kg; I Marsden, of Hoyland Swaine, got top price per head at £117.50 while RG Church Ltd, of Askwith, got top price per kg at 228p.
Swaledales averaged £67.16 per head or 175.66p/kg, and Dalesbreds averaged £60.23 per head or 177.31p/kg.
Breeding Sheep selling nicely
There was a larger show of ewes with lambs at foot than in previous weeks at Skipton Auction mart, selling away nicely.
A total of 221 head of breeding sheep was put forward and anything with strong lambs was very much in favour.
A few pens of ewes with younger sold to a mixed trade offering buyers a little more value for money.
Top price was claimed by Messrs Simpson, of Dacre, who sold a Texel correct with twins for £230, and two Suffolks correct with twins for £220 each.
Cast rams average over £100
Cast rams were selling at Skipton for an average of £100.35, with top price reached by Lea & Son for a Charollais, selling for £149.50.
Cull ewes averaged £85.19, with top price for a Suffolk going to EB Webster, of Cracoe, at £152.50. Texels sold to £131.50, Beltex to £130.50, Mashams to £103.50, Cheviots to £103.50, Mules to £102.50, and Swaledales to £77.50.
Prime cattle and cast cattle
A total of 24 prime cattle were put forward at Skipton Auction Mart on Monday along with 22 cast cattle.
A Hereford cross heifer was sold by R&KA Burley & Son, of Wath, for £928, while CM&EM Gratton, of Warsill, sold a Black and White heifer for £959.
Although the trend on cast cattle prices is downwards because of the strength of sterling, shortage of cattle carrying finish caused the top end culls to be a shade dearer on the week.
The overall average of £718.14 or 104.99p/kg for cull cows, whilst lower, reflects a higher than usual percentage of lean, plain cows.
Top price for Black and Whites was £1,017, for G Abbott & Sons, of Dacre, although SW & JE Ryder & Son, of Norwood, got top price per kg at 128.50p.
D & S Hollins, of Peckit Well, got top price per head for a Limousin with £990, and 136.50p/kg.
.

Stackyard News
home | agri-services | pedigree pen | news | dairy | beef | machinery | quota | property | organisations | site map