| | | |
| --- | --- | --- |
| 2015-11-25 | | |
Skipton Auction Mart Weekly Round-Up
There was another robust turnout of 23 under 30-month prime cattle at Skipton Auction Mart's weekly Monday sale, with many of the usual vendors and buyers in attendance. (November 23)
Prime cattle numbers strong
Top price honours at £1,558, or 257.5p/kg, fell to a Limousin-cross heifer from JW Stockdale & Sons, of Burnsall, bought by Paul Binns for his 'The Oastler' butcher's shop in John Street Market, Bradford.
Silsden Moor's Simon Bennett had the top price per head bullock, another Limousin-cross sold for £1,470 to Stanforths Butchers in Skipton, one of three acquisitions, with a by-weight high of 255.5p/kg for a further Limousin from Ben Townsend in Laneshawbidge. This fell to Keelham Farm Shop, who continued their weekly buying spree when acquiring nine prime cattle in total.
The 40 cull cows forward met with a trade described as "reasonable in the light of processor concentration on clean cattle at this time of year" when selling to an overall average of £592.87 per head, or 89.27p/kg, with a high of £923 for a black and white from the Abbott brothers in Dacre. The pick of the beef entries at £893, or 126.5p.kg, was a Limousin from Richard Caton, of Stainforth.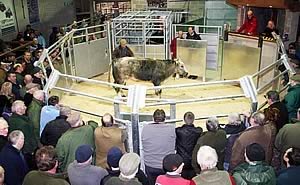 Sharper trade for Skipton lambs
A slightly smaller show of 4,251 prime sheep at Skipton Auction Mart's weekly Monday sale met with a much sharper trade, especially for a commercial type of lowland-bred lamb, producing an overall selling average for the 3,781 prime lambs on parade of £70.17 per head or 162.3p/kg, compared to the previous week's £66.67 per head, or 156.82p/kg.
The smart end again proved good to sell, with Hannah Brown, of Leyburn, leading the sale for the second week in succession with a Beltex pen at £114 each, or 265p/kg.
Commercial Continental lambs, regardless of weight, were £2-£3 per head dearer on the week, resulting in 40kg to 45kg lambs selling from 165p to 175p/kg, while the heavies traded at 150p to 160p/kg, depending on quality.
Mule wether lambs were £3-£4 apiece dearer on the week, the best end of 45-46kg lambs working into £27-£28 over the weight, with the very best at £30 over. Charles and Richard Kitching, of Threshfield, caught the eye when selling two pens of 45kg Mules at £75 per head.
More commercial sorts were £24-£25 over the weight, while horned lambs were no dearer on the week, generally around 130p/kg.
The 470 cast sheep forward also met a very similar trade on the week, with cull ewes averaging a shade over £44 per head and cast rams £60.71 each. Ewes peaked at £97.50 per head for a Texel pen from Stephen Holt, of Queensbury, with a Beltex from D Feather, of Sutton-in-Craven, the pick of the rams at £88.50.
Skipton store lamb trade healthy
Skipton Auction Mart's latest fortnightly Wednesday sale of 2,646 store lambs and 222 breeding sheep produced an overall selling average of just over £49 per head, with a healthy trade for the better end of lambs and growing types highly sought after. (Nov 18)
The standout performers were Robert Metcalfe, of Brearton, who sold 64 Suffolks at £64 each, and James Hall, of Darnbrook, who made £57.20 per head with 100 Mules. Long keep and wintering lambs made up the greater percentage of the entry and found seasonal buyers keen.
The pick of the breeding sheep was a pen of £85 per head Texel ewes from Stuart Hodgson, of Glossop, with gimmer lamb prices headed at £82 each for a consignment of Mules from JB Taylor, of Diggle, Oldham. Rams peaked at £400 for a Texel from Angela Nairey, of Blackburn.

Stackyard News
home | agri-services | pedigree pen | news | dairy | beef | machinery | quota | property | organisations | site map