Downland Distributors' Conference
2011-12-20
Andrew Rettie, chairman of Downland's board of directors from McCaskie Farm Supplies, making the presentation to Douglas Davidson.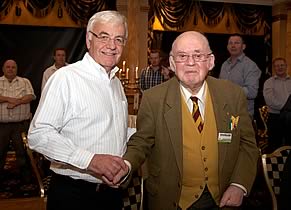 Downland Marketing, the network of Animal Health Distributors who work together to source the best available products in the UK at the best available prices, recently held its annual conference for franchisees in Chester.

Presentations ranged from The Dairy Industry… the Future? to Triclabendazole resistance. Franchisee Murray Farmcare gave an insight into their business and Sarah Grantham from Masstock Arable UK gave a talk on her recent Sheep Study visit to New Zealand.

Andrew Rettie making the presentation to Peter Lewis.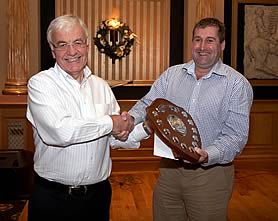 Douglas Davidson from Davidsons Veterinary Supplies retired from the Board of Directors after more than 25 years.

The Tom Jeary Award was made to Peter Lewis Agri & Equi for their hard work and commitment to Downland. They sell the highest proportion of Downland brands, take part in all promotional campaigns, 100% record of attendance at meetings, always in the first six to respond to requests for info from the Downland office, never fails to achieve agreed volumes & targets, works hard to promote the Downland brand in their territory at shows and events.

Marek's Disease Study Sheds Light on How Human Cancers Develop


Focus On BVD Eradication Dividend, Not Difficulties


Significant Expansion of Calf Health Scheme in NE England