GEA Farm Technologies Welcomes Farming and Forestry Improvement Scheme 2011-12-15
Grants of up to 40% are now available on GEA Farm Technologies machinery through the Farming and Forestry Improvement Scheme (FFIS).
IQ. The world's first four-way milking cluster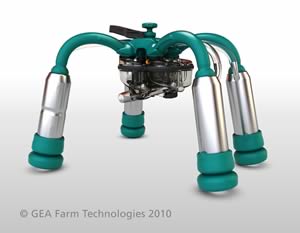 The FFIS is part of the Rural Development Programme for England (RDPE) and aims to help make farming businesses more profitable and resilient whilst reducing the impact of farming on the environment.
David Wenner at GEA Farm Technologies, said: "This funding is a great opportunity to help farmers and agricultural contractors improve the competitiveness of their business. Together with the range of products that GEA Farm Technologies has to offer we are urging all dairy farmers in England to look closely at their farm improvements and take advantage of the funding available."
Here are just some of the Total Solutions from GEA Farm Technologies that could qualify:
Cluster flushing systems such as SureFlush

Milking clusters for improved animal health such as IQ cluster

Automatic foot baths including PediCuRx

Heat recovery systems including ExtraHeat

HeatWatch for improved health and welfare of your dairy cows

Variable speed vacuum systems VoD EnergySaver

Livestock housing accessories for improved animal welfare

Slurry management systems including those for sand-laden slurries.
The deadline for the first round of applications is 17 January 2012 and farmers are encouraged to submit their applications in as soon as possible, as the process is competitive.
For more information visit www.gea-farmtechnologies.co.uk or email info.geafarmtechnologies.uk@geagroup.com.

New Project Probes Peatís Role in Reducing Effects of Climate Change


Business Grants On Offer to Help Boost North Pennines Economy


College Project to Help Save Endangered Tansy Beetle