Sheep Producers may not be Capitalising on Higher Prices
2011-12-14
Continued higher lamb prices could be masking inefficiencies in lowland breeding flocks which mean producers are not achieving the returns they could in the current buoyant market.
But a careful on-farm audit of business practices, including analysing labour and machinery costs, as well as keeping a careful eye on marketing to ensure the maximum number of lambs meet the required specification when sold, could help further increase margins.

Figures published recently in the annual EBLEX Business Pointers costs of production report show the top third lowland breeding flocks having a positive margin, even after non-cash costs are included, of £6 per ewe, with the net margin before non-cash costs being £33.50 per ewe. However, bottom third producers are showing a loss of £50 per head despite the strong prices enjoyed in the 12 months to March 31 2011 – the period the benchmark figures are drawn from.

Physical performance has improved across the board, with more lambs reared, higher outputs and better returns per lamb sold – but there have also been significantly increased variable and fixed costs, eating into the better margins.

"While some variable costs are largely the same, such as veterinary costs, in top, average and bottom third performers, for other inputs there is significant difference," said Mark Topliff, EBLEX senior analyst.

"Bedding costs for the bottom third performers are three times that of the top third, forage costs are nearly double and total cost on concentrates is 40 per cent higher at £15.48 per head. These show areas where those performing less well can look to make efficiencies.

"Looking at fixed costs, there is more than £50 per head difference between the best and the bottom performers. When you dig in to the make-up of this, it is in areas like power and machinery costs where we see the biggest difference: £9.10 per animal for those performing best compared to £20.96 per animal for those in the bottom third. Allied to this are the machinery and fixtures costs – made up largely of depreciation – which is £6.34 per head for the top third compared to £16.10 per head."

Labour costs also show a wide range with £7.51 per animals for those in the top third and £19.62 for those in the bottom third.

The figures show similar output prices across lowland breeding flock enterprises, though the modestly higher prices the top third are achieving suggest better marketing at target weights rather than selling overweight lambs, which also has a knock on effect on the costs.

"Rising costs have outstripped rising prices for sheep so we would urge those who are not seeing the margins they would expect to look at areas like machinery use, feed, forage and bedding costs, and labour overheads, as areas where they are mostly likely to be able to make efficiencies to boost their margins.

"There is little difference in animal physical performance, but the best performing farmers are those keeping a proper handle on costs."

Figures for the 2011 Business Pointers report were gathered for the 12 months to 31st March 2011 from 240 beef and 178 sheep enterprises in England.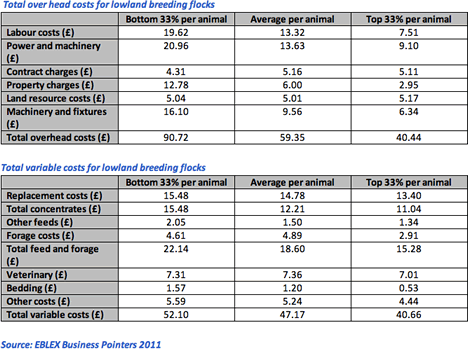 James Martin Crowns 2011 Young Chef Charlotte Heath


90 per cent of UK Beef Carcases Now Independently Classified


Cameron Raises Beef Exports Issue During Russia Visit