Glasson's Glora Hits Top of the World Charts
2011-11-09
For the first time since the introduction of genomic testing in dairy cattle an animal in Europe is now number one. Bred by Philip and Simon Haffey, Portadown, Northern Ireland Glasson Goldwyn JD Glora VG88 2Yr is the World's No.1 PTAT Milking female (PTAT+4.34) on the World Genomic rankings.
Glasson Goldwyn JD Glora VG88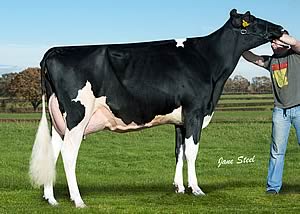 Leading the field by significant strides (+0.04), she exceeds the former No#1 Cow Regancrest MB Breauna VG89 (Aug11 PTAT 4.30). She is sired by Braedale Goldwyn - Premier Sire World Dairy Expo for four consecutive years.
Her Dam Joylan Durham Glora EX93 2E (Excellent 97 dairy strength) has it all; milk, solids and type. In her third lactation she produced an incredible 14,241kgs 305 4.23% 3.43%. In her second and fifth lactations seen her protein percentages average over 3.5%. In the show ring she claimed Supreme Interbreed Champion Dairy Event 2004. Her transmitting ability has resulted in sons in Ai namely Joylan Eurostar at Cogent and Smiddiehill Granite at Genus ABS.
Her Grand Dam is the 6 star Brood Cow Joylan Glora EX92 who produced 11,590kgs 305 4.21% 3.68% in her first lactation. She has bred 5 UK daughters average 87 points and is full sister to Germany's high type sire Bonatus, the most heavily used bull in Germany for 3 consecutive years. Following on through the pedigree is 3rd Dam Glora VG89 (Dam of Bonatus); 4d: Hayleys Star Gloriette EX92; 5th Dam: Donovan Sheik Gloriette EX94 10*; 6th Dam: Donovan Western Glory VG87.
Glasson Aftershock G Glora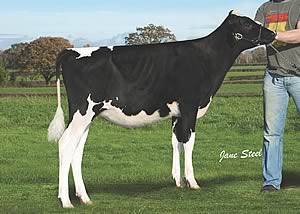 Making waves from the same Donovan Sheik Gloriette family is Monreal (GTPI+2413, PTAT+3.93). (Man O Man x VG87 Shottle x VG89 Lukas x VG88 Aerostar x EX Cleitus). His nearest 4 Dams have averaged over 3.7% as milking 2 Year olds, whilst the maternal sister to Monreal's Dam is the former ~ 1 RZG (Total Merit Index) cow in Germany, Goldstruck VG87 2Yr.

Glasson Goldwyn JD Glora VG88 is the Dam of Glasson Aftershock G Glora (PTAT+4.08 GTPI+2118) who is selling at the Black & White Sale, Carlisle, Saturday 3rd December 2011. Already there are numerous contracts and AI interest and her complete pedigree makes Glora a very exciting prospect.

Future Looks Bright for WWS UK's Show Ring Superstars


Champion Tops Moira Holstein Bull Sale at 5,400gns


Latest Silent Herdsman Raises the Bar in Dairy Heat Detection