Diary Dates for 2011 Great Yorkshire Show and Countryside Live
2010-12-20
The 153rd Great Yorkshire Show takes place on Tuesday 12, Wednesday 13 and Thursday 14 July, 2011 when the cream of the country's livestock, edge-of-the-seat displays, acres of shopping opportunities and countryside activities are just some of the "must sees" on the timetable.
2010 Great Yorkshire Show Supreme Beef Champion,
"Romany 1 Captain", a four year old Hereford,
shown by Keith Jempson for Nesbitt Farms.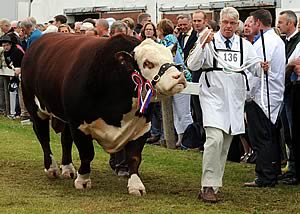 The Great Yorkshire is the premier agricultural show in England and each year attracts more than 130,000 visitors. With the countryside firmly at its heart, it is a shop window for the farming industry and a fabulous day out for all the family.
Honorary Show Director Bill Cowling said: "We're hugely proud of the Great Yorkshire Show as a celebration of the best of British farming. Interest in food production has never been greater, and we're proud to provide a national platform to celebrate agricultural excellence. It is important to reach those whose only connection with farming is through the Great Yorkshire Show, as well as raise industry standards. And it's a fun day out, whether you're interested in food, fashion, flowers or farming."
Attractions this year include:
Lorenzo's Equestrian Display in the Main Ring each day
Top class show jumping
Food Hall with the region's best food & drink
The Yorkshire Volunteers Band
Fashion shows with national and regional designers
Cookery theatre
New equine classes, including Mini Major competition
International sheep shearing competitions & the English National Championships
Demonstrations of country skills – dry stone walling, fly fishing, gundog training
Hundreds of stands for plenty of shopping!
…. and more than 5,000 of Britain's best cattle, sheep and pigs competing for the coveted championship awards.
The Great Yorkshire Show is organised by the Yorkshire Agricultural Society.
Tickets are available from Tuesday 1 March 2011 until Wednesday 6 July either on line – or go to www.greatyorkshireshow.co.uk or call 01423 541222.
Countryside Live, Saturday 22 and Sunday 23 October 2011
The 9th Countryside Live event will take place on Saturday 22 and Sunday 23 October 2011 at the Great Yorkshire Showground, Harrogate. The event will include competitive livestock and equine, pigeon and poultry classes, dog agility, a horticultural show, and cookery theatre and dozens of stands for pre Christmas shopping. The hugely popular show jumping talent competition, which made its debut in 2010, will again feature and will be hosted by the equine supremos, Graham and Tina Fletcher. Countryside Live 2010 attracted more than 10,000 visitors.
See also www.countrysidelive.co.uk

Breed Society Approval for Three Counties Show


East of England Winter Stock Festival


Borderway Agri-Expo - the Biggest and Best