East of England Winter Stock Festival
2010-11-16
This year's East of England Winter Stock Festival proved to be a primestock showing masterclass from some of the winter show circuit's most successful exhibitors, as regular winners clinched the top tickets.
The event, which this year played host to the Royal Smithfield Championships following the cancellation of AgriLIVE Smithfield, saw stock entered from all corners of the home nations. Cattle and sheep came from as far afield as Cornwall and Perthshire and visitors were as widespread as France and Northern Ireland.
The Dunlop family of Hugh, Lynn and son Stewart celebrate their fourth Smithfield championship and first East of England Winter Stock Festival championship.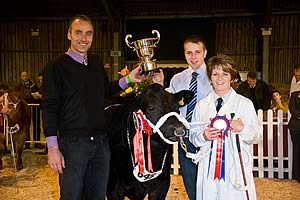 In the supreme cattle championship it was a fairy tale win for newcomers to Peterborough, but long-term Smithfield supporters and no strangers to polishing the Smithfield silverware, Hugh and Lynn Dunlop, Ochiltree, Ayrshire, Hugh being the first person to judge the Winter Stock Festival.

Winning their debut East of England title and fourth overall Smithfield title, the couple led the field with a homebred heifer, Tinkler Maidgie, a 616kg Limousin cross by the farm's stock bull Silex. This one was a first prize winner in the Baby Beef section of last year's Smithfield event.

Cattle judge Liz Vance told the ringside crowd she had spotted the heifer the moment she walked into the ring. "As soon as I saw her I knew there was a strong chance she'd be in among the champions at the end of the day. She was exactly the type of beast I was looking for."

Tinkler Maidgie is out of a Limousin cross cow and also won a red ticket at this year's Ayr Show and the Royal Highland Show and earned the couple the King's Cup for the best homebred beast too. In the event's auction sale Mrs Vance backed her judgement, paying £10,000 (£16.23/kg) for her champion, having fought off stiff competition from a number of other eager bidders.

Reserve overall champion was the reserve heifer champion, the 618kg Lady Big Bucks from Lincolnshire-based Phil and Sharon Sellers. This one is a British Blue cross bred by the Richardson family at Ghyll House, Cumbria, and was supreme champion at last month's Countryside Live, Harrogate. She is by Auchenlay Vagabond and cost some £8000 in the spring of this year when bought at Penrith.

Steer championship honours went to last year's Smithfield winners, Mike and Melanie Alford, Devon, with their 612kg Limousin cross Tyson. This one was bred by the Whiteford family at Brampton, Cumbria, and is by Haltcliffe Talent and weighed in at 612kg. Reserve overall steer was Magic Man, a 620kg British Blue cross steer from Elfed Williams, Sennybridge.

Native crossbred honours were claimed by Perth-based George and Aileen MacFadzean, with the couple picking up both the native sired crossbred championships for steers and heifers. Winning the native cross steers for them was Monty, a 548kg Aberdeen-Angus cross which later sold for 230p/kg (£1260.40). Their native sired heifer leader was Brazillian, a 562kg beast of the same breed.

Taking the Continental purebred championship were regular WSF supporters Richard and Judy Fountaine with Cothi Eyecatcher, a Limousin steer which tipped the scales at 592kg and also took the pedigree steer championship. Reserve to it was Dulands Ebony, a Limousin heifer from Andrew Dickinson which weighed 694kg, she was also pedigree heifer champion, while Witherdale Empress from David Wharton took the reserve heifer honours.

In the Native purebred championship the winner was the Galloway steer Super Mario. This one from the Alfords weighed 550kg and claimed the reserve pedigree steer title too. Reserve was Elfed Williams with his purebred Aberdeen-Angus steer Oakchurch Electric, bred by Jeremy Price, Hereford.

Championship honours in the Baby Beef classes for cattle born in 2010 also headed to Scotland, with Ayrshire-based James Nisbet taking the trophy.

Winning the baby beef championship having travelled down to Peterborough from Scotland was James Nisbet with his Limousin cross heifer Dance With Me.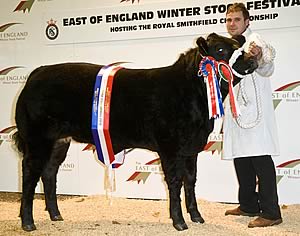 Mr Nisbet's winner was a calf bred at Alford, Aberdeenshire, by Alistair Smart. The Limousin cross calf, Dance with Me, is sired by Emslies Caledonian and out of a Limousin cross British Blue dam. This March born heifer weighed 377kg on show day having been bought from the Thainstone Spectacular in September for £2200. She had been un-haltered cattle champion at that event which Mr Nisbet judged and now heads for the Royal Highland Winter Fair.

Reserve champion was Neil Slack, Penrith, with his Limousin cross steer Alfie. This is by Fieldson Alfie and has previously been baby beef champion at two events, Countryside Live and Agri-Expo. This one is homebred out of a Limousin cross dam and weighed 360kg on the day.

Winner of the East of England local classes was Kevin Ludgate with his homebred heifer Blossum. This Limousin cross heifer is by Ronick Hawk and is a daughter of a previous show champion for Kevin. Blossum also took the reserve championship in the King's Cup for the best homebred beast.

SHEEP

The winning pair of sheep from John Hall and family, pictured are Johnny Aitken and Joanne Skelton.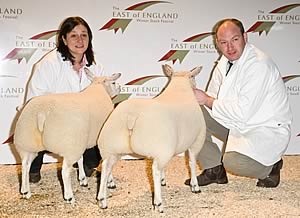 This was the first year the East of England Winter Stock Festival held classes on the showground for prime lambs, and like the cattle entries, exhibitors travelled far and wide to compete. Top honours went to prolific winners the Hall family, Carlisle. But in a change of form it was a pair of Rouge cross lambs from their Inglewood Edge-based flock which took the top award, rather than the Beltex they usually lead championships with.
This 92kg pair are by a tup bred by John Watkins and out of Beltex sired ewes from the commercial flock John Hall and daughter Joanne Skelton run at home. This was the first time the Halls have ventured to the East of England Winter Stock Festival, but the second time they've taken the Smithfield title. They were adding to their Countryside Live and Agri-Expo titles of earlier this year with the lambs once again prepared for the event by Johnny Aiken. These sold for £280/head (£6.08/kg).
Reserve overall was a 104kg pair of Texels from Michael Owens, Pontsian, Llandysul. These purebred Dutch Texel lambs are from the Owens family's 1000 ewe flock run at home at Glantre, which is run alongside a 120-cow suckler herd. This is the first time Mr Owens has been to Peterborough, but he has winning form, having taken the Royal Welsh Winter Fair title two years ago
Mr Owens' pair then won the purebred Continental championship, with a 104kg Beltex pair from the Halls in reserve.
In the native crossbred championship it was a one-two for Melrose, Scotland-based Malcolm Stewart, with Suffolk cross lambs from his flock. These are by homebred tup Sandyknowe Whiteford, with the championship winning pair tipping the scales at a combined weight of 91kg and his reserves weighing 93kg.
The purebred native championship went to Messrs Gibbons with an 86gk pair of pure Suffolks, while reserve was John Taylor with a 96kg brace of North Country Cheviots.
YOUNG HANDLERS
Champion cattle young handler was Will Ives from Buckinghamshire.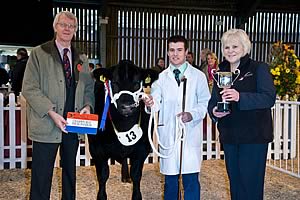 In the cattle young handlers, it was the senior winner Will Ives from Buckinghamshire won an incredibly competitive senior class under judge Liz Vance. He paraded an animal from the show team of Mike and Jean Dickens, Milton Keynes, who he had been working for at the show.
Taking the reserve was the winner of the junior class Llyr Wyn Jones from Conwy, Wales, son of Tecwyn Jones, who had cattle at the event. Mrs Vance praised both handlers for their presentation and handling skills in the ring.
In the sheep young handlers classes, Lizzie Harmer, Lewes, East Sussex won the championship with a lamb from her parents Ridings Southdown flock. She took the title ahead of the junior winner Rebekah Geary.
PEDIGREE TRADE
Trade among the pedigree cattle at the East of England Winter Stock Festival, Peterborough, was selective, with the Shorthorns the pick of it.

Borderway Agri-Expo - the Biggest and Best


Record Crowds for 2010 Countryside Live


Countryside Live 2010 - Already a Record Breaker!