Moo-ving Up the Charts with Simon Cow
2010-12-10
Undaunted by the might of the X-Factor, in a race for the Christmas number one, Northumberland's Doddington Dairy is urging people to moo-ve with the times and download their brand new single "In the Dairy".
Neill and Jackie Maxwell with their children
Anna, Isabelle and Frances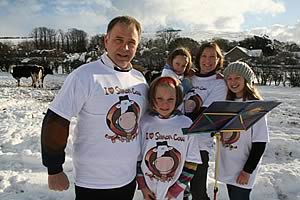 Produced by their very own pop svengali Simon Cow, the single and accompanying video is launched today Friday 10th December on YouTube and is also available to download from their own website. All proceeds from the downloads will go to Cancer Research.
After being dominated by the X-factor, last year's Facebook campaign opened up the Christmas chart with Rage Against the Machine getting to the number one spot. This year Doddington Dairy has high hopes of galvanizing the public and getting to Number One and highlighting rural businesses and the contribution they make to the economy.
Equally well known for its fun approach to business as for the quality of its ice-cream, Doddington Dairy producers of the internationally renowned Newcastle Brown Ale Ice Cream is always looking for new promotional ideas as Director Jackie Maxwell explains:
"We are always looking for new and innovative ideas and we thought that this was a total representation of our farming business and what we stand for. In addition we will hopefully raise a significant amount of money for a cause which is so very close to our hearts.
The song, is a totally original composition, is the result of a long-term partnership with Rothbury based design agency Lazy Grace. Art Director, Mark Stenton, wrote the music and lyrics to the song with the whole Lazy Grace team contributing to the chorus.
Mark explains, "Doddington Dairy is certainly something to make a song and dance about so we were happy to help them out with their aim to take on the X factor and be this year's Christmas number one. A catchy tune that captures the public imagination is one of the best ways to promote a business long term and we have had great fun working with them on this project."
All the proceeds from the single will go to Cancer Research UK. Area Volunteer Manager, Joanne Evans, said: "I am constantly amazed at the creativity and enthusiasm of Cancer Research UK supporters and Doddington's Dairy "In The Dairy" has truly blown us away with this innovative approach to fundraising. The moment you see the video it puts a smile on your face. It represents the human spirit and embodies what we do every day at Cancer Research UK. I hope people now embrace and download the song which will bring joy whilst raising much needed money for research into cancer. Simon Cow gets three yeses from me."
In the Dairy is available to download from the website www.doddingtondairy.co.uk where each download costs, £1. All proceeds go to Cancer Research.

Demise of Holstein Bull Van Gogh Leaves Semen in Short Supply


National Cluster Hygiene Study Published at Agriscot


All-European Holstein Young Breeder Championships - Cremona 2010