Demise of Holstein Bull Van Gogh Leaves Semen in Short Supply
2010-12-10
Goldwyn son Van Gogh, just announced as the leading Type Merit Holstein sire for the second consecutive proof run, has died, leaving his semen in very short supply.
A daughter of number one Type Merit Holstein Van Gogh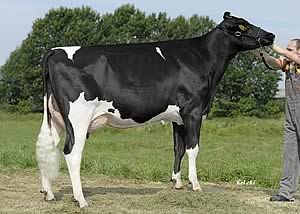 A limited quantity (estimated at 1,200 straws) is available through Van Gogh's UK agent Bullsemen.com, priced at £38/straw. Bullsemen.com, however, anticipates that any future supplies released by his breeder will now be significantly more expensive.
Whilst German-bred Van Gogh has been in high demand for his unrivalled Type Merit of 3.55, it is the improvement in his PLI from £122 to £141 – as well as increases in his daughter fertility index (up from +2.9 to an impressive +4.2) and his milk production (237kg to 363kg) – that were expected to propel him to superstar status.
"This is an untimely demise for Van Gogh, as we had yet to see the best of him," comments Nick Kirby, managing director of Bullsemen.com. "He now has 171 daughters in 171 herds, so his reliability has increased significantly since the last proof run, and has widespread appeal amongst both pedigree and commercial dairy farmers. There are very few Holstein sires currently available with such a strong combination of Type, health and fertility traits. He is over +3 for Legs & Feet, +0.3 for Lifespan, +2.91 for Udders and is also a somatic cell count improver (-23)."

National Cluster Hygiene Study Published at Agriscot


All-European Holstein Young Breeder Championships - Cremona 2010


Champion Leads Moira Holstein Entry at 3,000gns