Select Sires Canada Expert to Speak at Dairy Conference
2010-11-18
Harrison & Hetherington have announced Select Sires Canada Dairy Progeny Specialist Adam Hunt will deliver a presentation on the practical use and benefits of genomic selection at the auction company's inaugural dairy conference on Thursday 25th November at Carlisle Racecourse.
Adam Hunt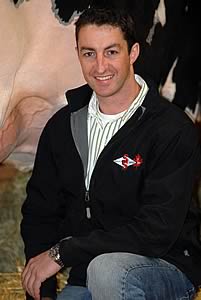 The "Road to Success" conference is aimed at practical dairy cattle producers and Mr Hunt's topic will provide an immense insight into the progress and benefits of genomic selection according to conference co-ordinator Glyn Lucas.
"We're delighted Adam has agreed to deliver a presentation at our inaugural conference. Genomic selection provides a quantum leap forward in dairy herd breeding programmes and is the biggest industry advance since the introduction of artificial insemination over 60 years ago. UK breeders will benefit from Adam's expert opinion," he said.
Mr Hunt has an immense reputation within North America as a renowned showman having turned out champions at Madison Dairy Expo and the Canadian Royal Winter Fair. He was raised on a dairy farm and worked with deep pedigree animals before being involved with sales exports of live cattle.
Listed as an Invited Judge by Holstein Canada, Adam has given presentations to dairy farmers and breeder groups on the advantages of genomic selection within the modern dairy herd. Mr Hunt has worked for Select Sires Canada for the past six years overseeing the development and selection of young sire progeny test programmes.
"I'm looking forward to visiting the UK and delivering a presentation on the development of genomic selection. North America has grasped this latest breeding tool and UK breeders are showing immense interest in the subject. It's important to understand the real benefits available to the commercial and pedigree cattle breeder," Adam said.
The full day conference rate is £25 per head plus VAT and includes morning and afternoon coffee, lunch and full conference programme. For further details or a full programme of events, contact Glyn Lucas or conference administrator Katie Davidson on 01228 406 230 alternatively, delegates can book on line at dairyconference@borderway.com

East of England Winter Stock Festival


Borderway Agri-Expo - the Biggest and Best


Record Crowds for 2010 Countryside Live