Kelton Charolais Females Bid to 7,000gns
2010-10-22
Charolais females met a ready demand peaking at 7,000gns and 62 lots came under the hammer sold to gross over £150,000 when the Kelton herd established almost three decades ago, was dispersed by Gelston Castle Farms, Castle Douglas, in Stirling on Wednesday 20 October.
Kelton Candie at 7,000gns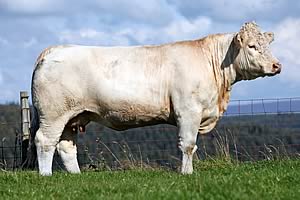 The trade was led at 7,000gns by Kelton Candie TI+33, SRI+35, a three year old heifer by Ugie Upperhand and out of a Kelton Velvet, a Tillbrook Pluto daughter. She was sold with her eight month old bull calf, Kelton Freeman, by the 10,000gns Thrunton Aramis and went to join Adrian Ivory's Cardean herd, Meigle, Perth.
The same buyer invested 4,000gns in another Velvet daughter, the 19 month old Kelton Elegant TI+28, SRI+39, by Aramis and accompanied with a couple of prize winning titles, while Kelton Velvet TI+35, SRI+50 herself made 5,000gns to the Butcher family, Rylstone, Skipton. This six year old cow who goes back to the 20,000gns Balmyle Magnate was sold with her three month old bull calf, Kelton Fionavon by Ugie Upperhand.
Kelton Buodile at 6,000gns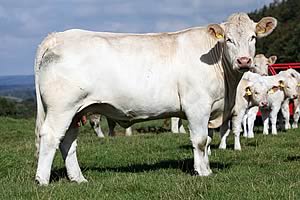 Members of the Uodile family were also in keen demand. Trade kicked off at 4,400gns for Kelton Uodile TI+38, SRI+41, a seven year old by Balmyle Magnate. She was offered with her fifth calf at foot, the May born heifer, Kelton Fleur by Aramis and the pair were secured by Colin Wight, Carwood, Biggar.

Next to go was one of Uodile's daughters, Kelton Buodile TI+32, SRI+36, a four year old by Ugie Upperhand offered with Kelton Fantasia, her eight month old heifer by Aramis. She was knocked down sold for 6,000gns to Messrs Oag, Forss, Thurso.

Kelton Evita at 6,000gns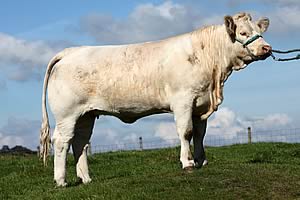 A second 6,000gns price was paid late in the day for Buodile's daughter, Kelton Evita TI+28, SRI+38, a 19 month old maiden by Aramis. She sold to Messr Evans, Mintlaw, Peterhead.
Another Uodile daughter, the three year old Kelton Cherone TI+35, SRI+35, by Upperhand and offered with her March born heifer calf, Kelton Fidella by Aramis, made 4,800gns to Messrs Lewis, Llandysul.
Next at 5,200gns was Kelton Victoria TI+31, SRI+40, a Tillbrook Pluto daughter and her fourth calf at foot, Kelton Fabiola, a six month old heifer by Aramis. The buyer was Messrs Fraser, Tore, Muir of Ord.
A second 4,000gns price tag went to Kelton Ballerine TI+37, SRI+42, a four year old by Magnate and out of Kelton Opiate, a Maerdy Empereur daughter. The buyer was Griff Morris, Llanstephan, Carmarthen.
Averages: 29 cows with calves or in calf £2,935; 12 in calf heifers £1,894; 21 maidens £1,915.
Auctioneers: United Auctions

Stirling Charolais Sell to 13,000gns


Aberdeen-Angus Bulls Top at 2600gns in Carlisle


Beef Processors Should Offer Cost Based Supply Contracts