Stirling Charolais Sell to 13,000gns
2010-10-22
Charolais commanded a solid trade from a packed ringside in Stirling on Wednesday 20 October where prices peaked at 13,000gns and 108 entries sold to average £4,536 at the breed society's autumn show and sale. The breed once again remained dominant during the week's multi-beef breed fixtures, by recording the highest number of bulls sold and highest average price.
Top price at 13,000gns Goldies Empire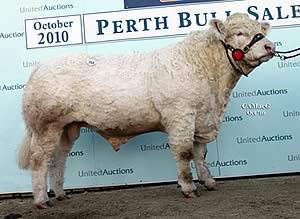 The day's leader at 13,000gns was Goldies Empire, a 15 month old class winner and the highest Breedplan recorded bull in the catalogue offered for sale with a TI+53 and SRI+58, placing him within the breed's top 1%. Bred and exhibited by Hamish Goldie, Ruthwell, Dumfries, he was by Goldies Ambassador and out of Goldies Banjo, who goes back to the 34,000gns Perth champion, Goldies Uppermost. He went to join Jan Boomaars' 125 cow Vexour herd, Woldingham, Surrey. "Empire was selected for his overall conformation, length and locomotion and he is accompanied by exceptional Estimated Breeding Values for growth and calving ease," said Mr Boomaars.
A total of four entries from Hamish Goldie came under the hammer sold to average £8,137. They included Goldies Expert TI+44, SRI+46 at 7,000gns in a joint split to Kincraigie Farms, Lumphanan, Banchory and Nether Balfour Farms, Drumoak, Banchory. Another 17 month old Ambassador son, he was out of Goldies Useful, a full sister to the 34,000gns Perth supremo Goldies Uppermost. Next at 6,500gns was Goldies Escort TI+42, SRI+47 a 16 month old Blelack Blackberet son, he was out of a homebred dam by the 10,000gns Balthayock Ulex. He sold to Messrs McNee, Armadale who also paid 6,500gns for Blelack Elliot TI+27, SRI+29 from father and son team, Neil and Graeme Massie, Dinnet, Aboyne. A Balthayock Bard son, he was out of a Galcantray cow by the 25,000gns supreme Perth champion, Thrunton Socrates.
Mountjoy Eros at 12,000gns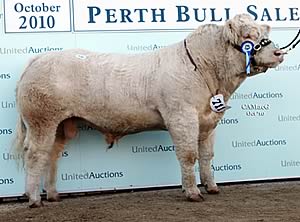 Two entries shared the day's second highest price tag of 12,000gns. First to go was Mountjoy Eros TI+22, SRI+27, an 18 month old by the 19,000gns Corrie Alan and out of a homebred cow by Drumlone Justthejob. Bred and exhibited by Caldwell McKaskie, and his sons Dez and Bob, Omagh, County Tyrone, it was the first time the brothers had been in the money since starting to exhibit at the event 10 years ago. Eros was sold in a split between Ian Thomson who runs the 25 pedigree Airdlin herd based at Ellon, Aberdeen and Ronald Smith, Durris, Banchory with 230 suckler cows. "We both liked this bull's length, stretch, good hind quarters and character," said Mr Smith.
Minutes before, the same duo of buyers had shelled out 10,000gns for Maerdy Eog TI+23, SRI30, the reserve intermediate champion from Flintshire vet, Esmor Evans, Mold. This 18 month old was out of a homebred cow going back to Maerdy Grimaldi and by the 55,000gns Perth supremo, Thrunton Voldemort whose 15 Maerdy bred sons have sold to average £5,000 in the last 12 months.
Mr Evans sold a total of nine lots and his next best at 8,800gns was Maerdy Ellwood TI+31, SRI+31, a 16 month old Maerdy Padirac son and out of a homebred dam by Kilboy Roman. This first class prize winner went to join Alan Williams' suckler herd at Aberdaron, Pwllheli.
The intermediate and supreme champion,
Thrunton Explosive at 12,000gns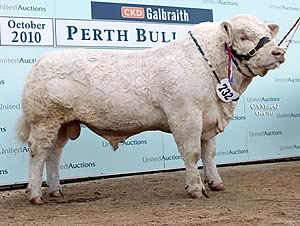 The second 12,000gns bid was secured by Thrunton Explosive TI+23, SRI+38, a Burradon Talisman son and the first bull calf out of Thrunton Venezuela who goes back to the 20,000gns Perth champion, Moncur General. He sold in a two way bid to commercial producers, Michael Durno, Glenlivet, Ballindalloch and Ian Wilson, Gollanfield, Inverness, who between them run 330 suckler cows. "Explosive had length, muscle, a good rounded back end and great width all the way through. We're also both great enthusiasts about health schemes and he met with our criteria," said Mr Durno.
Twenty four hours earlier Explosive had been awarded the intermediate and overall supreme championship for his breeders, the Campbell family, Ian and John and their father, Colin, of Thrunton, Alnwick. He caught the eye of the judge, Ronnie Baillie, Deerness, Orkney as soon as he came in to the ring. "I knew there would have to be a very good bull to come in to beat him. He had good length, a very good loin and hind quarters, great carriage and character, and he was well placed on his legs," he said after his four and a half hour judging stint.
For Explosive, it was his second major outing having been awarded the junior male title at the Scottish National Charolais Show earlier this season, while for the Campbells, they found themselves creating a new record for amassing the highest number of overall supreme Perth championships, a total of seven in 16 years. "We are delighted to achieve this new record, particularly when the competition from other breeders is so strong," commented Ian. Furthermore, the family clinched the award for the best exhibitor bred group of three bulls by the same sire. This year the entries were all by Talisman who achieved another record breaker for the family.
The Campbells sold eight entries in total including Thrunton Eldorado TI+23, SRI+33, an 18 month old first class winner by Burradon Talisman for 7,400gns to Lewis Forster and Son, Hexham. At 6,500gns, JL Hair, Ardwell, Stranraer secured Thrunton Escort TI+37, SRI+32, a 19 month old by the 22,000gns Newhouse Bigal and out of a homebred dam from their 140 cow herd by Blelack Jaguar.
The next highest call at 9,000gns was the 22 month old Inverlochy Diehard TI+37, SRI+43 from father and son team, John and Raymond Irvine, Tomintoul, Ballindalloch. Sired by Lochend Apache and out of a homebred cow going back to Inverlochy Resolve, he was no stranger to the ring having taken the interbreed junior championship at the Royal Highland and reserve in the event's M&S Beefbreeder. Diehard was knocked down sold to JI and WN Stout, Stronsay, Orkney.
Elgin Emperor TI+25, SRI+35, a class winner bred and exhibited by Roy Milne and family, Llanbryde, Elgin made 8,000gns to John Wight and Sons, Biggar, Lanark. The first Elgin bred son by the 30,000gns Balmyle Bollinger, and out of a Strowan bred dam by Maerdy Empereur, he continued his winning streak by collecting a red ticket and remaining unbeaten in his class and having secured the Nairn championship and junior title at Keith.
A second 8,000gns call was made late in the day for the reserve junior champion, Ugie Echo TI+32, SRI+41 from Jimmy Wilson, Mintlaw, Peterhead. A 16 month old, he was one of the first calves by the 14,000gns Goldies Banker and out of a homebred dam by the 28,000gns Farleycopse Turbo from his 50 cow herd. He sold in a joint bid to David Walter, Balthayock, Perth and Jim Muirhead, Letham Grange, Arbroath.
A bid of 6,800gns secured another class winner, this time Balmyle Echo TI+39, SRI+48 for G Brown and Sons, Stenton, Dunbar. Bred and exhibited by Bill Bruce, Meigle, Perthshire, Echo was 19 months old, by the 26,000gns Sackville Adonis and out of a Dingle Hofmeister sired homebred cow.
Eight lots shared a 6,000gns price tag. First to go was another entry from Neil and Graeme Massie, the 19 month old Blelack Ebony TI+39, SRI+50 to Balbirnie Home Farms, Freuchie, Fife. The first son by Swalesmoor Bayonet, he was out of a homebred dam by Blelack Tutor.
Next at 6,000gns was the senior and overall reserve champion, the 19 month old Esgob Euros TI+26, SRI+33 from Gareth Jones, Cwymtirmynach, Bala, to P Watson, Durris, Banchory. Euros who earlier this season had collected the supreme male title at Welsh National Charolais Show 2010, was by the 18,000gns Thrunton Virginian and out of a homebred cow by Grove Enterprise from his 30 cow herd.
Two County Fermanagh breeders made successful trips across the water, each securing 6,000gns bids. First to go was Kenny Veitch, Lisbellaw, County Fermanagh with Camross Emerald, a 19 month old Sheeran bred Doonally Olmeto son selling to Shanray Farm, Rait, Perth. Killadeas Egbert TI+34, SRI+37, an 18 month old by Dunlon Ulick from Stuart and David Bothwell, Ballinamallard made 6,000gns to W and J McGill, Crosshill, Maybole.
Another 19 month old, this time Brampton Escort TI+12, SRI+24 collected 6,000gns for Billy Turner, Brampton-on-Ure, Ripon from Brian Lavis, Bridestowe, Okehampton. Escort was a Billingley Siralex son and out of a homebred dam by Maerdy Empereur.
Next at 6,000gns was class winner, Sportsman Etambo TI+22, SRI+30, an 18 month old Thrunton Voldemort son and out of a Cowick bred dam from Charlie Boden, Mellor, Stockport to RJD Milne, Old Meldrum, Aberdeen.
Glenrock Eiger TI+25, SRI+31, an 18 month old from Steve Illingworth, Eaglesfield, Lockerbie commanded 6,000gns from JM Nisbet, Sorn, Mauchline. A Lowerffrydd Benhurr son, he was out of a homebred Farleycopse Telemarque sired daughter.
T Smith and Sons, Whitehouse, Alford made the final 6,000gns bid for Hindstones Eagle TI+23, SRI+31, a Trefaldwyn Valiant son and out of a homebred cow by Padeswood Mercedes from WJ Whyte, New Aberdour, Fraserburgh.
At 5,500gns, the reserve senior champion Fairway Experian TI+35, SRI+42 sold to Kingcraigie Farms, Banchory, Aberdeen. Bred and exhibited by David Fattorini, Tockwith, York, he was by Fairway Soprano and out of a homebred dam from his 60 cow herd.
The junior champion, Rumsden Eire TI+22, SRI+29 made 4,500gns to TP Caley East Baldwin, Isle of Man. Bred and exhibited by Rupert Taylor, Fairwarp, North Uckfield, he was a 17 month old Limkiln Bosco son and out of a Rumsden bred cow going back to Doonally Prince. Eire was no stranger to the ring and had already collected several tickets including reserve junior male at the English National Charolais Show.
Females were bid to a top of 3,600gns by Murray Lyle, Mid Cambushinnie, Dunblane for Mortimers Damsel, a two year old heifer sold in calf to Mortimers Vanquish who goes back to the celebrated Mowbraypark Gigi and Balthayock Nougat. Bred and exhibited by Mortimers Farm, Fair Oak, Eastleigh, Damsel was by the 16,000gns Ravensworth Alder and his homebred dam was a Ugie Operator daughter. She had already amassed several tickets on the 2010 show circuit and was awarded the Perth female championship.
At 3,000gns Mortimers Farm offered another Ravensworth Alder daughter, Mortimers Elena, an 18 month old maiden to Mr and Mrs R McAskie, Keith, Aberdeen.
Averages: 108 bulls £4,536; 10 females £2,331; three cows and calves £1,610.
Auctioneers: United Auctions

Aberdeen-Angus Bulls Top at 2600gns in Carlisle


Beef Processors Should Offer Cost Based Supply Contracts


Harper Adams Student Wins 2010 Wynnstay Beef Award