2010-10-21
Both the level of national oilseed rape plantings and the proportion of the crop in hybrid varieties have reached modern day records this autumn, reveal industry-leading certified and farm-saved seed planting estimates compiled by Masstock SMART Farming.
The detailed planting estimates show a 5-10% year-on-year increase in the annual UK winter OSR area for 2011 harvest, pushing the national double low crop to its highest level ever at comfortably over 600,000 ha.
At the same time, following a slight drop off last season, the hybrid share of the certified seed market has again risen to over 46%, with a corresponding increase in the hybrid share of overall plantings (including FSS) to 32%.
"As recently as 2006, hybrids represented just 15% of non-industrial certified seed sales and around 8% of the winter OSR area," points out Masstock national seed business manager, Barry Barker.
"Their market share shot up to 44% and 30% respectively in the very challenging autumn of 2008. Further growth this autumn means almost half of certified seed plantings are currently in hybrid varieties, although farm saving leaves pure lines commanding around two thirds of the total area sown.
"A far wider choice of varieties and a growing appreciation of the particular advantages of the best hybrids in both performance consistency and sowing date flexibility has almost certainly been behind recent gains."
These advantages are typified by Excalibur which regained its crown as the country's top selling variety again five years after its first Recommendation.
With Masstock estimates showing a national certified seed market share of over 17%, Excalibur pushed pure-line leader DK Cabernet (13%) into second place. Also showing particular hybrid popularity was newcomer, DK Expower – the only other hybrid to claim a share of 5% or more.
"Early pod set concerns over DK Cabernet proved unfounded across the country," notes Barry Barker. "But they clearly prevented the pure line consolidating its certified seed selling lead of last season. However, its popularity among farm savers meant it continued to take the Number One position in total plantings, at around 19% of the area, ahead of Excalibur at 12%, Vision at 10% and Castille and Catana at 7%.
"Sesame made an impressive commercial debut to take around 6% of UK plantings, according to our estimates" he adds. "It will be interesting to see how it performs when grown across broad acres this season."
Masstock Winter OSR Planting Estimates – Market Shares 2006 -2010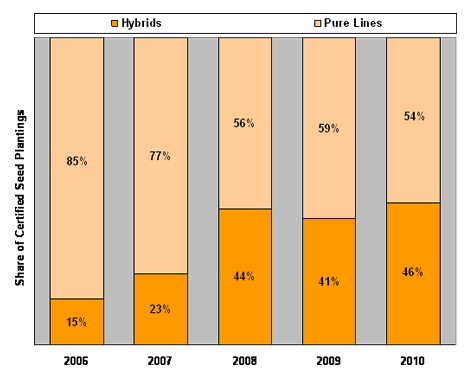 Capitalise on Good Seedbeds Against Black-Grass


Arable Contracting Agreements to Suit a Fluctuating Market


Spreading Fertilisers and Applying Slug Pellets