Traffic Flow a Priority at NSA Wales and Border Ram Sale
2010-09-01
Traffic is expected to flow smoothly at the NSA Wales and Border Ram Sale with the popular Tup Taxi service in operation again this year. The event will be held at the Royal Welsh Showground on 20 September.
Tup Taxis will help to ensure a smooth flow of traffic.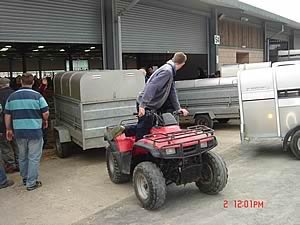 The service was introduced last year to relieve pressure as buyers move thousands of rams to their new homes. And with entries 600 up on last year at 5,635 the organisers are keen to move the sheep out with as little congestion and delay as possible.
Secretary Jane Smith said: "The system was piloted last year and was generally well received. It works in much the same way as do taxis queuing up at a station. The purchaser will be given a stamp once he or she has paid and can then go to the lead bike and collect the sheep.
"The driver will then take it to the owner's vehicle, which will be parked outside the immediate vicinity of the sale. There will be holding pens within the sale area to accommodate more than one ram purchased from different rings by the same buyer. There will be 25 Tup Taxis in service so hopefully it will all run smoothly."
Jane Smith added that the increased entry reflected the confidence in the quality hallmark provided by the NSA Wales & Border Ram Sales. There was a big increase in the Beltex and Beltex cross breeds. There were 100% more Lleyns on sale this year.
The NSA Wales and Border Ram Sales were established in 1978 and it is traditionally the largest ram sale in Europe, with a turnover in excess of £2 million and is also a vibrant social event. The committee is grateful to Symtag & Ketchum & Farmers Guardian for their continued support of the sale.

West Country Annual Lleyn Sheep Society Sale at Exeter


Strong Support for Welsh National Texel Sale in Welshpool


Welsh Entrant Lifts NSA Young Shepherd of the Year Award