British Blondes Shine at Athy
2010-09-29
The British Blondes took a stand at a hugely supported Irish National and European ploughing match in Athy, Co.Kildare, Southern Ireland this week.
Hillhead Estelle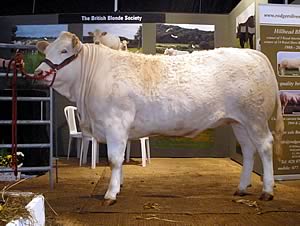 The GB Society had a resounding attendance and interest on their stand taken within the British pavilion.
Hillhead Estelle born 7.4.09 sired by French bull Sauveur kindly loaned by MR Rodger and son of the Hillhead herd, Co.Down was centrepiece of the display attracting a large response from the patrons of this very successful agricultural event.
The British society is working with breeders from the south to further the quality of the breed throughout the UK and Southern Ireland and already have positive enquiries and orders for both semen and breeding stock. Breed secretary Caroline Jackson said "We trust that this would lead to future pedigree export sales to Southern Ireland in the near future".
A new friend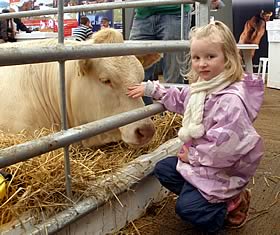 Blelack Heifer Tops St Boswells Best of Blacks at 15,000gns


Beef Farmers Cannot Live on Fresh Air Alone


Oakchurch Angus Bull Calf Sells for £10,000 to Rawburn Herd