Oakchurch Angus Bull Calf Sells for £10,000 to Rawburn Herd
2010-09-21
The Oakchurch herd of Jeremy Price, Staunton-on-Wye, Hereford, has announced the sale of the 2010-born bull calf Oakchurch Field Marshall K143 to the Rawburn herd of Messrs John Elliot, Roxburgh Mains, Kelso.


Oakchurch Field Marshall K143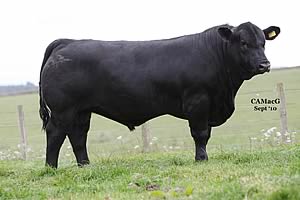 Sold at just seven months old in a private deal for £10,000, with a quarter of the semen share retained, Marshall is by Ankonian Elixir 100 (AI) ( IMP) and is out of Southfield Felicity, who is by Dalrene Cruz 11F and is out of the TLA Northern Samurai (IMP) daughter Netherton Frances 02. Felicity was one of two full sisters bought by Mr Price for flushing.
Weighing 380kg at just 170 days, his performance, coupled with a pedigree jam packed with some of the breed's greatest stars, Mr Price says he has known this bull was destined to be a stock bull from birth and although he was reluctant to sell him at such a young age, he is pleased he has sold to the Rawburn herd and looks forward to working with the Elliot family.
Field Marshall caught the eye of John Elliot Jnr for being a tremendously well fleshed young calf and a potential stock bull for the future. "This bull has heavy muscling, yet remains correct in structure with great locomotion, as well as plenty of breed character.
"He has been purchased to add superior carcass quality to the herd and follow in the footsteps of our past stock bull Rawburn Lord Ross C216, who has left some phenomenal progeny in the Rawburn herd."
The Rawburn herd is one of many herds from the Borders and Scotland who will have females forward at the Best of Blacks sale, which is to be held at St Boswells Livestock Market on Saturday 25th September.

Corrie and Loganbar Charolais Females Meet Solid Trade in Stirling


Britainís Beautiful Landscape Threatened by Cheap Supermarket Beef


Property Developer Splashes Out to Found New Angus Herd