Property Developer Splashes Out to Found New Angus Herd
2010-09-13
Glasgow property developer, William Roddie, was the leading buyer at the annual autumn sale of Aberdeen-Angus females at Stirling on Saturday 11th September 2010.
Leading trade at stirling at 5000gns was the eight year old
cow with heifer calf at foot, Varis Edwina B215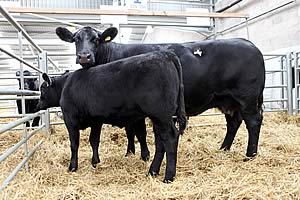 Mr Roddie, owner of Spectrum Properties Ltd, who own more than 700 offices, industrial units and business support services in the city, bought nine cows and calves and two heifers for a total of £30,975 to found a new pedigree herd of Aberdeen-Angus on his Sauchieburn Estate near Stirling.
"I have always admired the Aberdeen-Angus breed and our aim is to build up a top herd," said Mr Roddie, whose current livestock enterprises on the estate including Highland and White Park cattle and wild boar.
Advised by neighbour and Simmental breeder, Jim Strathearn, Mr Roddie paid the five highest prices of the day for five in-calf cows, with calves at foot, in the joint reduction sale of Alastair and Lauranne Grant's Varis and Lingieston herds from Middlefield, Forres.
Second highest call on the day was 4000gns for a
nine year old cow Varis Pandora A135.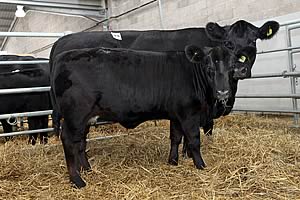 Top bid was 5000gns for the eight year old cow, Varis Edwina B215, by Fordel Eisenhower Y423 and out of a Mushroom Friar Fergus daughter, and this was followed at 4000gns for the nine year old, Varis Pandora A135, by Cairnton Evelix Y048 and out of a Lochdhu Elfking daughter. Both were sold with heifer calves by Varis Predilection and in calf again to the same sire. Both recorded a self replacing index of + 24.
Next highest was 3800gns and 3000gns for two five year old cows, Varis Penelope E425 and Varis Pelanne E448, boasting self replacing indexes of +34 and +43. Both are daughters of the top American-bred AI sire, Ankonian Elixir 100, and from Elfking mothers, with calves by the Varis sire and Midtown Prospector D048.
Top price in Mrs Grant's Lingieston consignment was also 3000gns for the six year old, Lingieston Princess Marion D356, by another American sire, BCC Eileenmere Lad 17F, and again from a daughter of Elfking, sold with a heifer calf at foot by Predilection.
Mr Roddie also paid the two top prices for yearling heifers, going to 2000gns each to secure two daughters of the former Perth champion, Netherton Figo C244, from the Promise herd of Aberdeenshire antique dealer, George Pirie, Tarland, Aboyne. Both heifers were out of Lady Croft-bred mothers.
Others from the Varis and Lingieston herds sold to 2800gns for the five year old, Varis Panache E452 (by Cairnton Evelix Y048) to J H C Campbell and Sons, Thrunton, Whittingham, Alnwick, Northumberland; 2500gns for the five year old, Lingieston Proud Mandy E451 (by Ankonian Elixir 100) to A Sloan, North Milton, Glenluce, Newton Stewart, Wigtownshire; 2400gns for the six year old, Varis Pelanne D340 (by Cairnton Evelix Y048) to Simon Ferguson, Shieldrum, Bridge of Cally, Blairgowrie, Perthshire; 2300gns for the seven year old, Varis Petra C285 (by Varis Piper) to A M Robertson, Birgidale Knock, Rothesay, Isle of Bute; and 2000gns for the six year old, Varis Proud Dora 307 (by Lingieston Prime Mover D307) to W Finlayson, Wester Olrig, Castletown, Caithness, and the six year old, Varis Pamela D361 (by Jeremy Eric of Bridgefoot), to Liam Muir, Upper Onston, Stenness, Stromness, Orkney.
The 22 cows and calves from Mr Grant's Varis herd grossed £48,667.50 to average £2212.16 and four cows and calves from Mrs Grant's Lingieston herd grossed £8452.50 to average £2113.12.
A draft of 21 cows and calves from J and J Campbell, Wedderlie, Gordon, Berwickshire, averaged £1795 and sold to a top of 2800gns for the seven year old, Wedderlie Katco C580, by the Canadian sire, Cudlobe Fortune 32H, and out of a cow by the former Perth champion, Lord Horatio P11 of Blelack, to Alex and Linda Wilson, High Orchard, Beith, Ayrshire. The cow was sold with a bull calf at foot by Aynho Rossiter Eric B125 and her dam also produced Wedderlie Kaveat, reserve senior champion at Perth in 2009 when sold for 7000gns.
Others from Wedderlie realised 2200gns (twice) for the four year old, Wedderlie Obolass F208, by Wedderlie Blackadder Z093, to J Skeene, Berryhill, Berwick on Tweed, and 2200gns for the three year old, Wedderlie, Kensusy G392, by Tui Bon Y019, to Duff Burrell, Broome Park, Whittingham, Alnwick, Northumberland, who bought 11 cows and calves for a total of £18,585.
Mr Burrell's other purchases included 2000gns for the four year old cow, Fordel Eva F932, by Fordel Emperor B343, from David Ismail, Dinar Estate Management Ltd, Fordel, Glenfarg, Perthshire, who sold 20 cows and calves to average £1722.
Top price in the Fordel offering was 2200gns for the five year old, Fordel Empress E746, by Fordel Elixir B361, to Mr Roddie, and another, the six year old, Fordel Evergreen D578, by Lord Albany X14 of Tullyfergus, realised 2000gns to Mr Finlayson.
Other leading buyers were Macfarlane Farms, Quixwood, Duns, Berwickshire, who bought five cows and calves and three yearling heifers, including two four year old Fordel Elixir B361 daughters, Fordel Jeanie Erica F079 and Fordel Gammer Deuglie F085, with Rito 9M9 of 2036 Scotch Cap calves at foot, at 2100gns each.
The reduction sale of Val and Roger Huggins's Kitewood herd from Netherhall, Premnay, Insch, Aberdeenshire, averaged £1273.65 for 10 yearling heifers with a top of 2500gns for the Nightingale Kruncher D210 daughter, Kitewood Evas Honey J091, to J M Forbes and Sons, Lochdhu, Nairn.
Averages: Nether Johnston 7 cows and five calves £1035; Ladywell 2 cows and calves £735, 2 yearling heifers £787.50; Promise 3 yearling heifers £1697.50; St Fort 7 yearling heifers £831; Eastlands 1 cow and calf £1050; Threeburnford 2 cows and calves £1732.50.

More Effort on Beef Exports Will Help Keep Everyone in Business


Countdown to a Record Breaking Beef South West 2010


Greystoke Castle Farms Open Day; Blueprint for Suckled Calf Production