New Antioxidant Offers Improved Immunity and Cost-Effective Benefits 2010-08-09
Specialist animal nutrition company, SCA NuTec, is launching its new antioxidant feed additive at this year's Dairy Event, NEC, September 7 and 8. This product, NuShield, has been developed through parent company Provimi's research and development programme. It contains flavenoids that are present in plants, but are particularly high in grapeseed. Due to the levels of flavenoids and the unique extraction process, NuShield offers much higher bio-availability of antioxidants to the animal than vitamin E or vitamin C.
SCA NuTec technical ruminant manager
Norman Downey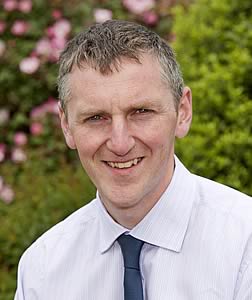 "Our trial results have shown that the antioxidant status of cows fed on diets including NuShield compare favourably with cows fed diets that include the more traditional antioxidants such as vitamin E," says SCA NuTec technical ruminant manager Norman Downey.
"But taking this a stage further, our research programme has proved that a combination of antioxidants, including NuShield and vitamin E, is much more effective than a single antioxidant at higher levels.
"In practice, this means that by combining the correct combination of these two antioxidants we can provide better defence against free radicals and therefore improved immunity than the traditional approach of simply increasing vitamin E."
Animals are under oxidative stress when there are excess free radicals in the body. These free radicals are formed from metabolic processes and an excess can occur at any time but for cows this is particularly common around calving and during early lactation. As a result, the cow's immunity status will fall, leaving her more prone to disease and infection.
"To overcome this, we need to improve the antioxidative status of the cow and we have typically achieved this by including vitamin E in the diet," adds Mr Downey. "And there has been a temptation to increase levels of vitamin E where there has been a problem with disease breakdown, such as mastitis.
"Trial work has shown us that we need to update our thinking here as including vitamin E at higher levels can actually depress immunity. But a combination of antioxidants, such as vitamin E and NuShield, can complement each other and improve immunity cost effectively."
As well as providing antioxidant benefits, NuShield has been shown to stabilise vitamin E to increase its effectiveness. Up to 50% of Vitamin E can be replaced in the diet where NuShield is used and based on current prices this is cost effective.
"In light of our findings I recommend that producers and their nutritionists look at the broader picture of antioxidants, and consider using a recommended combination of vitamin E and NuShield rather than vitamin E alone to improve the immunity status of their cows," concludes Mr Downey.

Feed Science Forums Launched at the Dairy Event and Livestock Show


Feeding Stock in Periods of Drought and Forage Shortages


New High Specification Trace Element Cattle Capsules