Cracking Trade at Shrewsbury Suffolk Sale
2010-07-26
A packed ringside resulted in a cracking trade at the Suffolk Sheep Society's National Show & Sale, at Shrewsbury, on Saturday 24th July.
The 1st prize Ram Lamb & overall Champ (lot 79)
from JG Douglas sold for 26,000gns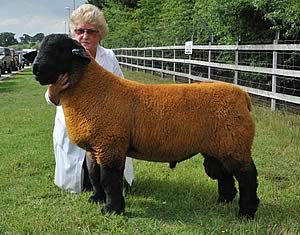 The first main sale of the season attracted 236 entries, with forty one animals selling for four figure sums with two further lots making over 10,000gns.
Top price of 26,000gns was paid for the Champion ram lamb presented by JG Douglas. After some furious bidding this Cairness Achievement son was knocked down to Gary Beacom for use in the Lakeview flock, N Ireland.
The second highest price of 13,500gns was paid to G Biddulph. The Pexhill flock ended the day with an average of 3,914gns for five sold.
TA Irwin and Sons from Devon had the third highest price when A Wilson and J Gibb paid 8,200gns to secure a Cairness Carbon son. The Kings flock sold four lambs to average 2,770gns.
WH Sinnet's Stockton flock was one of the largest vendors with twelve tremendous lambs. Their consistency was matched with some furious bidding. With a top call of 8,000gns for the reserve champion John went on to average 2,112gns.
RH Wilson also secured a 8,000gn bid for a Glenhead Golden Phoenix son. The Strathisla flock had a complete clearance of their nine lambs to average 2,244gns.
Performance recorded stock were also in demand by both pedigree and commercial customers. The Bentley flock secured a top price of 5,200gns from M Prince and R Garner for an animal at the top of the breed percentiles. The Harding family sold six to average 1,970gns.
The best from G Owen's Morris flock was 4,800gns for a Plasllewelyn Pirate son. Five lambs on offer were sold to average 1,626gns.
S&L Buckley's sold a Roundacre Raceway lamb for 4,000gns. The Sitlow flock ended the day with five sold to average 1,232gns.
M Evans Rhaeadr flock secured a top call of 3,600gns for a Baileys Brigadier the Second son. Myfyr Evans sold eight lambs sold to average 1,226gns.
The Midhope flock of John Key also had a cracking trade for Signet performance recorded stock. With prices at 3,000gn and 2,600 John Key ended the day with an average of 1,232gns for five sold.
click on images to enlarge

(lot 18) S J Buckley - 4000 gns



Ram Lamb with best Gigot - (lot 40) Ross Lawrence - 1900 gns

(lot 49) G Biddulph - 4200 gns

2nd Prize Single Ram Lamb - G Biddulph - (lot 50) 13500 gns

(lot 72) T A Irwin & Son - 8200 gns

1st prize Ram Lamb & overall Champ (lot 79) JG Douglas 26000gns

1st Prize signet recorded Ram Lamb (lot 122) Rodger Denby - 720 gns

Reserve Champion - W H Sinnett & Sons - (lot 126) 8000 gns

(lot 159) Robert H Wilson - 8000 gns

(lot 164) Robert H Wilson - 5500 gns

(lot 168) Gary M Owen - 4800 gns

(lot 180) Ram Lamb puchased by Jim Holden of Woodheads for Morrisons Farm, Dumfries - 3000 gns

Jimmy Douglas & Geoff Biddulph

Champion with connections and Judge - Mr Pat Greaney

Jimmy Douglas

Best Group - W H Sinnett & Sons (lots 125,126,127) averaged 3650 gns



Judging Ram Lambs

Judging Male Championship

M&S Honours Sennybridge Sheep Farmer


Optimism Prevails in Breeding Sheep Marketplace


The NSA Sheep 2010 Seminars and Panels