M&S Honours Sennybridge Sheep Farmer
2010-07-26
A surprise award for the sheep farmer who put her local lamb onto the shelves of Marks and Spencer has left her 'shocked and delighted'.
Lynwen Morgan on the right with from left Paul Willgoss, Marks and Spencer Head of Technology, Sue Bell, Marks and Spencer Technical Executive, Foods, and Becknock Hill Cheviot Society Chairman Aled Lewis.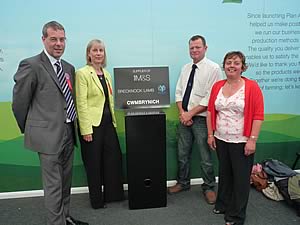 M&S paid tribute to Lynwen Morgan, of Sennybridge, who has chaired the Brecknock Hill Cheviot Marketing Group for the past ten years for her inspired contribution to the very successful partnership. The marketing group has established a niche market for their lamb, highlighting the importance of the spectacular natural environment in which they are raised.
Lynwen Morgan said: "The marketing group and M&S completely shocked me with a presentation of a beautiful cut glass rose bowl. They made sure that everyone else was there for the surprise presentation and I had no idea what the others were planning behind my back!"
A presentation was also made to Peter Frances also of Sennybridge, who has been group co-ordinator for the past ten years. He is a founding partner in Clee Tompkinson Francis and official auctioneer for the Brecknock Hill Cheviot Marketing Group.
The presentations at the Royal Welsh Show were among a series of awards marking the tenth anniversary of the partnership between the breed society's marketing group and Marks and Spencer. Lynwen Morgan also accepted the Marks and Spencer Plan A award. The group had impressed judges with initiatives such as efficient grazing of the uplands and ensuring that the carbon stored in peat bogs remains secure.
M&S Head of Technology Paul Willgloss said Chairman Sir Stuart Rose had intended to make the presentations. The weather had prevented his helicopter from landing.
He added: " In difficult times as well as good times, our customers have been very loyal to the product which they see as not only good eating, but also as having a good story of provenance and of supporting the rural economy in the Brecon Beacons National Park.
David Jarman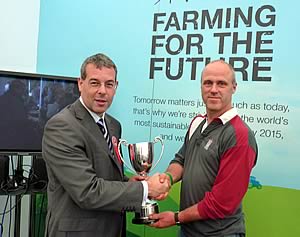 "It's holding up in the recession, the lamb business is continuing to grow and our top customers continue to enjoy our premium lamb such as Brecknock Hill Cheviot."

There was also a presentation from Marks and Spencer to those who scored the top points in the Brecknock Hill Cheviot classes at the Royal Welsh Show. Top score went to H E Havard and sons of Cwmbrynich Farms, Sennybridge, and the Supreme Championship went to David Jarman, who was showing a ram purchased at the Brecknock Hill Cheviot Society sale at Sennybridge

Retirement plaques went to Eirwyn Davies and to Trevor Thomas. In addition, all producers supplying Marks and Spencer will receive individual signs to go on their farm gate.

Optimism Prevails in Breeding Sheep Marketplace


The NSA Sheep 2010 Seminars and Panels


Fickle Hand of Fate Makes Transition to Lleyns Much Smoother