Galloways Paying Their Way at High Thorneyburn
2010-07-13
Hardy Galloway cows have been the mainstay of the low-input system on a Northumberland upland farm for more than 50 years.
Andrew and Jimmy Ions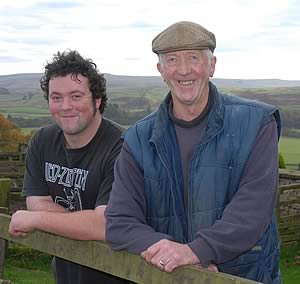 And now, with a resurgence of interest in native breeds, father and son Jimmy and Andrew Ions this autumn have enjoyed their best prices yet for crossbred Blue-Grey calves from the Galloways.
High Thorneyburn Farm, Falstone, near Hexham, is run by Jimmy and his wife Hazel and Andrew, who is the third generation of the family to farm the almost 1,100 acres of land rising from 450ft alongside the River North Tyne to 1,000ft on Thorneyburn Common, all of which is enclosed and owned and is Severely Disadvantaged land. They have part time help from Ken Wanless.
There have been Galloways at High Thorneyburn since the 1950s when a small herd was run alongside Highland cross cows.
Today's herd of 105 cows plus followers – probably the largest in Northumberland – is descended from those original cows and while they have been bred pure, they are only now being registered, firstly entering the Galloway Cattle Society's appendix.
All are home-bred with the exception of a five year old cow now with her second calf, bought from the Wellhill dispersal in 2004 as a calf at foot.
Thirty five went to the Galloway bull this year and the remainder go to two home-bred Whitebred Shorthorn bulls to produce Blue Grey calves. The farm's other stock is 640 ewes – 200 South Country Cheviots, 60 North Country Cheviots and 380 Blackfaces.
The Ions hope that their low-input system will help the farm to be accepted for Higher Level Stewardship.
The enclosed hill is in four different areas and 40 cows are housed from the beginning of December to the second week in March before they start to calve to ensure one of the hills is free of cows in rotation each year. For part of the winter two hills are clear. The calves are housed the following year.
The outwintered cows are fed big bale silage made off 110 acres by a contractor and Rumevite blocks until a month before calving when they are fed cow cobs.
Galloway cow and calves on the hill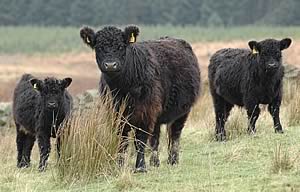 All the Galloway heifers are retained as herd replacements but they are not put to the bull until they are three and fully mature. There are 15 in calf heifers due in 2010.

Older cows are drafted if they are not producing good calves and none are kept beyond 12 years old. Calving is over a two months period from March 20 reflecting the herd's high fertility level.

Most recently used Galloway bulls have been have been bred at Ben Lomond, Hownam Grange and Barlaes and the most recent herd sire is Ronaldo of Fingland, bred by Jim Wallace, Dalry, and champion at Castle Douglas in February 2008 where he sold for 3,200gns.

When selecting bulls, Jimmy goes for length, shape and an essential is good feet and they can include Canadian bloodlines.

Cows which are breeding good Galloway calves are put back to the Galloway and the remainder go to the Whitebred Shorthorn. There are few assisted calvings.

"It was the National Park Authority which persuaded me to go in for HLS. Thorneyburn Common, while it is not common land, is moorland with open access for walkers," said Jimmy."

Home-bred Whitebred Shorthorn stock bulls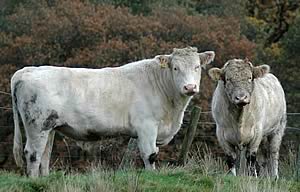 The Galloways suit our system. They are the only breed which works in a low input system on this type of farm which is hard and wet and we do get snow. I know that they are paying their way.

"More producers are going back to native breeds because there is less cost and they are easily managed. There were a lot of new buyers along with the regulars at the Newcastleton sale," he added.

As well as the Galloway along with other native breeds being favoured by conservationists for grazing this type of land, the temperament of the cattle is also good, a big consideration when there is public access.

The farm is all grass and fertiliser has never been used, only occasionally is the ground dressed with lime.

The banks of the River North Tyne have been fenced off and on one of the hills there is an ancient bastle house.

This year's Blue Grey heifers made the farm's best price to date at the October two day Newcastleton sale with 27 heifers averaging £958, 15 of which averaged just over £1,000.

Bullocks sold at Newcastleton averaged £560 for 10 Blue Greys and £520 for four Galloways by Barlaes Dynamic the bottom end of the calves, while 30 sold at the Longtown Kirkcambeck sale earlier in the season to average £430 at 10 to 12 months old.

All the sheep are bred pure and the flock is closed. Any females sold are as draft ewes through Hexham mart. Wether lambs are sold privately in September to a regular buyer.

The Cheviot flock starts lambing on the hill on April 16 with the Blackies from April 20. They are fed from the end of November with hill ewe rolls and blocks.

Some Cheviot rams and the odd Blackface are sold for breeding and shearlings and South Country two year old rams sold in Hexham in October averaged £330 for 14.

Traditional Breeders with an Eye on the Future


Raines Quest Towards Self-Sufficiency


Dedicated to the North of England Mule