Traditional Breeders with an Eye on the Future
2010-05-11
Ayrshire cows are a family tradition for Christine and David Sanderson and the couple are aiming to breed modern type cattle with good lifetime yields.
Christine and David with show cow Middle Emerald Mr which won the Ayrshire championship at the National All Breeds Show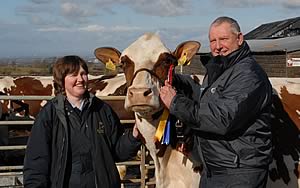 Ayrshire breeding goes back more than 30 years at the 207-acre all grass Thackthwaite Hall, Wigton, Cumbria, where Christine and David milk 134 cows in their prizewinning pedigree Sandersons herd.
Gradually re-building the herd after losing all their livestock during 2001's food and mouth epidemic, the couple are content not to push their lactational yields but are looking for a long-lived, modern dairy cow which can produce a total yield of 50,000 litres.
The herd averages 7,000 litres a cow and with the breed's natural butterfat producing ability with current constituent averages running at 4.3 per cent with 3.37 protein, they are expecting to achieve a premium from their new milk buyer from April, Milk Link.
Dedicated stockswoman Christine began milking cows when she was just eight years old, and when she left school at 16 her parents Mary and Chris Todd began grading up their black and white cattle to Ayrshires, following Mary's family tradition with the breed.
Mary still helps on the farm, feeding the calves, with other part time help from Karl Stephenson and Barry Williams.
By 2001, Christine and David had established the nucleus of their own Ayrshire herd with cows they had bought from the Whitefords' Middle herd at Brampton, Carlisle.
The Sandersons herd milkers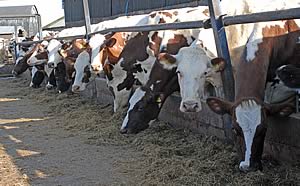 Their Sandersons herd was re-established primarily with the purchase of the Waxham herd of 105 milking cows, mostly in their second lactation and 10 of which are in the herd today, and two heifers. Further purchases were made from the Waxham youngstock sale in Carlisle as well as other individual purchases from herds in Cumbria and Scotland.

"The Waxham herd were different type of cows to the pure Ayrshires we had previously and we also wanted to produce more milk from these bigger, blended cows," said Christine, who has been secretary of the Cumberland Ayrshire Breeders' Club for 14 years.

Nine years on and the Sandersons are now breeding most of their replacements, currently bringing in up to 30 heifers a year to replace more of the older cows, some of which are in their ninth lactation.

Still open to select purchases of top cows which catch their eye, the Sandersons have invested in two Middle cows at the Beeston Castle sale, Emerald Mr at the December 2008 sale, the most paid at 5,200gns, which lifted the Ayrshire championship at the National All Breeds Show at Stoneleigh in February this year, and Georgette, purchased in 2007 for 5,000gns in partnership with Chris's uncle, Nick Armstrong, of Mosedale End, Mungrisdale, Penrith.

Georgette was breed champion four times at the Westmorland County Show, winning the dairy interbreed once and she was also interbreed dairy champion at the Cumberland County Show.

Waxham cows have won the breed championship twice at the Great Yorkshire Show.The Sandersons have also won the championship with a home bred cow and a home-bred heifer won the junior championship.

Christine and David with the milkers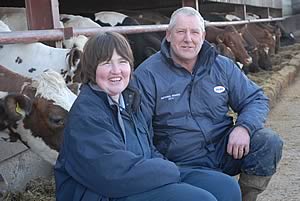 Despite re-establishing the bloodlines, the herd has won the large section of the Cumberland Ayrshire Breeders' Club each year since 2001 with the exception of 2007 when the competition was cancelled because of another foot and mouth outbreak. The herd was also the overall winner in 2009.

The herd is 50-50 Ayrshire Holstein cross cows with most registered in the Ayrshire herd book and the Sandersons are keen to maintain at least this proportion of Ayrshire bloodlines to breed robust but large animals which can withstand their heavy farm.

"It's a question of how far do we go in using Holstein blood to suit our farm. It's a heavy farm and we want cows which are modern, tall and sharp but still have plenty of body and a bit of will to live. It's a happy medium," said Christine.

David added: "We are happy to stick around the 7,000 litre lactational yield, not pushing the cow too hard and taking it out of her. Our benchmark is 50,000 litres in a lifetime and at that we reckon she doesn't owe us anything.

Ayrshire heifers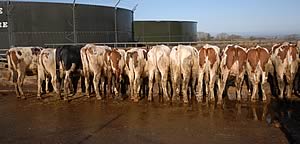 "At that level we maintain good quality butterfats and protein which, because of the breed's natural ability, does not cost us anything in feed supplements, and we reduce our level of replacements. We estimate it costs us at least £900 to bring a heifer to calving. We have got to be realistic."

Also, the Sandersons do not believe in calving their heifers too young but allowing them to grow. Most calve at 30 months old and with the herd now achieving a younger profile and satisfying the Sandersons' breeding aims, more newly-calved heifers will be sold through Borderway, Carlisle.

Stock bulls are used on the herd. The first was Syke Duty Free, bought from Willie Templeton followed by a Barr bull from Alex Kirkpatrick. Home-bred bulls have followed with Sandersons George, out of Georgette, and another out of a Waxham Esther cow, Sandersons Extra Special. Sandersons Lost Forever was out of Waxham Lizzie. Young bulls are also sold art around 14 months old for breeding.

Some AI bulls have been used including Changue Tryst, Auchensale Star Performer, Carnell Bright Crown and Red and White sires TBVQ Rubens, KC Roses Chatters, Llandudno Park Talent, Poos Stadale Classic and Rosedale Rampage Red.

Thackthwaite Hall is 600ft above sea level and the cows are housed from October to April and fed a semi complete diet of chopped round bale silage with a blend and brewers grains, compiled by nutritionist Ian Wozencroft, of New Breed UK. They are topped up in the parlour to a maximum of 10kg and 45 litres of milk.

Raines Quest Towards Self-Sufficiency


Dedicated to the North of England Mule


Plentiful Benefits and Savings with Dairy Shorthorns