FAO Urges Early Action on Climate Change Responses
2010-06-01
"Agriculture can potentially be part of the solution to climate change in ways that respect and support the development and food security requirements of developing countries," FAO has told a UN working group preparing long-term approaches to climate change mitigation.
Extreme weather events such as droughts will become more frequent © www.fao.org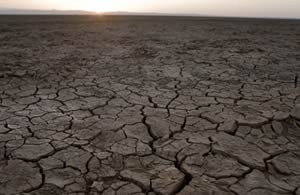 "However to realize this potential, systematic and dedicated discussions and decisions... are needed to clarify options for actions and related support," FAO said in a formal submission to the working group.
FAO called for early action allowing agriculture to help reduce and remove greenhouse gases (GHGs) from the atmosphere (mitigation) and to build up the resilience of farming systems (adaptation) to warmer and more erratic weather conditions, predicted for many of the world's poorest regions.
Work programme
FAO's submission, "Towards a Work Programme on Agriculture" was tabled to coincide with the opening in Bonn of two weeks of technical talks and negotiations in preparation for next December's climate change summit in Mexico.
Specifically, FAO underlined that Parties could accelerate action towards the creation of a work programme on agriculture. Such a work programme could examine scientific, methodological and technical issues that would underpin both implementation and support of action on agricultural mitigation and adaptation.
Behind these complex technical issues are practical questions of how to measure and verify the contribution made by large numbers of individual smallholders to GHG reductions and removals, as well as how to ensure that financing effectively reaches them.
Financing sources
According to FAO's submission, clarification of such issues is needed so that millions of smallholders can access both fast-start and medium-term sources of financing for the adoption of agricultural mitigation options that also benefit adaptation, food security and development.
"It is crucial that farmers in developing countries are helped to mitigate and adapt to climate change," said Alexander Müller, FAO Assistant Director-General in charge of the Natural Resources and Environment Department. "At stake is their ability to produce the food for a world population grown to more than nine billion in 2050 while also helping to prevent possibly catastrophic climate scenarios."

Act Now to Avoid Livestock Production Problems Next Winter


An Agreement to Farm Better Skills


Not Too Late to Protect Single Farm Payments