Bumper Show of Livestock at the Great Yorkshire Show
2010-07-01
Livestock entries for the 2010 Great Yorkshire Show have received a tremendous boost, with sheep numbers at an all time high, cattle at their best for at least a decade and pig entries topping those of 50 years ago underlining the event's position as England's premier agricultural show.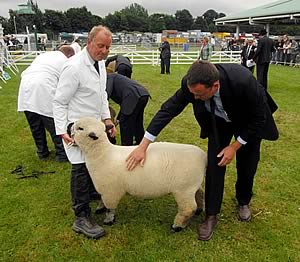 The show runs from Tuesday 13 – Thursday 15 July at the Great Yorkshire Showground, Harrogate when around 130,000 visitors are expected at the farming showcase.

Sheep entries have peaked at 1,952, 120 over last year's record entry whilst cattle numbers stand at over 1,200. The pig section will have a superb show with over 400 entries – the highest in almost 40 years.

Show director Bill Cowling said: "Livestock entries are at their highest for a long time. We have had a policy of sticking to our agricultural roots and this has paid off with entries going from strength to strength. It's a great testament to the enthusiasm of our livestock exhibitors and their commitment to us. We will have a tremendous show with both quality and quantity of stock coming in front of the judges."

Of the 36 breeds and types of sheep which will line up, the biggest entry comes from Texel exhibitors with a total of 271, however the second highest, the Beltex has achieved a record entry of 158 - 30 more than at last year.

Other record entries have been set in the British Charollais section with 145 compared with 126 in 2009, and 48 in the butchers'lamb classes, up seven on the previous year.

Traditional sheep breeds are also making a come-back with Herdwick (47 - 39 in 2009) Jacob (68 - 48 in 2009) Leicester (52 - 32 2009) Teeswater (47 - 37 2009) and Whitefaced Woodland (49 - 38 in 2009) all attracting a record number of entries.

Youngsters supporting the event are also on the increase with sheep young handlers entries up by 12 to 48.

Cattle entries stand at an impressive 1,226, 113 up on 2009. "We have been "full" in the cattle section for a number of years, but the difference this year has been that exhibitors have got their entries to us much earlier so by mid April we were virtually full." said Mr Cowling.

Looking at the breeds, both British Simmentals and Holsteins have seen a massive boost.
The event is hosting the National Simmental Show to mark the 40th anniversary of the breed in the UK and as a result Simmental numbers have risen to triple figures for the first time, with a record 119 entries.

The Holstein has achieved a record for the second year running, bettering last year's entry of 121 to make 151 entered.

Traditional breeds have again attracted greater support with record entries in the Beef Shorthorn (64 - 56 in 2009), Galloway (42 - 11 in 2009), Lincoln Red (25 - 12 in 2009), Longhorn (58 - 50 in 2009), Ayrshire (56 - 31 in 2009) and Dairy Shorthorn (65 - 35 in 2009).

"Even though we are putting up a marquee which will house the Simmentals and create more room in the sheds for cattle, other breeds are over-subscribed with a huge list of more than 200 animals waiting to enter the show," said chief cattle steward Margaret Chapman. "A few entries may drop out in the run up to the show but unfortunately we have to disappoint some people", she added.

At 408 entries, the pig section is at its best since 1962 and well over the most recent record of 380 entries several years ago. Included in the classes for 11 different breeds on show for the first time is the Oxford Sandy and Black. Once again Saddlebacks are the most numerous breed represented.

There are also classes for any other breeds both modern and traditional and proving ever popular with exhibitors and spectators alike is the British Pig Association Pig of the Year final. In addition, the Supreme Pig Championships, sponsored by Sainsburys, always provides a display of real quality animals.

Chief pig steward Peter Brier said: "We're almost at capacity with this year's entry. The Pig of the Year final always proves popular as well as the BPA young stock handlers competition qualifier which gets great support and it's wonderful to see the next generation coming along."

Three Counties Show Best for More Than a Decade


Secretary Of State Visits Three Counties Show


The Great Yorkshire Show - a Delicious Food Destination