The Great Yorkshire Show - a Delicious Food Destination
2010-06-18
For many visitors, their first port of call at the Great Yorkshire Show is a look around the Food Hall – and it's not surprising. The countryside extravaganza, which runs from Tuesday 13 – Thursday 15 July, will showcase the region's best food and drink with everything from gingerbread, to cheese to breads and biscuits.
Sir Ken Morrison with Rosemary Shrager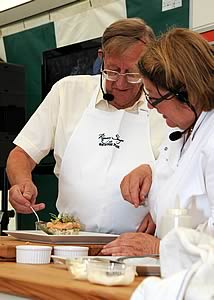 This year's event is expected to attract around 130,000 visitors to the Great Yorkshire Showground, Harrogate.

Bill Cowling said: "Presenting the fantastic food and drink produced in the county is a key part of the Great Yorkshire Show - it is obviously the natural product of the farming industry, and our ethos focuses on raising awareness of the quality and variety of food we produce. And, as the premier agricultural show on the country's calendar, it is a super platform for the industry, and a popular venue at the show.

The Regional Food Group will have a strong presence with a full cookery programme compered by BBC Radio 2's Nigel Barden of the Simon Mayo show. The RFG will be launching the next edition of the deliciouslyorkshire guide to food and drink on the Tuesday evening in the Welcome to Yorkshire stand. The guide is packed with recipes from some remarkable celebrity chefs, including Alan Titchmarsh, James Martin, Brian Turner and Rosemary Shrager.

Rosemary Shrager is returning to Harrogate after making her hugely popular debut at last year's event. Who can forget her great double act cooking with the President Elect, Sir Ken Morrison! She is again headlining twice a day on Wednesday and Thursday in the Game Cookery Theatre. Rosemary is best known for her television work, appearing in programmes such as "Ladette to Lady", Rosemary Shrager's School for Cooks, and is currently the resident chef on "The Alan Titchmarsh Show."

Also sharing their expertise are a number of Michelin starred and award winning chefs who will be presenting specialty game dishes. Andrew Pern from The Star at Harome near Helmsley will give an insight into the inspiring game recipes from his next cook book. Tom Van Zellar from restaurant Van Zellar in Harrogate, who recently won the title Newcomer of the Year at the Northern Hospitality awards will also feature and James Mackenzie, Yorkshire's newest Michelin starred chef from The Pipe and Glass Inn at South Dalton near Beverley is a welcome addition to the team.

The cooking begins at 10am on the first day of the event with a demonstration from chef Robert Ramsden, who will use the amazing larder available at Deli Fresh, Bradford to create his dishes.

Red Tractor First for Malvern


Forestry Stages a Comeback at Three Counties Show


2010 Children's Countryside Day