Auction Offers Last Chance to Buy O-Man Semen
2010-07-28
The last chance to buy semen from the legendary bull, O-Bee Manfred Justice, will be available at the Dairy Event and Livestock Show where three straws will be offered through a silent auction running throughout the event. Proceeds will go to the charity, Farm Crisis Network.
O-Bee Manfred Justice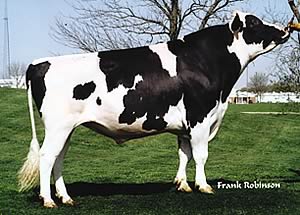 Better known as O-Man, this bull has continued to break records throughout his lifetime and has, most remarkably, sired every Holstein bull bar two in the top 30 Profitable Lifetime Index ranking.
This achievement is unparalleled in the breed and reflects O-Man's ability to transmit an exceptional range of qualities on to his daughters. These, most importantly, include outstanding milk production combined with low somatic cell counts, good fertility and long lifespans.
"These are all traits the modern, profit-driven dairy farmer is seeking, and so far no other bull – not even any of his sons – has toppled O-Man from his world-leading position," says Alison Lovell from Dairy Daughters, who have sold O-Man semen since 2003 and now market several of his sons.
"These are the last three straws of O-Man available in the UK as the bull has now entered retirement and will be living out his years in Select Sires' Ohio-based stud.
"We feel it's appropriate to offer these straws to the dairy farming industry in this way, and hope that by offering the proceeds to Farm Crisis Network, farmers who have fallen on difficult times can also benefit from the sale."
The sale will conclude at 4pm on the Dairy Daughters stand (number GE436) on the second day of the show.
To add further interest to the auction's proceedings, Dairy Daughters will also offer semen from the world's top type bull, Henkeseen Emphasis, which is newly available sexed.
"Emphasis is a relatively new bull who currently leads all UK and international bulls for conformation, with a Type Merit of 3.2 and we are delighted to have him in our catalogue," says Miss Lovell. "It's unusual for such a high calibre bull to be available sexed, but this offer gives the type-conscious breeder the closest thing there is to a guarantee of a high type heifer calf.
"As a son of Titanic, he offers further appeal to breeders seeking outcross bloodlines."

Rustler-Red Scores EX-96 to Confirm Leading Conformation Status


Holstein NI Launches Causeway Classic II


Cogent Elvina, the UK's Top Home-Produced Bull, is Now Available Sexed