Elite Female Offering to Mark 40th Anniversary of Simmental Importation 2010-07-14
The Northern Ireland Simmental Cattle Breeders' Club has announced details of an Elite Show and Sale of Females. The event, which takes place at Omagh Livestock Mart on Friday, August 20, has been organised to celebrate the 40th Anniversary of the breed's importation into the UK.
Discussing plans for the 40th Anniversary Elite Female Show and Sale are NI Simmental Cattle Breeders' Club chairman, Pat Kelly, committee member, Thelma Gorman, and secretary, Robin Boyd.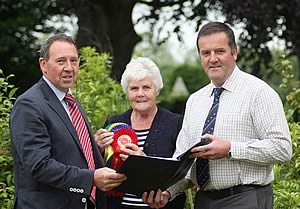 The catalogue for the one-day event comprises of 31 top-notch females, and will provide breeders from throughout the UK and Ireland, with a unique opportunity to purchase the cream of Northern Ireland's Simmental genetics. Heifers range in age from September 2008 with the youngest born in October 2009.
Judging commences at 10am sharp and will be in the capable hands of British Simmental Cattle Society president, Hector Macaskill, who runs the noted Woodhall herd based at Innerwick, East Lothian in Scotland. The sale gets underway at 12.30pm and will be conducted by auctioneer, Noel Erskine.
Buyers will be spoilt for choice, and all prospective purchasers are assured that the catalogue comprises of one of the most exclusive selections of Simmental females to be offered in the UK and Ireland. All entries have been rigorously inspected on-farm and individually selected by Scottish breeder and auctioneer, David Lowry, who runs the Keeldrum herd based at Lanark.
Club chairman, Pat Kelly said: "All entries will be inspected by a veterinary surgeon prior to sale, and will be sold under the auspices of the National Beef Association. Vendors will carry out the necessary pre-movement tests, and all animals will be eligible for immediate export following the sale."
"This sale represents a significant milestone in the history of the Simmental breed. The club committee has been planning this event for over twelve months, and we are delighted that our members have put forward a super selection of breeding females. It is hoped that this event will act as a major shop window for locally bred genetics, and we look forward to welcoming Simmental enthusiasts from throughout the British Isles and Ireland.
Sponsors and committee members of the NI Simmental Cattle Breeders' Club pictured at a reception to launch the 40th Anniversary Elite Female Show and Sale which takes place at Omagh on Friday, August 20.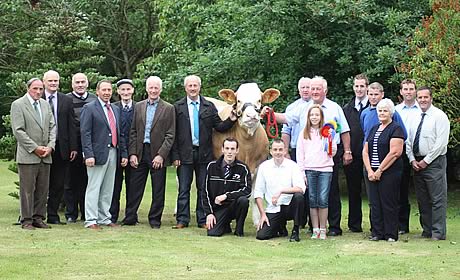 Herds represented in the catalogue include: Ballyvallough (1); Drumbulcan (1); Wilandale (1); Woodford (1); Ballinalare Farm (2); Cladymore (2); Corrick (2); Lakeside (2); Lisglass (2); Rehall (2); Slievenagh (2); Stralongford (2); Cleenagh (3); Kilbride Farm (3); and Ranfurly (5).
Pat Kelly added:"I would like to take this opportunity to welcome our sponsors, and thank them for coming on board to support this important event in the club's calendar." Sponsors for the 40th Anniversary Elite Female Show and Sale include: John Thompson and Sons Ltd; Woodcraft Kitchens (Kilrea); Irwin Feeds; Redrock Machinery; McGirr Haulage (Tempo); and Milburn Concrete (Cookstown).
Local Simmental breeders are among the best in the UK, and are continually hitting the headlines in the show and sale rings at national events such as the Perth Bulls Sales.
Veteran breeder, Billy Robson OBE, from Doagh, Ballyclare, was one of the founder members of the NI Simmental Cattle Breeders' Club. The Robson family's Kilbride Farm prefix is one of the UK's longest established pedigree Simmental herds, dating back to the first importation of the breed into the Province in the early 1970s. Mr Robson is a former president of the British Simmental Cattle Society, and has hosted visits from World Congress delegates in 1982 and 2008. The Kilbride Farm Herd operates a closed herd policy, but is a regular consignor at Perth, having secured numerous breed championship awards in recent years.
Northern Ireland breeders have also produced some of the top priced bulls at the Scottish event. County Tyrone-based breeders, Harry and John Moore, sold Omorga Samson for the breed's joint 22,000gns record; while Cecil McIlwaine, Newtownstewart, realised 21,000gns for Corrick Kentucky Kid; and Robin Boyd, Portglenone, achieved 20,000gns for Slievenagh Talisman.
Mr Kelly continued:" As a club we are very excited about the forthcoming sale, and I am privileged to be chairman at this important time in the history of the Simmental breed."
The Northern Ireland Simmental Cattle Breeders' Club held a calf show at Automart in Portadown to celebrate the 25th Anniversary; and more recently, hosted delegates attending the 17th World Congress in 2008.
The Simmental breed originates from the Simmen Valley in Switzerland, and is now the most popular breed numerically across Europe. Simmentals can be found across five Continents. The breed is recognised as a superior terminal sire, and is a popular choice for suckler herd owners. Breed traits include fertility, hardiness, early maturity, good growth rates, ease of calving, excellent mothering ability and milkiness.
• The Northern Ireland Simmental Cattle Breeders' Club is holding its annual charity BBQ at Dungannon Rugby Club on Friday, August 6, commencing at 7pm. This year's nominated charity is Marie Curie Cancer Care. Tickets are priced at £15 per person, and are available from committee members, or club secretary, Robin Boyd on mobile: 07799 346784.

SAC Gets Its Teeth Into Meat Eating Quality


Which Way Will the Genetic Beef Market Wind Really Blow?


ASDA Offers Contract Prices to UK Suckler Beef Producers