Farmers Offered Stake in Renewable Energy Projects
2010-06-04
Forty farmers across Scotland are being sought to take part in an innovative renewable energy programme launched this week at the NSA Scotsheep event near Stirling by one of Scotland's leading independent renewable energy developers.
Neil Black from Gatehouse, in Perth and Kinross, was one of hundreds of farmers who visited the GreenPower stand at Scotsheep. He is seen here (left) talking to Louise Huby and Tom Pendrey, both Development Managers at GreenPower.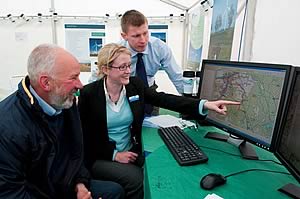 The 'GreenPower-Share' programme, conceived by Alloa based Green Power, aims to identify suitable sites for 20 single wind turbines and 20 hydro-electric projects. The landowners will be awarded a direct stake in the project through an allocation of shares, instead of traditional land rental payments.
In addition to boosting farm income over the lifetime of the project. farmers will also have the opportunity to accrue further benefits by investing in additional shares in the development.
To help determine whether an individual site may be suitable for a renewable energy development, GreenPower used a GIS system at Scotsheep to offer free land evaluations to interested farmers.
Nick Mackay, director of GreenPower, which celebrated its tenth anniversary earlier this year commented: "The huge level of interest at Scotsheep convinced us that Scottish farmers want to know more about the benefits of hosting renewable energy projects on their land.
"We developed our GreenPower-Share scheme to enable farmers, for the first time, to own a share in an energy development without any payment being required. The conversations that we had with farmers at Scotsheep confirmed that, as well as the prospect of a greater share of project profitability, they also liked the idea of a stronger business relationship between developer and landowner".
For more information on GreenPower visit www.greenpowerinternational.com

FAO Urges Early Action on Climate Change Responses


Act Now to Avoid Livestock Production Problems Next Winter


An Agreement to Farm Better Skills