2010-04-08
Leatherjacket populations in Scotland are exceptionally high this spring and the risk to spring sown cereal crops and grassland is very real.
Leatherjacket sampling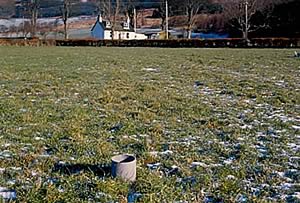 According to the latest annual survey carried out by SAC in south-west Scotland, the average population of crane fly larvae is 1.24 million grubs per hectare. It is the sixth highest level recorded since the survey started 35 years ago.
Leatherjacket is the name given to the grubs of crane flies or "daddy longlegs" which live just below soil level and eat the roots of grasses and other plants from August through to June each year. According to SAC Ecologist Dr. Davy McCracken, who undertook the survey…
"Unfortunately, the severe winter weather this year will not have had any impact on reducing grub numbers. Leatherjackets are very resilient to cold and frost and all they do under such conditions is reduce their feeding until the soil warms up again."
SAC has conducted an annual survey each winter since the mid-1970s and these latest results show once again the value of such long-term surveillance and the data generated. In addition to the risk posed to crops, leatherjackets are an important food resource for farmland birds. Since the mid-1990s SAC's farmland biodiversity research has focussed on a better understanding of what drives changes in leatherjacket populations. It shows grub densities fluctuate from year to year but in the past 13 years they have consistently been higher, linked, it is believed, to climate change and wetter, milder autumns.
This year the risk is particularly high in the west and south-west including Wigtownshire, Ayrshire, Argyll, Bute, Lanarkshire, Renfrew, Stirling and Perth. Only in the Dumfries, Kirkcudbright area does the risk appear low.
Farmers in the east cannot be complacent either. Survey results around Stirling and Perth are a good indication that likely grub levels in non-surveyed areas such as the NE and south-east of the country Scotland are just as high with damage likely this year in short- and long-term grassland as well as spring cereals.
Two-thirds of all the fields sampled harboured populations greater than 0.6 million grubs per hectare, while over half were well above that at 1 million/ha. It means the damage and loss of yield could be serious when hungry grubs start feeding as soils warm up. However, Dr. McCracken advises farmers against spraying just for insurance.
"Despite this potential grub threat, it is important to carry out an assessment of leatherjacket infestation in each location before any insecticide treatment. An assessment will identify those fields at risk before any damage and associated loss has occurred and means control measures can be targeted cost-effectively."
SAC crop protection specialists advise that for high infestations an insecticide should be applied as soon as ground conditions permit. When planning to sow spring crops after grass, insecticide treatment of the grass before ploughing will knock leatherjacket numbers back sufficiently to give the crop a good start. However, where grub densities prior to arable crops are marginal for treatment, current advice is not to take preventive action against the grub straight away but to wait and monitor the emerging crops and treat only if necessary.
"It makes sense, for both economic and environmental reasons, that any insecticide application should be restricted to only those fields where the need has been demonstrated" says Davy McCracken.

Make Rat Control a Forage-Making Essential


Syngenta Bontima Fungicide Arrives in TIme for Barley Growers


Volunteer Barley Rears Its Ugly Head