Vegetables on the Menu for Great Yorkshire Show
2010-04-30
Vegetables are well and truly on the menu for hundreds of green-fingered youngsters across the region. Pupils at some 32 primary schools – from Halifax to Harrogate - are hoping their gardening skills will help them take the top prize in a new competition - and win a trip to this year's Great Yorkshire Show.
Tom Taylor Scaife and Abi Wilkinson of St John's C of E Primary School in Knaresborough beginning work on their veggie box.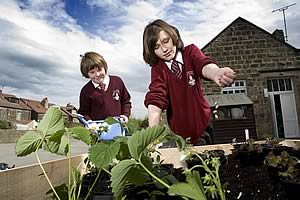 St John's C of E Primary School in Knaresborough is one of 32 schools across Yorkshire which is taking part in the Yorkshire Agricultural Society's School's Veggie Box competition.
The contest aims to encourage young people to grow their own healthy vegetables – with the growers of the best 10 boxes invited to bring them to the Great Yorkshire Show where the overall winner will be decided. The Show runs from Tuesday 13 to Thursday 15 July and will feature a new look Garden Show as one of the many attractions, which is where the veggie boxes will feature.
Over the next week or so, the first metre-square-boxes and compost are being delivered to the schools– then it's up to the youngsters, from as far afield as Goole, York, Doncaster, and Keighley, to get growing! (see full list of schools which follows)
Mike Prest, competition co-ordinator and adviser to the Garden Show, is hopeful that there will be a wide array of excellent home-grown vegetables produced by green-fingered schoolchildren.
"The aim of the competition is to encourage healthy eating and to encourage children to enjoy healthy, home-grown produce," he said.
The boxes will be judged at the agricultural extravaganza by gardening expert Christine Walkden from BBC TV's The One Show. The competition is organised by the Yorkshire Agricultural Society in co-operation with the National Farmers Union and Stockbridge Technology Centre near Selby.
Teacher Miss Louise Ward, who runs the Gardening Club at St John's Primary School, said her pupils were very excited about taking part, had been planning what to grow in their box.
"We have our own allotment where we have grown fruit and vegetables for the past four years, but everyone's very excited about the competition. The children have been deciding what to plant, how to make it look good and where to plant everything.
"We have already grown some seeds and are hoping our box will be one of the 10 chosen to go to the Great Yorkshire Show.
"It's so important for children to understand where their fruit and vegetables come from, not just to see them on supermarket shelves," said Miss Ward.
The Great Yorkshire Show is England's premier show and every year attracts around 130,000 visitors keen to see everything from top class show jumping, to stylish fashion to the thousands of animals competing for the championship awards. For further information see www.greatyorkshireshow.co.uk
PLANT A VEGETABLE BOX FOR THE 2010 GREAT YORKSHIRE SHOW – Participating Schools
NO
CONTACT NAME
SCHOOL
Town
1
MRS JOANNE WHITEHEAD
SUTTON IN CRAVEN CP SCHOOL
BRIDGE ROAD, SUTTON IN CRAVEN
KEIGHLEY BD20 7ES
Keighley
2
KAREN WEST
OSSETT HOLY TRINITY PRIMARY SCHOOL CHURCH STREET, OSSETT WF5 9DG
Ossett
3
ANDREW CRAMPTON
WIBSEY PRIMARY SCHOOL, NORTH ROAD, WIBSEY BRADFORD BD6 1RL
Bradford
4
SEAN WALSH
HOLY TRINITY CE JUNIOR SCHOOL, CHURCH LANE, RIPON HG4 2ES
Ripon
5
PAUL BILTON
DEIGHTON GATES PRIMARY SCHOOL, DEIGHTON ROAD, WETHERBY LS22 7XL
Wetherby
6
LOUISE WARD
KNARESBOROUGH ST JOHN'S PRIMARY SCHOOL, STOCKWELL ROAD, KNARESBOROUGH HG5 OJN
Knaresborough
7
SUE PRITCHARD
TICKHILL ESTFELD PRIMARY SCHOOL, COMMON LANE,DONCASTER DN11 9JA
Doncaster
8
MS Z WHEATLEY
CLAYTON VILLAGE PRIMARY SCHOOL, JOHN STREET, CLAYTON, BD14 6AD
Bradford
9
MRS RACHEL GREENHALGH
NESSFIELD PRIMARY SCHOOL, NESSFIELD DRIVE, KEIGHLEY, BD22 6NP
Keighley
10
JANE HESKETH
NORTH RIGTON SCHOOL, HALL GREEN LANE, NORTH RIGTON LEEDS LS17
Leeds
11
MRS GILLIAN WARD/ MRS R LANZILLOTTI
KIRK HAMMERTON CE PRIMARY SCHOOL, ST JOHN'S GROVE, KIRK HAMMERTON, YORK YO26 8DE
York
12
SHIRLEY JONES/KERRY MORRISON
WOODLANDS JUNIOR SCHOOL, WETHERBY ROAD, HARROGATE
Harrogate
13
MICHELLE MOORE
SCOTTON LINGERFIELD PRIMARY SCHOOL, MARKET FLAT LANE, LINGERFIELD KNARESBOROUGH HG5 9JA
Knaresborough
14
RICHARD BERRY
ALLERTON PRIMARY SCHOOL, GARFORTH STREET, ALLERTON, BRADFORD BD15 7HB
Bradford
15
PETER DOHERTY
BARWICK-IN-ELMET CE PRIMARY SCHOOL, CHAPEL LANE, BARWICK-IN-ELMET, LEEDS LS15 4HL
Leeds
16
CHRIS KNOWLES
PANNAL PRIMARY SCHOOL, PANNAL GREEN, PANNAL, HARROGATE HG3 1LH
Harrogate
17
ANGELA JACKSON
STEETON PRIMARY SCHOOL, MARKET STREET, STEETON, KEIGHLEY BD20 6NN
Keighley
18
MRS PATRICE LYTH
ST WILFRID'S CATHOLIC PRIMARY SCHOOL, CHURCH LANE, RIPON HG4 2ES
Ripon
19
KATH COCKCROFT
RICHARD TAYLOR CE PRIMARY SCHOOL, BILTON LANE, HARROGATE HG1 3DT
Harrogate
20
RACHAEL ASHFORTH/ROSIE CRAWFORD
BARNBURH PRIMARY SCHOOL, CHURCH LANE, DONCASTER DN5 7EZ
Doncaster
21
ANNE NORMAN/DEBRA PULLEYN
REDHILL JUNIOR SCHOOL, STANSFIELD DRIVE, AIREDALE, CASTLEFORD WF10 3DB
Castleford
22
CAROL PARRY
NEW PARK CP SCHOOL, SKIPTON ROAD, HARROGATE HG1 3HF
Harrogate
23
SUSAN WALKER
ALLERTON CE PRIMARY SCHOOL LINGFIELD APPROACH LEEDS LS17 7HL
Leeds
24
MRS ANITA BROXUP
BADGERHILL PRIMARY SCHOOL, CROSSWAYS, BADGER HILL, YORK YO10 5JF
York
25
LINDSAY GAMBLE
OUR LADY OF MOUNT CARMEL SCHOOL, SANDRINGHAM ROAD, INTAKE, DONCASTER, DN2 5JG
Doncaster
26
NICOLA HUMPHREYS
WOODTHORPE PRIMARY SCHOOL, SUMMERFIELD ROAD, YORK YO24 2RU
York
27
PENNY PERCIVAL/NORMA BRAY
KELLINGTON CP SCHOOL, ROALL LANE, GOOLE, DN14 ONY
Goole
28
APRIL GREEN
RUFFORTH PRIMARY SCHOOL, WETHERBY ROAD, RUFFORTH, YORK YO2 3QF
York
29
MARGARET FIRTH
WARMSWORTH PRIMARY SCHOOL, MILL LANE, WARMSWORTH, DONCASTER DN4 9RG
Doncaster
30
HELEN LEHAN
ST JOSEPH'S RC PRIMARY SCHOOL, COPPICE RISE, HARROGATE HG1 2DP
Harrogate

Glendale Show Attracts Record Funding


Jack Watkinson Secures Wensleydale Association Trophy Double


New Welshpool Livestock Market Opened by The Queen