Jack Watkinson Secures Wensleydale Association Trophy Double
2010-04-29
Wensleydale sheep stalwart Jack Watkinson, of Hutton Ghyll, Constable Burton, Leyburn, secured a notable trophy double at the annual meeting of The Wensleydale Longwool Sheep Breeders' Association at the Tempest Arms Hotel, Elslack, Skipton.
Jack Watkinson and his wife Jessica with their Wensleydale Longwool Sheep Breeders' Association trophies.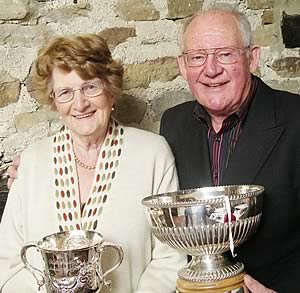 Association president Dr. Agnes Winter presented Mr Watkinson with both the William Rhodes Perpetual Trophy, awarded to the most successful exhibitor of the past year, and the Ruth Pedley Memorial Trophy, which goes to the member achieving the most notable interbreed success over the previous 12 months.

The William Rhodes trophy winner is decided on a points system, while the Ruth Pedley Trophy recipent was decided by the Association Council, who selected Mr Watkinson for his achievements at the 2009 Great Yorkshire Show, where his Wensleydale breed champion - a hogg in full wool - took both the Longwool Ewe Championship and the Wool on the Hoof Reserve Supreme award.

Mr Watkinson has bred and exhibited Wensleydale sheep for almost a quarter of a century and was also veterinary advisor to the TV production of "All Creatures Great and Small."

New Welshpool Livestock Market Opened by The Queen


Great Yorkshire Show Livestock Entry Bonanza


Scotgrass 2010 Exhibits Fully Booked