Serious Holstein Buyers Compete at Final Holywood Herd Dispersal
2010-04-12
The third and final sale to disperse the highly regarded "Holywood" herd of pedigree Holstein cattle took place at Borderway Mart on Wednesday 7th April.
The final instalment of the Holywood Herd dispersal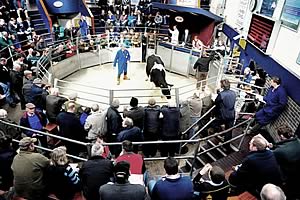 This comprised all the followers from served heifers down to seven month old calves.
Because the cows had been so much admired at the first two sales the word had got round that the heifers and calves needed buying.
The ring side was packed, with serious buyers from all over the UK competing strongly for all age groups.
The top bid of 3000gns came from WM Sloan & Co, Ryemuir Farm, Lochmaben of the Ryemuir herd for a Picston Shottle july calving heifer from the Kaye family tracing back to the Windermere Mark Kaye EX94.
At 2700gns was a very classy heifer calf by Braedale Goldwyn from the Friscee/Fleur family heralding from Quality Mascot Friscee EX92 via an EX92 Grandslam granddam and a VG89 (3yr) Comestar Outside dam. She now joins the noted "Wolfa" herd.
Prominent amongst the bidder of very well bred, stylish heifers of all ages was Plumpton Agricultural College. Their six hour journey from the south coast was well rewarded because they succeeded in buying 52 heifers, including a gorgeous full sister to the Goldwyn Fleur called Holywood Goldwyn Francisco and exactly one year old she made 1900gns. They also out bid many local breeders to take another full sister for 1600gns, as well as a vaakje yearling by Blitz for 1550gns.
Leading Prices (guineas):
Lot 49 3000 WM Sloan & Co, Ryemuir Farm, Lochmaben, Lockerbie
Lot 181 2700 M Armstrong, Wolfa, Great Salkeld, Penrith
Lot 46 2300 DR&HM Horsley Ltd, Woodhouse Farm, Catterlen, Penrith
Lot 93 2250 A&I Lamont, Sandieston Farm, Lochwinnoch
Lot 50 2000 J Sharpe & Son, Woodend Farm, Lamplugh, Workington
Lot 67 1950 J Sharpe & Son, Woodend Farm, Lamplugh, Workington
Lot 182 1900 Plumpton Agricultural College, Ditchling Road, Nr Lewes
Lot 210 1900 RG Swain, Shavington Wood, Shavington Park, Market Drayton
Lot 74 1850 Plumpton Agricultural College, Ditchling Road, Nr Lewes
Lot 84 1850 A&I Lamont, Sandieston Farm, Lochwinnoch
Lot 8 1800 DE&LM Wilson, High Oaks, Calthwaite, Penrith
Averages:
105 In Calf Heifers = £1624.08
77 Bulling Heifers = 1214.32
42 Maidens = £1041.50
224 Overall = £1373.99
Auctioneers: Harrison & Hetherington
Guest Auctioneers: Wright Manley

Holywood Herd Dispersal Attracts a Crowd


Oman Continues to Dominate Holstein Index


New DairyCo Proofs for Non-Holstein Breeds