Welcome for Extension to Farm Buildings Support
2010-03-03
NFU Scotland has welcomed confirmation from the Scottish Government that its £3 million Severe Weather Grant Scheme, as announced at the Union's AGM in St Andrews last week, will now be extended to provide support to those who have seen farm buildings collapse in the most recent snow storms.
Almost 3000 farm buildings across Scotland collapsed under the weight of snow and ice.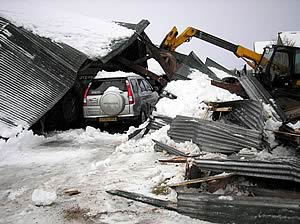 However, the Union is reminding those businesses looking to make use of the £6000 available to them under the scheme that to qualify for support, costs related to replacement temporary structures or securing alternative accommodation needs to have been incurred before the end of March. Claims must then be submitted by the end of April.
NFU Scotland President, Jim McLaren said:
"Scotland has experienced some of the worst winter weather since records began. Between December of last year and the last week of February, it is estimated that almost 3000 farm buildings across Scotland collapsed under the weight of snow and ice. For many farmers, that has created a major headache in terms of providing temporary accommodation for their livestock at this crucial time as we enter the main lambing and calving period.
"The Scottish Government reacted quickly to the situation, set up a working group to assess the scale of the problem and to identify potential solutions. It has since made available £3 million pounds or up to £6000 per affected business through a grant scheme to help provide financial assistance where farmers have been forced to rent alternative housing or erect temporary structures to avoid exposing livestock to health and welfare problems. That is a show of real support for the industry.
"The original terms of eligibility for the scheme required the farm building damage to have occurred before January 31, 2010. With last week's snowfalls bringing down more buildings across the country, it is excellent news that the Scottish Government is opening up the scheme to any farm business suffering damage since 28 December last year.
"However, I urge those looking to make use of this scheme to get arrangements in place as a matter of urgency. Work must be completed and costs occurred before the end of this month and claims submitted before the end of April."

Fundraising Launch for Land Girls Memorial


Buy a Tractor for Free!


Latest Study Pinpoints Serious Farm Rodent Problems