Akriggs Regain Craven Champion Day Supreme Title
2010-02-21
A new mart record price of £2,100 for a budding bovine 'baby' was achieved on Craven Champions Day, the annual show and sale of commercial store cattle with future show potential at Skipton Auction Mart. (Wed, February 17).
Chris Akrigg's 2010 Craven Champions Day
supreme title winner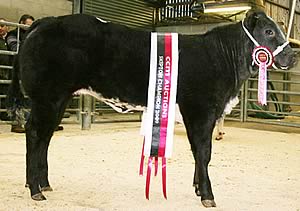 The honour fell to a seven-month-old British Blue-x-LImousin heifer from Yorkshire Dales showman Chris Akrigg, of Manor Farm, Cray - first chosen as victor in the halter-led classes before progressing to take the overall supreme championship.

Prepared for the show ring by Chris Akrigg's son Will and exhibited by Annabelle Mason, Embsay, the title winner is by the family's stock bull Almeley Sweep, bred in Herefordshire by Graham Morgan.

The Akriggs were repeating their championship-winning success at Skipton's corresponding show in 2008. It is an established early season fixture on the North of England circuit.

With adolescents to the fore, the organisers also plumped for youth in their choice of show judge -19-year-old Richard Priestley, of Hill Top Farm, Denholme, Bradford.

"The champion stood out in an outstanding show – a really stylish youngster, with great promise for the future," said Richard, a rising star on the show circuit, who carried forward his enthusiasm to the sales ring when purchasing the 2010 victor for a record Skipton store price for a youngster of this age group.

Richard, who is building up his own herd, was in action again when paying £2,050, second highest price of the day, for a seven-month-old British Blue heifer from JC Walker & Son, Brennand Farm, Dunsop Bridge, Clitheroe. The daughter of the Walkers' stock bull, Brennand Viper, had earlier won the young handlers class when shown by 24-year-old Steven Walker.

The fixture once again proved a happy hunting ground for the Priestley family. Richard's parents, Steven and Ruth Priestley, bought the 2009 champion – an eight-month-old British Blue heifer exhibited by the Walker family - for their multi award-winning Brontemoor Limousin herd.

Steven reported that the heifer had progressed to win a number of honours on the local show circuit last year and is now in-calf for the first time to Burndale Cyclone, a 14,000 guineas acquisition by the Priestleys last year and junior male Limousin champion at the 2009 Great Yorkshire Show.

This year, the Walkers had to settle for reserve championship honours with their non-halter led class champion, an 11-month-old home-bred British Blue heifer, also by Brennand Viper. It joined Philip Summers, of Clayton, Bradford, for £1,060.

Quality in quantity was evident among the 72 show cattle. Chris Akrigg sold a total of six cattle at an average of £1,132.50, with the Walker family selling four animals at an average of £1,315, among them the first prize British Blue bullock to Steven Swales, Melbourne, York, for £1,150

Calderdale vendor David Broadbent, of Greenhouse Farm, Midgley, Halifax, also sold six animals, which averaged £1,151 and achieved a high of £1,900 – this to R F Whitfield, St Helens. Mr Broadbent's second prize British Blue steer joined Geoff Burrow, Kirkby Malham, for £1,100.

The first prize Limousin heifer from E and M Townley & Son, Clapham, was knocked down for £1,100 to South Yorkshire-based TWH Farming. Rosette-winning cattle averaged a healthy £1,115.

Show sponsors were Laycocks Animal Healthcare, Skipton, Huddersfield-based agricultural merchant's agent Janet Sheard, Mosey Feeds, York, and the North East Limousin Breeders Club.

Prospective Tory MP Commits to Supporting Skipton and Ripon Farmers


Caton Bluefaced Leicester Gimmer Hogg Champion at Skipton


Calderdale Coup at Skipton Prime Shows