Calderdale Coup at Skipton Prime Shows
2010-02-05
At Skipton Auction Mart's February prime cattle show, the victor, a British Blue bullock from L Bamforth & Sons, Wainstalls, sold locally for £1,058 (203.5p per kilo) to S & J Dorsey Butchers for their meat stall in Borough Market, Halifax. (Mon, Feb 1)
The Skipton February prime beef champion, with exhibitor Jonathan Cockroft, left, stockman with L Bamforth & Sons, and judge James Dewhurst.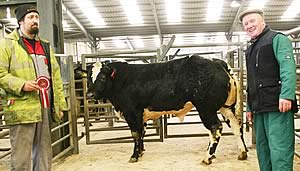 The top-priced beef animal also came from Calderdale, as did the buyer. The British Blue heifer from Brian Lund, Walshaw, Hebden Bridge, was knocked down for £1,074 to Gerald Medcalfe, Halifax.

Brian Lund also had the second highest priced pen of the day in the prime lamb show with five 45kg Texels, which sold for £101.50 per head to Stuart Price Butchers, Crossflatts, Keighley, through ringside representative Mick Etherington.

In addition, Mr Lund sent out the first prize Suffolk prime lambs, acquired at £92.50 by Andrew Atkinson, Kettlesing.


The February prime lamb champions, with exhibitor Stephen Pepper, right, and judge James Dewhurst.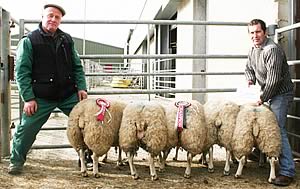 The prime lamb champions were presented by Stephen Pepper, Oxenhope, who won the corresponding fixture last year and was reserve champion at the January prime lamb show. His latest victors, a pen of five 44kg Beltex-cross-Texel lambs, sold for the top price of £103 each to wholesalers Samuel Howarth, Diggle, Manchester.

The same buyer also paid £98 a head for the reserve champion pen of 50kg Texel-cross lambs from Jimmy Baines, Trawden, the reigning Craven Cattle Marts' Stock Person of the Year.

Victory in a standalone prize show for Swaledales, sponsored by the Swaledale Sheep Breeders Association, went to Robert Crisp, Calton, with a ten-strong 47kg pen of wether lambs, all bred from rams belonging to fellow Swaledale stalwarts and near neighbours Roy Nelson, Bordley, and Bill Cowperthwaite, Malham Moor.

They were acquired for £87 each by Ali Shan, of Yorkshire Halal Meat Supplies, a regular Skipton primestock buyer.

Judge for both shows was James Dewhurst, of Stanforth Butchers, Skipton.

Sheep Dog Supremo John Bell Top Dog Again at Skipton


Skipton Helps Top Farm Shop Keep it Local for New Year


Another Happy New Year for Garnetts at Skipton