Skipton Helps Top Farm Shop Keep it Local for New Year
2010-01-06
Skipton Auction Mart helped a leading farm shop to honour its promise for quality meat all-year-round and "sourced locally from Yorkshire farmers we know and trust" at the first Craven Prime Cattle Show of 2010 (Monday 4th January).
Jonathan Cockcroft of L. Bamforth & Sons, with the Champion in Skipton Auction Mart's January Craven Prime Cattle Show.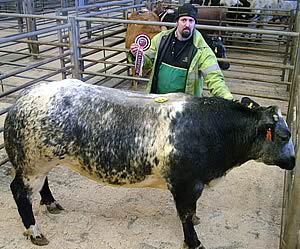 Keelham Hall Farm Shop at Thornton, near Bradford, which prides itself on locally-reared meat and other traditional local produce, swooped to buy the show's Champion – a Belgian Blue Bullock from L. Bamforth & Sons of Wainstalls, just a few miles away.
Keelham Hall Farm Shop proprietor, James Robertshaw, said: "At Christmas we bought three Champions from three different auctions, but this latest one shows that we want to offer our customers the very best meat at all times of the year, not just for Christmas and special times. Whenever possible, we always aim to offer meat products which have been reared within a three or four mile radius."
Picked out by the judge, Ross Greenwood, the Champion sold for £1,217 (204.5p per kilo). The Reserve Champion was a Blonde-cross heifer sent out by James Baines of Trawden, bought by meat suppliers Samuel Howarth Ltd, of Manchester, for £1,050 (185.5p per kilo).
Other top prices in the Craven Prime Cattle Show, which included Continental, Native and Black and White breeds, were 194.5p per kilo for a Limousin-cross heifer, also from James Baines, sold to James Robertshaw of Keelham Hall Farm Shop and 198.5p per kilo for the third-placed heifer, sent out by L. Bamforth & Sons, bought by R. C. & B. Binns, for their butcher's shop in Saltaire.
B. Spensley Ltd sent out the second- and third-placed Belgian Blue-cross bullocks, both bought by Stanforth's Butchers, Skipton, for £1,112 (168.5p per kilo) and £1, 038 (158.5p per kilo), respectively.

Another Happy New Year for Garnetts at Skipton


Records Smashed at Skipton Charity Sheep Show and Sale


Swires Maintain Craven Dairy Auction Championship Stronghold