Border British Blue Club Annual Calf Show
2010-02-25
The Border British Blue Club staged their Eleventh annual open calf show on Thursday 18th February at Borderway Mart, Carlisle when nearly all of the 42 catalogued entries were forward for judging. This was made up of 14 males and 28 females all UK born pedigree registered calves born on or after 1st January 2009.
Croftends Emma ET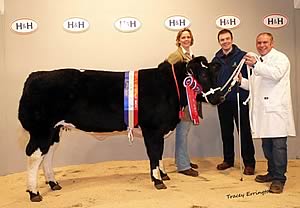 The club would like to thank the sponsors of this event, Capontree Veterinary Centre & The Shepherds Inn & Auctioneer for the class prize money, Harrison and Hetherington Ltd for the catalogue and the premises, H&H Insurance Brokers Ltd for the championship prize money, Massey Bros. (Feeds) for the Perpetual Shield awarded to the champion calf and Norbreck Genetics for the Perpetual Shield for the winner of the young handler class.
The Judge Eileen Wilson, Aprilton Herd had the very difficult task of judging the calves. Eileen said that she knew there would be some good calves but until she entered the ring, she had not appreciated just how many good young calves would be on show and her task was a difficult one, but she was very pleased with her final Championship choice saying:
"Croftends Emma is a very correct heifer, full of style with excellent length and good mobility."
The female and overall championship was awarded to JE Bellas & Son, Croft Ends Farm, Appleby with Croftends Emma ET a January 2009 daughter out of the Empire D'Ochain (IS) and Croftends Belle ET flush.
Carrick Primestock, Lyonpark, Maybole took the reserve female championship and reserve overall championship with Lyonpark Evelien ET a February 2009 daughter of the Gitan Du P'Tit Mayeur (IS) and Woodview April ET flush.
The male championship was awarded to Kevin Watret, 25 North Field Park, Annan, Dumfriesshire with Solway View Emirates ET a January 2009 son out of a Bringlee Blackstar ET and Annanwater Venice ET flush.
Mick Gamble and Sarah Rigg, Sharplaw Farms, Hownam, Kelso took the reserve male championship with Sharplaw Engineer ET a May 2009 son out of the Empire D'Ochain (IS) and Cowden Blueberry ET flush.
Carrick Primestock won the Progeny group with two Gitan Du P'Tit Mayeur (IS) calves. The first was a female calf Lyonpark Evelien ET (reserve female champion and reserve overall champion) and the second a heifer Lyonpark Elise ET (4th in her class).
The reserve progeny group went to two Empire D'Ochain (IS) calves shown by JE Bellas & Son. The first was a male calf Croftends Eddie ET (3rd in his class), and the second, a heifer Croftends Emma ET (female and overall champion).
Border Club Chairman Steve Pattinson commented "Many of the evenings classes were truly world class and had attracted a huge crowd from all over the UK, Eire and Belgium. A magical evening that must be one of the strongest fields at a Border Club calf show to date".
There were more young handlers than we have had in the past, partly due to the half term break. It was great to see them all taking it seriously. This year all the handlers had the chance to pick up some top tips from Judge Eileen Wilson of the Aprilton herd. Judge Eileen said the young handler class was the hardest part of the competition to judge. Picking her winner Eileen said "There were only two of the competitors who never took their eye off what I was doing the whole of the time I was judging. These were Issie Hartley and Josh Bellas. It was Issie who went on to clinch the Norbreck Perpetual Trophy once more, but Eileen said there was very little between them. In third place was Taylor Allison and fourth place was Thomas Hartley.
Earlier in the evening, Eileen had gathered all the young people together to give them some tips on how to handle their calves.
This was a great opportunity and Border Blue Club Chairman Steve Pattinson welcomed 16 young handlers into the ring. Whilst some of the young people present did not show on this occasion, it certainly inspired them to enter in the future.

Defra Should Consult with Agricultural Industry before Prioritising its CAP Policies


New Winter Sale Good for British Blues


Simmental Bulls Meet Strong Demand at Stirling