Haltcliffe DJ Top of Carlisle Limousin Charts
2010-02-15
Driven by a terrific demand from commercial beef producers, the British Limousin Cattle Society Sale of Limousin bulls at Carlisle held on Saturday February 13th saw 176 bulls sell to an all-breeds centre record average of £6,045.
Haltcliffe DJ sold for 72,000gns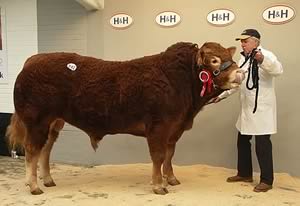 The top end of the pedigree trade saw the prolific Haltcliffe herd of Messrs Ridley, Haltcliffe, Hesket-New-Market, Cumbria lead the sale at 72,000gns for their May 2008 born bull Haltcliffe DJ.
The 176 bulls traded, giving an 81% clearance, represented a record number of bulls sold at a February fixture at Carlisle. Eighteen bulls in all made over 10,000gns with ten within that number selling to commercial producers. The depth of trade resulted in the first Limousin sale to gross over £1 Million with 55 junior bulls leading the sections at an average of £6,512.
At the top end of the sale the 72,000gns paid for Haltcliffe DJ, the pre-sale show Champion, was the second highest price ever paid at auction in the UK standing only behind Haltcliffe Vermount, also from the Ridleys, who made a world record 100,000gns when selling at the corresponding sale in 2006. By a strange quirk of fate, both Haltcliffe DJ and Haltcliffe Vermount were born on the date of 22nd May. Haltcliffe DJ is by the 42,000gns sire Cloughhead Umpire and is out of the French bred female Radio. Radio, a Nenuphar daughter, was purchased as a heifer from the noted herd of Camus Huberson whilst the Ridleys were re-stocking the Haltcliffe herd following FMD in 2001. Joint purchasers of Haltcliffe DJ were Procters Farm Ltd, Woodhouse Lane, Slaidburn, Clitheroe, Lancs; and Nether Hall Farm Ltd, Nether Hall, Mansergh, Kirkby Lonsdale, Carnforth, Lancs, for their Procters and Netherhall pedigree herds respectively.
Averages
51 Senior Bulls £5,243.82 (plus £167.61)
71 Intermediate Bulls £6,206.83 (plus £512.01)
55 Junior Bulls £6,511.94 (plus £360.31)
176 Bulls £6,045.60 (plus £357.16)

Aberdeen Angus Bulls to 4000gns at Dungannon


Cumberland Show Hosts Biggest Display of Cattle


Express Delivery as British Blue Bull is Exported to Belgium