Express Delivery as British Blue Bull is Exported to Belgium
2010-02-09
After years importing Belgian Blue semen and cattle from their Belgian homeland, one of the UK's leading 'Blue' genetics companies has finally reversed the trend. Norbreck Genetics, the Lancashire based livestock breeding and exporting company has been breeding Blues for over a decade and this month saw their 10 month old British Blue bull Norbreck Express depart for Belgium.
Norbreck Baltimore - dam of naturally born Norbreck Express.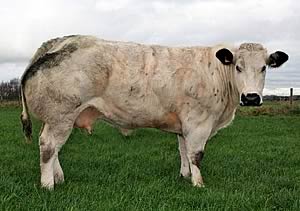 Norbreck Express is a son of Bringlee Volkawagon out of Norbreck Baltimore - one of Norbreck Genetics' highest index, naturally calving brood cows. Express was sold to the Belgian owned AI company FABROCA - whose team were impressed by the bull's pedigree, and confirmation. From the British Blue perspective, he is also out of a naturally calving cow.
Philip Halhead, Norbreck Genetics MD said "The British Blue is now recognised globally for the functionality that UK Blue breeders have introduced into this heavily muscled animal, attracting attention from breeders in Belgium. After successfully completing the rigorous health and genetic defect tests we finalised the sale and shipped our bull to Belgium. This has been a long held personal ambition and I am delighted the sale has concluded. We have been working with FABROCA for some time and have already exported 2 bulls on behalf of other breeders - but this is the first Norbreck bull out of a naturally calving cow that we have exported."
Philip went on to explain "Whilst selling Blues to Belgium could be described as selling snow to Eskimo's, the UK is producing a more modern animal. These early sales are just the tip of the iceberg. Over the next few years, UK breeders must look at export markets to strengthen sales of the British Blue, particularly from high health herds."
Norbreck Genetics is committed to helping UK breeders find EU wide sales for the very best bloodlines and only recently hosted a Belgian delegation to look at UK bloodlines in herds of fellow British Blue breeders.
British Blue breeders are hoping that this latest "Express" delivery of a naturally bred British Blue bull to Belgium is a sign of things to come.
Anyone interested in finding out more about exporting British Blues to Belgium should contact Philip Halhead at Norbreck Genetics on 07949 733747 or email info@norbreckgenetics.com

AFS Must Demonstrate Benefits of New Red Tractor Scheme


Lloyds TSB to Continue Sponsorship of Beef Expo


Beef Shorthorns Build on Health Scheme Success