2010-02-26
A new tank mix option aimed at providing winter wheat growers with a cost-effective way to target this year's heightened yellow rust threats with extra fungicide activity is being put forward by Syngenta.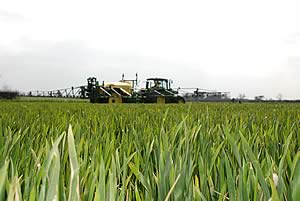 The new tank-mix – of epoxiconazole with the three active ingredient fungicide Cherokee – will also target the key disease of Septoria tritici with extra fungicide active ingredients, the company's cereal disease specialist, Rod Burke, points out.

It is aimed mainly for use at the spring T1 spray timing, he says, designed to protect the first of the top three yield-building leaves.

"With the recent discovery of a virulent, new race of yellow rust, it will be particularly important to protect against the disease in the early part of this season," says Mr Burke. "But in addition to that, there is also the issue in the industry about protecting triazole fungicide performance against Septoria tritici. So it makes sense for growers to tackle both issues.

"Cherokee is recommended against yellow rust and Septoria tritici, and in many situations straight Cherokee would be our product of choice: A full dose of 2 l/ha targets disease with the equivalent of full rate cyproconazole plus full rate propiconazole and 1.5 l/ha of Bravo.

"However, what the new tank mix is aimed at are situations where growers are thinking of using epoxiconazole but want something to fortify it with. As well as adding three ingredients to epoxiconazole, it also brings complementary activity," he adds.

According to Mr Burke, testing has shown that cyproconazole moves at a faster rate in the leaf, so it will reach yellow rust infections in unsprayed parts of the leaf quickly.

In addition, the Bravo component in Cherokee provides an all-important different mode of action against Septoria tritici to triazoles for resistance management, he notes.

"In many situations, growers add Bravo to epoxiconazole anyway, so there's no extra tank mixing involved.

"With its robust triazole content, Cherokee also brings a plant growth regulator effect. In trial plots, 2.0 l/ha of Cherokee applied at growth stage 31 reduced lodging from 21 to just 9%.

"With Septoria tritici able to reduce yield up to 3 t/ha, and yellow rust capable of yield losses of twice this, it makes sense that growers have robust strategies in place for these diseases. With its strong rust activity, anti-resistance properties against Septoria tritici and good value, Cherokee makes a good option for adding to epoxiconazole," he adds.

Suggested dose rates for the new tank mix are 1.25 l/ha of Cherokee + 0.25 - 0.4 l/ha of epoxiconazole, says Mr Burke.

The new tank mix adds to an alternative tank mix option of Cherokee + prothioconazole – also designed for higher pressure rust and Septoria tritici situations – announced by Syngenta last year.

Strong OSR Survives Serious Pigeon Stress


Hovis Switches to 100% British Wheat


Green Light for AHDB Green Office on Stoneleigh Park