Shepherdess Helpline Offers 24/7 Support
2010-01-14
The harsh conditions across the country have put pressure on early lambing. SCA NuTec has extended the staffing of its Shepherdess helpline to ensure that producers have access to advice and supplies of its milk replacer and Shepherdess Feeders.
Shepherdess lamb feeding system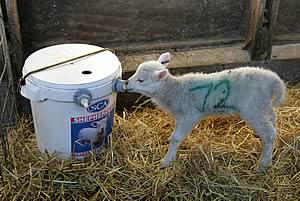 "We have set up a 24hour, seven days a week support line for the Shepherdess orphan lamb feeding system," says ruminant manager Joe Edge. "Producers need a fast and efficient service during lambing and especially under these conditions."

The support line provides advice and supplies spare parts. "Although the system is very robust, farmers sometimes need spare teats if lambs have chewed them and occasionally a replacement heater".

"Our team is on hand to deal with queries and we ensure that spare parts are in the post the same day. We carry a full stock of all spare parts to minimise waiting time - it's all part of helping the lambing period to run as smoothly as possible."

The Shepherdess orphan lamb system includes an insulated bucket and teat feeder providing warm, ad lib whey-based Shepherdess milk replacer to groups of up to 15 orphan lambs. It's simple and sturdy with milk pipes designed to sit within the bucket so they can't be chewed or freeze up. Also, the lid fits inside the rim so it can't be nudged open, yet it's easy for the farmer to peel off for refilling.

"Not only do producers revel at the time it saves, but they find that the lambs do much better on the feeder than on bottles – and in many cases, farmers find that the lambs do as well on the Shepherdess system as those reared on the ewe. Many describe it as a surrogate ewe, with lambs taking as little or as much as they want."

Developed more than 10 years ago and sold through a nationwide network of merchants, sales of the Shepherdess orphan lamb feeding system have increased by 20% a year making it the most widely used system on UK sheep farms.

Energyze And Feed Blocks Boost Output In Sheep Flock


New Feeding Regime Boosts Output in Yorkshire Dales Sheep Flock


New Lifeline from Rumenco