Energyze And Feed Blocks Boost Output In Sheep Flock
2010-01-11
The switch from compound feeds to Strathclyde Nutrition's Energyze feed licks and Superblocks has greatly reduced the work-load in Sandy Ingram's Lleyn flock at East Pitscaff, Newburgh, Ellon, Aberdeenshire.
Energyze feed licks and Superblocks have greatly reduced
the work-load in Sandy Ingram's Lleyn flock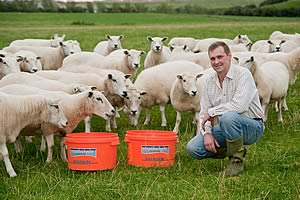 Feed costs per ewe are unchanged and the move has allowed the flock to be increased from 60 to 150 ewes without additional assistance.
Energyze feed licks were introduced two weeks before tupping to help flush the ewes and made available for 135 days until three weeks before lambing in April when they were replaced by Superblock Silver feed blocks to see the ewes through lambing.
Superblock Silver are high quality feed blocks based on Scottish wheat distiller's dark grains. They contain 19% protein with a small proportion provided as urea. Active-S, highly available sulphur sources, are included to maximise the utilisation of urea. Omega 3 fish oils and Sel-Plex selenium have been added to help boost lamb vitality, viability and health.
Energyze Sheep is a 20% protein, high energy lick, which contains urea and Active-S to enhance the utilisation of poorer quality roughage. Energyze Sheep was fed during the winter months after which Sandy switched to Energyze Sheep Extra to boost the development of the unborn lamb and better prepare the ewes for milk production.
Energyze Sheep has an energy level of 12 MJ/kg DM and Energyze Sheep Extra is a 13.5 MJ/kg DM product. Energyze feed licks, manufactured by Strathclyde Nutrition Ltd, are the most nutrient-dense licks available. They are formulated using high quality protein and energy sources, including Megalac, as well as all the major minerals, trace elements and vitamins. Omega 3 oils, chelated zinc and Sel-Plex are also used.
"The ewes performed exceptionally well on the licks and blocks and we had an excellent lambing," said Mr Ingram. "But the biggest advantage was the saving in labour compared with feeding concentrates every day. The blocks were simply spread out in the field and fed to the ewes on an ad lib basis."
Mr Ingram runs the farm on his own, including a 110-sow pig herd, with all progeny taken through to bacon weight, and a highly successful retail business selling ham, bacon, sausages and pork direct to consumers at farmers' markets under the Ingram Home Cure brand.
Ease of feeding was a major consideration when starting the sheep flock two years ago but the introduction of an easy-feed system, using feed licks and blocks, has enabled him to expand the flock to its present level without additional assistance, with plans to expand further to 250 ewes in the future.
"The pig enterprise and our on-farm butchery keeps me busy so ease of management was an important consideration when looking at the introduction of a new diversified enterprise," says Mr Ingram.
The total cost of feeding from pre-lambing to post-lambing worked out at only £6.49/ewe compared with £6.65/ewe the previous year for a compound feed.
"That was the entire feed cost for the winter except for a bale of hay when there was snow on the ground," says Mr Ingram.
The ewes scanned at 201% and lambed at 175% - 262 lambs being weaned from the 150 ewes originally put to the tup.
"Only two ewes proved not in lamb and I was very happy with the weaning percentage achieved," says Mr Ingram. "Feed blocks offer many advantages and one is the prevention of mismothering."
Lambs are being sold prime at 20-22kg deadweight with 65 ewe lambs being kept back for breeding which should see ewe and gimmer numbers rise to 200 head next year.
"The sheep enterprise has generated a useful additional income stream to the farm but I couldn't have contemplated expansion without switching to Energyze and feed blocks," Mr Ingram admits.

New Feeding Regime Boosts Output in Yorkshire Dales Sheep Flock


New Lifeline from Rumenco


Shortage of Bicarb Exacerbating Acidosis Problems