Craven Feather Auctions Christmas Show Produces New All-Time Record Price 2009-12-09
An all-time mart record price of £300 for a pen of hens was recorded at the annual Craven Feather Auctions Christmas show and sale of poultry and waterfowl at Skipton Auction Mart. (Sat, Dec 5)
By far top call in show, the new record-breaking price fell to a top-class trio of White Wyandottes from Alan Barnes, of Cowden, Great Harwood, a regular Craven Feather Auction exhibitor, whose birds often head the selling prices at Skipton.

They were acquired by North Yorkshire purchaser, who asked to remain anonymous. The same buyer further feathered his nest when paying £100 for a trio of exhibition stock Large White Wyandottes from M Stansfield, Barnsley.


Brothers Andrew, right, and Richard Gascoyne, joined by judge Martin Crowther, centre, with the Craven Christmas Feather Auction Buff Orpington champions.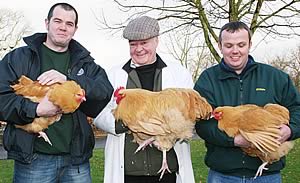 Poultry-breeding brothers Andrew and Richard Gascoyne, of Wakefield, again headed the pecking order when exhibiting the show champions.

The Gascoynes repeated their championship-winning coup at Skipton's Spring 2009 poultry fixture, again ruling the roost with a trio of free-range show-class Buff Orpingtons – a cockerel and two point-of-lay pullets.

The victors are descended from show-winning bloodlines developed by well-known breeder and showman Will Burdett MBE, of Thirsk, who for some 20 years was in charge of the Queen Mother's Buff Orpingtons. The pen of three found its way to South Yorkshire when purchased for £80 by F Haigh, of Cudworth, Barnsley.

The reserve championship fell to a trio of 2009-bred Light Sussex bantams – again a cockerel and two POL pullets – from regular Skipton prize winner and former show champion Richard Pickles, of Bent Laithe Farm, Lotherdale. Bred from local show winners, they sold locally to Richard and Patsy Hodgson, of Skipton.

Mr Pickles, a well-known breeder of Light Sussex, White and Silver Pencilled Wyandottes, was exhibiting at Skipton soon after securing several class prizes in the National Poultry Show at Stoneleigh, where his two daughters, Selina, ten, and eight-year-old Rebecca, came second and third respectively in the junior poultry handler competition – the latter won it in 2008. Both are pupils at Lothersdale Primary School.

Judge was well-known Kirklees poultry man Martin Crowther, of Huddersfield, who has adjudicated at shows all over the country.

Bacup-based Glynn Pickles Joinery, which specialises in poultry housing, donated a poultry cabin for auction, which raised £240 for St Michael's Hospice, Harrogate.

Jimmy Baines Retains CCM Stock Person of the Year Title


Third Annual Sheep Auction to Raise Funds for Hospice


Cononley Farmer Grabs Limelight at Skipton Calves Show