Samuel R Allen Elected Chairman of Deere & Company Board
2009-12-10
Deere & Company announced today that its board of directors has elected Samuel R Allen as chairman of the board, effective at the conclusion of the February 24, 2010 annual meeting of stockholders. Allen will continue as Deere & Company president and chief executive officer.
Samuel R Allen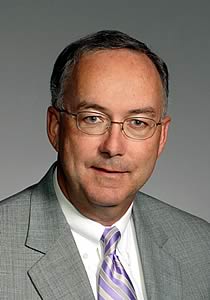 The action is another step in Deere & Company's systematic process of leadership transition that was announced in June. Allen will become chairman immediately following expiration of Robert W Lane's current term as chairman and member of the Deere board of directors. The board also voted to reduce the size of the board to 11 members, effective at the same time as Allen becomes chairman.

In June, Deere & Company announced that its board of directors had elected Allen to become president and chief operating officer, as well as a member of the board of directors effective from June 1, and chief executive officer effective from August 1.

Allen is a 34-year veteran of Deere with a broad range of leadership experience in many divisions of the company. Allen has served as a senior officer at Deere since 2001, was president of the worldwide construction & forestry division and also led the Deere Power Systems Group, John Deere Credit's global operations and Deere's global human resources and labour relations.

Allen also had responsibility in the past for Deere's intelligent mobile equipment technologies and for Deere's advanced technology and innovation.

Previously in his career, he worked in positions of increasing responsibility in the consumer products division, worldwide construction & forestry division, Deere Power Systems Group and the worldwide agricultural division, including managing operations in Latin America, East Asia and Australia.

John Deere Shows New Machines at LAMMA


DLC Equipment in New Landini Farm Tractors Dealership


Trimble Expands Precision Agriculture Capabilities