Britain's First Ever Deer Roundhouse
2009-11-26
'Grand Designs' met the farming industry this week, as Yorkshire based Holme Farmed Venison unveiled the first ever 'roundhouse' building for a deer herd.
Happy herds feel at home in Britain's first ever
Deer Roundhouse.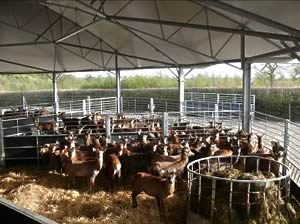 The building has won major awards for helping farmers to rear animals ethically, as well as for its innovative, distinctive and elegant round design.

The deer roundhouse is the first of its kind and allows animals kept under its circular roof to maintain their herd instinct - by living in groups and being able to see other deer around them. These factors combine to create a calm, stress free environment for the deer.

The majority of modern livestock buildings are constructed to house the maximum possible number of animals for the least cost, rather than considering the welfare of the animal first. The Roundhouse concept however, was created by keeping the animal and its herd instinct at the centre of the design process.

Nigel Sampson from Holme Farmed Venison, comments: "Deer are natural herd animals and whether they are farmed or out in the wild, they never lose this instinct.

He continues: "They love to form close family groups and are at their happiest when they can see everything around them. We've seen a definite change since they've gone into the roundhouse - their behaviour is so relaxed and content. It really mirrors their habits out at pasture in the summer months. Animal welfare is at the heart of what we do and this building is a testament to that."

Nigel farms his red deer naturally; they are reared on the farm's grass pastures in summer, and now in the roundhouse in winter, guaranteeing a beautifully flavoured, lean and tender red meat. Farmed venison assures quality and consistency all year round.

The award winning company also provides a door to door delivery service nationwide.
About Holme Farmed Venison
Holme Farmed Venison can be purchased online at www.hfv.co.uk or by telephoning 01977 686 440. It can also be found on the menu of many top local restaurants in the area. Also check out HFV's stylish new range of deerskin garments.

High Interest Expected in Prime Land Sale


Cross about Compliance? - Cross-Compliance Rules`


Yorkshire Dales Farm for Sale