Carcase Champion Nets £4000 in Prizes and Auction Cash
2009-11-23
Pre-Xmas meat sales traditionally help lift beef prices for farmers but competition from butchers helped net beef farmer and retailer Bernard Price of Hay-on-Wye over £10/kg for his champion beast at last weekend's English Winter Fair livestock showcase, Stafford.
Vendors Bernard and Phillip Price with the
champion cattle carcase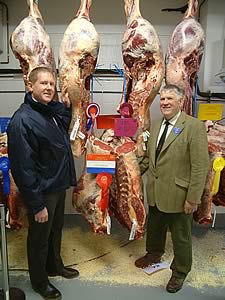 The Limousin-sired steer weighed 380kg deadweight and saw carcase judge and Nottinghamshire-based butcher Robert Bowring applaud it for its tremendous eye muscle. "When quartered it (the eye muscle) was just incredible," said Mr Bowring.
Beef processing group ABP backed the annual competition netting £1500 for Mr Price and son, Phillip, as vendors of the champion carcase, a further £1000 as the steer was home-bred, and a £200 Class prize.
But Mr Price's pocket was bolstered further when competing butchers pushed the carcase sale price to £4.18/kg (£1592.39) in the English Winter Fair's traditional auction with carcase judge Robert Bowring securing it for his six independent retail outlets.
Total income for the carcase equates to roughly £10.77p/kg deadweight.

Supreme Champion Set to Walk Out at Staffs Showground


Lowther Show Calls it a Day


Cumberland Show Moves to Carlisle Racecourse