Lowther Show Calls it a Day
2009-11-19
A number of factors, including the recession, increasing costs and decreasing income, combined with changing weather patterns, enforcing a change in the layout and reduction in size, has meant that the Lowther Driving trials and Country Fair is no longer viable.
Cumbria's biggest country weekend
is no longer viable.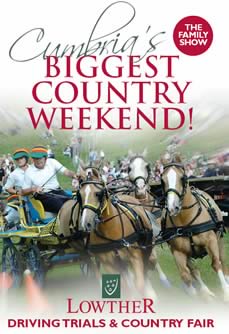 The event was started in 1973 and had run very successfully ever since in the North Park in front of Lowther Castle, regularly attracting more than 40,000 people over the three days.

During this period, up until 2007, it had made donations to countryside charities and the sport of carriage driving totalling over £250,000.

In 2008, dreadful weather over the setting-up period was compounded by torrential rain during the event itself .This eventually led to the last day of the event being cancelled, with the park being turned into a quagmire. A large financial loss was incurred as a result and early reinstatement was vital in order to ensure that 2009 could go ahead

Continuing wet weather right through the Autumn of 2008 prevented any reinstatement from being done and this ultimately led to the cancellation of the 2009 show.

Robert Benson, Lowther Show chairman, said: "It is with enormous sadness and regret that the directors and committee of Lowther Driving Trials and Country Fair announce that the decision has been taken to cancel plans for the 2010 show due to be held on August 6-8 and to close down the show.

"This is a massive blow for all concerned, for Cumbria and for the Northwest."

Lowther Driving Trials rents the site and is an independent company limited by guarantee with charitable aims.

David Taylor, chief executive of Lowther Estates which owns the land on which the show has been staged, said: "All of us at Lowther are sad to see the end of the Lowther Driving Trials and Country Fair, which Lowther Estate has hosted since the event began in 1973.

"Recently, many shows have suffered from unpredictable weather patterns, lower attendances and lower revenues, increasing costs, health and safety burdens and now, the economic downturn.

"The show chairman Robert Benson and the Lowther Driving Trials organisers have taken the courageous decision to wind up the show for the benefit of the charities it supports.

"The Lowther Estate is determined to find a successor to the Driving Trials for another major event in Lowther Park 2011. We are also hoping to host the 2011 World Sheepdog Trials, which attracted 50,000 spectators in Wales 2008. Furthermore, we are pleased to confirm that plans are well advanced for the return of the successful 'Kendal Calling' music festival in 2010."

Next year, Lowther enters a new era with the start of the £9m restoration and development of Lowther Castle and its gardens, supported by the North West Development Agency through the new charity, the Lowther Castle and Gardens Trust.

Cumberland Show Moves to Carlisle Racecourse


Quality Commercial Stock Dominate East of England Winter Festival


Three Counties Show Expands to Accommodate More Animals