Three Counties Show Expands to Accommodate More Animals
2009-11-17
Nine years on from the foot and mouth epidemic that wiped out its traditional complement of livestock competitions, the annual Three Counties Show at Malvern (18 – 20 June 2010), is expanding to accommodate more animals.
The Three Counties Show is reverting
back to three days for livestock classes in 2010.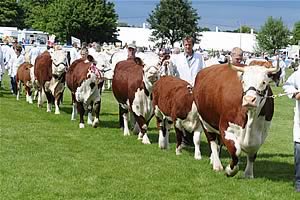 The region's biggest showcase of British food, farming and countryside life – which in 2001 and 2002 went ahead without cattle, sheep, pigs and goats for the first time since the 1950s - has weathered a decade of disease and inclement weather to emerge a survivor.
Now event organizer, the Three Counties Agricultural Society (TCAS), is reversing its controversial decision of 2003 to reduce scheduled livestock classes from three days to two, and reverting back to three for 2010.
The demise of the Royal Show at Stoneleigh, and more recently, the plight of the West Mid Show in Shropshire, may well mean an influx of new exhibitors for Malvern, and the Devon and British Blonde cattle breed societies have already confirmed that they will join the Murray Grey Society, in staging their national events at the Three Counties Show in June.
TCAS predicts that more will follow suit, and is erecting two extra marquees to help with housing an anticipated growth in its animal contingent for 2010.
Said TCAS Press & PR Manager, Sharon Gilbert: "The loss of two events in the region is a blow for this industry. Farming and its ancillary businesses have been through the mill in the last ten years, and the country's agricultural societies have been united in supporting the breeders and producers they represent.
The impact of such loss is uncertain, and times are tough, but inevitably there will be opportunities for Malvern. Early signs tell us that it has never been more crucial to provide our exhibitors with a high profile platform to showcase stock and products, do business and of course, meet up socially.
We have weathered many storms in recent years, thanks in part to the continued loyalty of those who support their Show year after year. We are confident that the Three Counties Show will not only survive but become the premier agricultural event in the region, and we are investing in its future."
The 2010 livestock competitions will be arranged much as they were before the devastation of foot and mouth, and visitors can enjoy seeing cattle, sheep, pigs and goats in greater numbers on whichever day they choose to attend. There will be new competitions too, so that livestock is represented in equal measure on all three days.
National Rare & Minority Breeds Show exhibitors, traditionally arriving on Saturday night ready to show on Sunday, will now have the option to come in on Friday night, and take advantage of greater access to other show competitions and attractions, without the logistical problems of changeover.
The Society is continuing to support the dairy exhibitors who, for ongoing operational reasons, prefer to show on one day only.
Aside from the livestock area, TCAS is investing heavily in other areas of the Show, and is planning a number of new features and attractions.
The Whitsun Bank Holiday 2010 marks the Diamond Jubilee of the first pilot episodes of The Archers, broadcast in the Midlands only, and this special event will be commemorated at the Three Counties Show by way of a special 'Ambridge' themed area.

English WInter Fair 2009


Community Partnerships are the Key for British Farmers


Sir Ken Morrison Praises Borderway Agri-Expo 2009